Chicago playwright Neil LaBute's dialog in Reasons to be Pretty cuts. The play, which opened this past weekend at San Jose Stage, doesn't sugar coat relationships, especially when it comes to physical attraction and the stigma attached to looks.
LaBute has a remarkable ability to tear away layers, revealing the things-that-we-think-but-would-not-say. And that, I can assure you, is not always pretty.
"Hey, slow it down, whataya want from me?" – Adam Lambert
It's easy to feel awkward, almost voyeuristic during the play.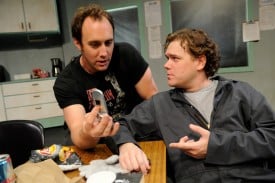 In the opening scene, an insanely jealous Steph (Halsey Varady) goes off on a profanity laced tirade, storming around the kitchen of a tiny apartment. She'd put most hockey locker rooms to shame. All her hapless boyfriend Greg (Robert Brewer) can do is grin and bear it, calling upon the damage control system males turn to in such emergencies: bewilderment; denial; soothing/placation; amusement; and concluding with despair and anger. Why he continues to pursue her affection I'll never understand. She should be kicked to the curb el pronto. Then again, no one likes their face to be called "regular."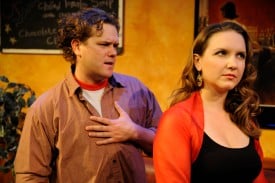 Meantime Greg continues to punch the clock at a local packing plant. His good friend, the over-confident, Alpha Male Kent (Will Springhorn Jr.) runs the local baseball team and dates the plant's security officer Carly (Allison F. Rich).
"We're like buffaloes out there."
Once again, I found myself armchair quarterbacking the playwright. Okay, four characters, all on the surface easily pigeon-holed: the raging girlfriend; her bookworm boyfriend; the testosterone-fueled buddy; and a tell-all best friend. And much like last season's Fat Pig (Aurora in Berkeley), none of them are likable. Where can he possibly go with this? As LaBute says in an interview, "…they're not the kind of people you'd want to hang out with after the show." Amen brother.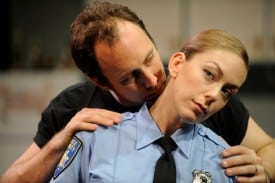 Soon enough relationships crumble, new ones are formed, and those that we knew are re-cast in a new light. But everyone here is genuinely doing what they need to do; perhaps there are no miracles, merely reality and the ugly truth.
"You can't turn it off and on … how you feel about a person."
The performances are generally decent, although I found Halsey Varady's opening scream-fest somewhat shrill–but by design I'm sure. The gem is Will Springhorm Jr. who, resembling a distant relative of Nicolas Cage, brings crackle and pop to every one of his scenes; the smirk, the swagger. In some ways he represents the little devil on every man's shoulder, occasionally dropping by to say hello, whether we want him to or not.
Reasons to Be Pretty resonates because we've all been there before. Whether it's running into an ex at a local restaurant, coming to blows with a good friend, or trying to convince someone you love them for who they are, we may cringe, but we know we need to face the music sooner or later.
Reasons to Be Pretty
By Neil LaBute
San Jose Stage Company
3.5 out of 5 stars
Directed by Kimberly Mohne Hill
Starring Robert Brewer, Halsey Varady, Will Springhorn Jr., Allison F. Rich
Through Oct. 24