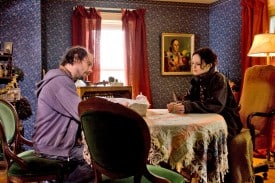 Joaquin Phoenix, I've found you some room mates. They live in a big farmhouse overrun by ghosts. But don't worry, they live with a psychic who has a heart of gold, and many of the apparitions are unkempt, and wear big, groovy sunglasses too – so you should fit right in. One of the most "interesting" films I've seen in a while, All My Friends Are Funeral Singers, is playing twice over the weekend, featuring live musical accompaniment by Califone. It's an experience well worth checking out before the Mill Valley Film Festival comes to a close with the screening of The Debt (Jessica Chastain, Sam Worthington, Helen Mirren) on Sunday evening.
I'm a big fan of live musical performance combined with film. My most recent memories include an unforgettable evening at the San Francisco Symphony for a screening of Psycho (Mother Approves: Alfred Hitchcock's 'Psycho' with the SF Symphony), with the live orchestra playing Bernard Herrmann's famously electrifying score. Earlier in the year was an unusual, but clever, mash-up of Final Fantasy video game footage again with a live score (Review: Final Fantasy with the San Francisco Symphony).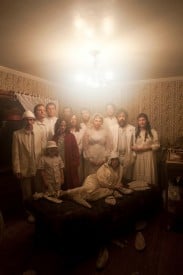 All My Friends are Funeral Singers is one of the screeners I had a chance to watch earlier this week, so first you must know that with this "quirky" (ah, yes, that word) film you must embrace the avante garde. It certainly embodies art house. The Califone music may either be a spiritual re-awakening or a grating exercise in psychedelic disorientation. Either way, it's ever bit as unique as the film itself.
Starring Angela Bettis, who delivers one of my all-time favorite horror-film performances in the brilliant May, the story is at times funny, confusing and trippy. Guys dressed like the Bee Gees strum odd instruments in a small upstairs room in a farmhouse while Bettis as psychic Zel goes about her day-to-day business reading palms, predicting the future and occasionally taking on the voices of the dead with Christopher Walken-like gusto. I half expected Joaquin Phoenix to make a rapping cameo.
"Its bad luck to say the word pig while fishing at sea."
What to make of all this, I'm not exactly sure… perhaps it's the kind of film that bears repeat viewings. And it's pleasing to see this type of material featured at MVFF, if only because it would be unfortunately swept aside in today's market of big budget, crash/bang action fodder and 3-D gimmickery. Don't take my word for it, though, check it out at MVFF where it's playing twice this weekend.
All My Friends are Funeral Singers

Angela Bettis - The quirky girl next door.

Mill Valley Film Festival
Starring Angela Bettis
Director/Screenwriter Tim Rutili

Saturday, October 16, 7:00 pm
Sunday, October 17, 2:00 pm

Both screenings will feature live musical accompaniment by Califone. Tickets $20.

Vibrant multi-instrumentalists Califone, whose music is often described as cinematic, will perform their beautifully layered and textured original soundtrack to band member Tim Rutili's feature film, about a psychic (Angela Bettis) with a house of spectral boarders who must find their way to let go of her ghostly pals. First-time director and writer Rutili delivers a quirky, dark comedy that is poignant, wholly original and, well, quite spirited.

More coverage: Mill Valley Film Festival.