Video games, I'm convinced, can be art. Case in point: last night at Davies Symphony Hall, music from the world-renowned franchise Final Fantasy was paired with the San Francisco Symphony in a rousing live North American premiere. Throughout the two-hour performance featuring tracks from Distant Worlds, footage from the games dating back to pixelized 1987 was projected onto a large video screen above the orchestra. When it comes to video games, graphics, action and sound effects matter, but brilliant scores, such as those composed by Nobuo Uematsu, transcend. Hearts and minds, enraptured.
The audience on this evening, the second of two performances, was absolutely engaged and thrilled throughout, from "Opening—Bombing Mission" to the stirring finale, "Terra's Theme." I don't think there'd be any complaints had the show continued to the wee hours of the morning. No doubt, Final Fantasy fans came out enforce. Some wore their San Francisco finest—cocktail dresses, swanky gowns, black tie. Others celebrated by dressing as their favorite character. It may mark the first time we've seen Cloud himself attend a performance at this concert hall. How does he find the time?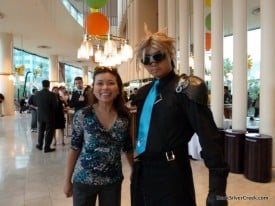 I'm not a Fantasy Fan historian, but I do recall playing FF I (1987) way back on NES and then later FF X (2001), the first version for the then exciting, new 16-bit PlayStation 2. Since that time my video gaming (like my hockey) has declined with age. Thankfully, not entirely. Most recently I did finish Bioshock and Oblivion. So I can appreciate the realistic worlds and characters that these games bring to life. Such vivid imagination! Experiencing this retrospective, I was once-again reminded how much effort goes into the creative process. It's truly astounding. Interestingly, the unique FF style—spiky hair, large eyes, sparkling landscapes, flying machines—is faithfully honored across 23 years, and 14 different titles (including FF XIV coming September 2010). With FF XIII (2009), however, the characters become more life-like, which is not necessarily a plus. Watching that footage I felt the game had lost some of its unique look. At points it was generic action shooter, and less fantastical, the hallmark of the series.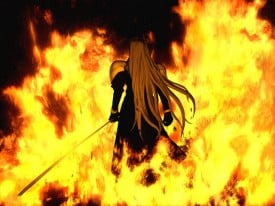 Conductor Arnie Roth, energetic and loose, kept things moving along, introducing performers and making small talk between numbers. Vocalist Susan Calloway starred for several songs. Her voice is pleasant enough, but it would've been more special had she appeared only one or two times, with fewer entrances. I should note that lyrics and dialog are not a strong point here. For all the stellar exposition of creative talent, if there was one area that is weak—really weak—it's the writing; lines in FF games such as, "What the…" and "You weenie!" although often humorous, fall short, especially surrounded by the striking visuals. Same with the songs performed by Calloway. The lyrics literal. The delivery, too Celine Dione for my taste. It's all so Disney really. Yes, love is splendid.
But the real star on this evening was Nobuo Uematsu who composed the music, and has become somewhat of a legend. Fans rushed him at intermission and at the end of the show for pictures and autographs. His style employs lots of mystical elements ("Melodies of Life"), and sequences with heart-pounding drama, kettle drums set to boil ("Dancing Mad"). Later, Uematsu sneaks across the stage, urging us to sing-a-long, karaoke style… "Estuans interius…Ira vehementi…Estuans interius…Ira vehementi." "Seph-i-roth!" "Seph-i-roth!" Uh, this is not exactly The Eagles.
"Swing de Chocobo" was light-hearted fun, showcasing the humor of the creative team. Chocobo, a little yellow bird (although at times, looking distinctly like "Big Bird"), dances through the ages, from a little 8-bit pixelized swinger, all the way to a life-like rapscallion, making trouble and nesting in the nearest afro.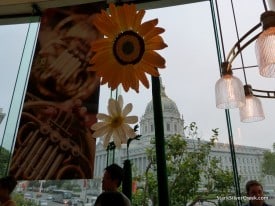 For those that live, sleep, breath Final Fantasy this show is a sure-fire hit, and a fantasy come true (5 out of 5 stars). For others, though, it may be trying (3 out of 5 stars). The performance is not so as artistic as it could be, employing a seemingly random, greatest-hits approach. From that perspective it's a commercial celebration of an artistic triumph, Final Fantasy, but itself akin to a fun party. Because of Uematsu's style, the San Francisco Symphony is usually full-on, meaning we don't enjoy quieter, subdued moments that might've highlighted various sections.
Still, this was a special evening. And proof, once again, that video games, in the hands of skilled, creative professionals can move us, thrill us, and, even transform us (at least for an evening). Art. Absolutely.
Music from Final Fantasy with the San Francisco Symphony
San Francisco Symphony, Davies Symphony Hall
4 out of 5 stars
Distant Worlds: music from FINAL FANTASY
Featuring music of Nobuo Uematsu
Arnie Roth conducting the SF Symphony
Susan Calloway, vocalist

Nobuo Uematsu / Final Fantasy VII: Opening – Bombing Mission
/ Final Fantasy Victory Theme
/ Final Fantasy VIII: Don't Be Afraid
/ Final Fantasy XI: Memoro de la Stono – Distant Worlds
/ Final Fantasy V: Dear Friends
/ Final Fantasy IX: Vamo' alla Flamenco
/ Final Fantasy VII: Aerith's Theme
/ Final Fantasy IX: Prima Vista (North American premiere)**
/ Final Fantasy X: Sutekidane
/ Final Fantasy VII: J-E-N-O-V-A
/ Final Fantasy VIII: The Man With The Machine Gun
/ Final Fantasy IX: Melodies of Life
/ Final Fantasy VI: Dancing Mad
/ Final Fantasy series: Swing de Chocobo
/ Final Fantasy VIII: Love Grows
Masashi Hamauzu / Final Fantasy XIII: Medley (North American premiere)**
Nobuo Uematsu / Final Fantasy XIV: Medley
/ Final Fantasy XII: Kiss Me Goodbye
/ Final Fantasy VI: Terra's Theme
Noteworthy

The San Francisco concerts are the first of only four stops the Final Fantasy concert tour is making in the United States. These concerts mark the first time Masashi Hamauzu's Final Fantasy music has been performed in North America. Last summer, in a performance that was sold out weeks in advance, Roth led the San Francisco Symphony in a Davies Symphony Hall concert of Final Fantasy music.
Learn more about composer Nobuo Uematsu in this recent interview from kotaku.com.
Although most Final Fantasy installments are independent stories with various different settings and main characters, they feature common elements that define the franchise. Recurring elements include plot themes, character names, and game mechanics. Plots center on a group of heroes battling a great evil while exploring the characters' internal struggles and relationships. Character names are often derived from the history, languages, and mythologies of cultures worldwide. (from Wikipedia)