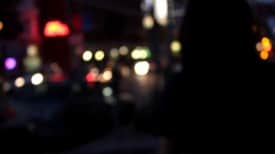 "Despite everything, I believe that people are really good at heart."
What a week for Bay Area theater! Unlike Bay Area NFL teams, the 2010-11 season has kicked off in winning fashion with stellar shows opening to across the region. The Brother/Sister plays by white-hot playwright Tarell Alvin McCraney continue to receive raves and takes us to the Bayous. Part 1, In the Red and Brown Water (review), is now playing at Marin Theatre Company, and the second part of the trilogy, The Brothers Size, just opened last night at Magic Theatre in San Francisco to a raucous standing ovation. Staged in repertory across three different theaters (MTC, Magic, A.C.T.), this bold experiment is turning out to be the must-see event of the year.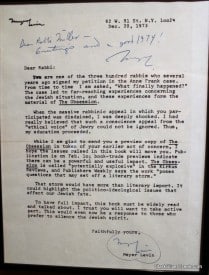 Those interested in exploring the hub-bub surrounding Rabbit Hole, a soon to be released motion picture starring Nicole Kidman, should head over to the always beautiful–is anything better than the fresh, breezy Pacific?–Half Moon Bay. Coastal Rep is staging a riveting and emotional version of the play (review).
Meanwhile, Compulsion (review), starring Mandy Patinkin, keeps an unfathomable win streak going for the Berkeley Rep
But who's keeping score?
The play which deconstructs Jewish culture, history and faith in visually arresting style, marks the 14th time in 14 years that a a Rep production will make its way to New York, following in the footsteps of smash hit American Idiot.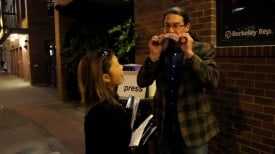 So here we go… on location… once again hitting the Berkeley streets for some run 'n gun on opening night. What will happen this time?
And, can anyone other than Mandy Patinkin deliver one of the most famous movie lines of all time?
"Hello. My name is Inigo Montoya. You killed my father. Prepare to die."
Next chapter? Life in a day. The adventure continues … watch through to end for clues …
(Thanks to Terence Keane and Robin Pressman)