Last night Annette Bening arrived in Marin, just north of San Francisco, to receive a tribute at the Mill Valley Film Festival. The legendary actress mingled with fans, signed autographs and charmed the crowd who had gathered around the red carpet to catch a glimpse of the three-time Oscar nominated star.
Inside the sold-out Christopher B. Smith San Rafael Film Center, the audience enjoyed a slick montage of footage highlighting her career including films such as Valmont (1989), The Grifters (1990), Bugsy (1991) – co-starring with husband Warren Beatty, and American Beauty (1999). Her most recent film, The Kids Are All Right (2010) is receiving glowing reviews with early buzz that it could land Bening yet another Academy Award nomination.
"It's very flattering," said Annette Bening before a high energy and insightful on-stage conversation with MVFF director of programming Zoe Elton. "I'm very grateful."
Bening started her career on stage at the American Conservatory Theater (A.C.T.) in San Francisco, and appeared on stage last year in two plays.
"I was very lucky I got into A.C.T.," she said. "A.C.T. was where I started."
Warren Beatty did not appear alongside his wife. Bening announed that "one of our kids is sick and so he stayed home."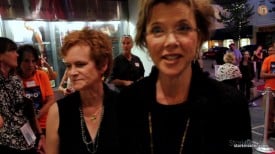 Throughout the evening, she asked people in the audience to stand up for acknowledgement, such as her Yoga teacher, Bonita Bradley, whose breathing techniques helped Bening control her voice, used to great effect, for example, in The Grifters.
On her desire to keep her performances fresh, and unexpected, she asks directors for a "free first take."
"Every aspect of filmmaking conspires to crush spontaneity," she said, citing all the equipment, lighting, cameras, trucks and people involved in the process. She also spoke frankly about the state of the industry, repeatedly declaring it "tough." Valmont, she noted, which took six months to shoot, would need to be done for a third of that given today's market. Only go into acting "if you must" she warned aspiring thespians. "Let's face it, it's not like the 50s with the Actor's Studio and people understanding and respecting the whole craft."
The crowd was extremely responsive, laughing often as Bening continued to tell interesting anecdotes, stories and even asides about surviving in an often male-dominated business. Particularly entertaining was her recital of The Carnegie 5 Great Rules, the famous system for selling. She quickly summarized them, as if channeling her character from American Beauty, before emphasizing that the close ("getting the deal") was most important.
The 33rd Mill Valley Film Festival continues this weekend, before closing Sunday night with the screening of The Debt, starring Jessica Chastain, Sam Worthington and Helen Mirren. Earlier in the day actor James Franco (Freaks and Geeks) and director Danny Boyle (Slumdog Millionaire) are scheduled to appear in support of their latest film, 127 hours.
(With Clinton Stark contributing on location in Marin)