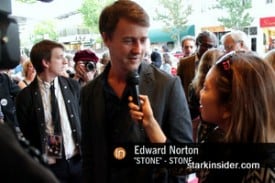 Edward Norton, actor and Hollywood star who's appeared in blockbuster films such as Fight Club, Primal Fear and The Incredible Hulk, was in the San Francisco Bay Area Saturday night for a tribute organized by the Mill Valley Film Festival.
The Oscar-nominated actor pulled into the Christopher B. Smith Rafael Film Center with his father at his side, and appeared relaxed–albeit slightly jet-lagged–during an evening that included an award presentation, a moderated conversation with the actor and a screening of his film, Stone. Stark Insider was there to capture his arrival and ask a few questions in this on location segment.
In Stone, John Curran (The Painted Veil) directs Angus MacLachlan's (Junebug) script about a convicted arsonist (Norton) who looks to manipulate a parole officer (De Niro) into a plan to secure his parole by placing his beautiful wife (Jovovich) in the lawman's path.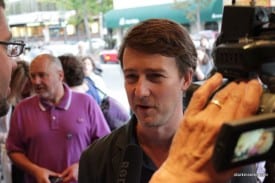 "It's an intense film." said Norton, "[director] John Curran and I had to figure out where this character was from, and how he sounded. It took a while."
When Loni asked what it was like to sport cornrows for the film, Norton said, "They were all over in the prison, a lot of the guys had them. When guys took them out it changed their whole demeanor, so we thought it was a nice way to sync into the character in the beginning."
The evening continued a star-studded line-up of events and films for MVFF, now in its fourth day. Other big names that have made appearances include Sam Rockwell (actor, Conviction), Tom Hooper (director, The King's Speech), Pamela Grey (screenwriter, Conviction), and Alejandro González Iñárritu (director, Biutiful).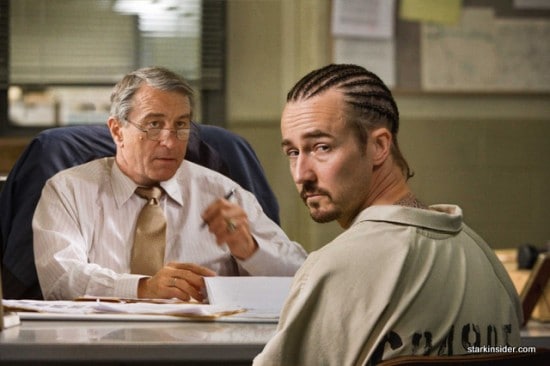 (with Clinton Stark contributing on location from San Rafael)