Now that the warmer weather is upon us, it's time to unleash your inner Iron Chef. There's nothing quite like preparing a gourmet meal and enjoying conversation with family and friends around the kitchen table. We've rounded up some of the most popular recipes from Loni's California Kitchen to help get you started on your adventure.
Best of all, these are healthy, easy to prepare, and colorful to boot! Take it a step further, and try some fanciful wine pairings. Beer works too. Or, even—ahem—Diet Coke. Why not? Experiment and enjoy a culinary adventure or two.
But don't just take my word for it, the master himself Alfred Hitchcock once said, "Some of our most exquisite murders have been domestic, performed with tenderness in simple, homey places like the kitchen table." Ah, yes a fine line between pain and pleasure.
For those that have been following SSC for a while, you'll know that the vegetable planter plans have been a smashing success. It seems like many of you out there not only enjoy cooking, but you also take pleasure in pulling vegetables and herbs from your own garden. Try fresh heirloom tomatoes from your garden with some balsamic vinegar and feta cheese, and you may just discover some new sensations. Fresh is fresh. In case you're interested, here is the link to Loni's urban vegetable planter plans.
Now on to the top recipes for spring and summer.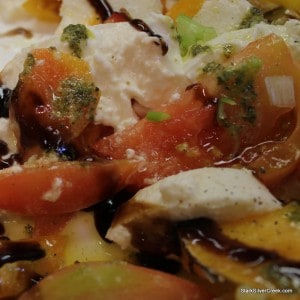 Here's the perfect spring and summer recipe: A refreshing Caprese Salad with some Italian zing thanks to Mia Sebastiani's special version of this favorite. All Things West Coast meets old Italian soul when Loni heads up to Sonoma wine country to meet Mia from Mia's Kitchen on location for a special SSC episode. Delizioso! In the words of Mia, "We took a traditional Italian dish, and we just spiced it up!"
There are few items more fun to eat than the artichoke with its edible leaves that must be plucked with fingers to be eaten. The prize for all this effort? A tender edible heart. I would recommend a Riesling or Sauvignon Blanc pairing with this salad. An unoaked Chardonnay may also work well. These pairings will accentuate the fruitiness of this salad..
My latest creation was inspired by the first shipment of vegetables from a local community-supported farm. Amongst the many interesting and organically grown produce was a bag of salad sprouts (sunflower, pea, buckwheat, broccoli and radish) and a fist full of fresh beets. With such vibrant ingredients, I wanted to create something fresh yet cozy…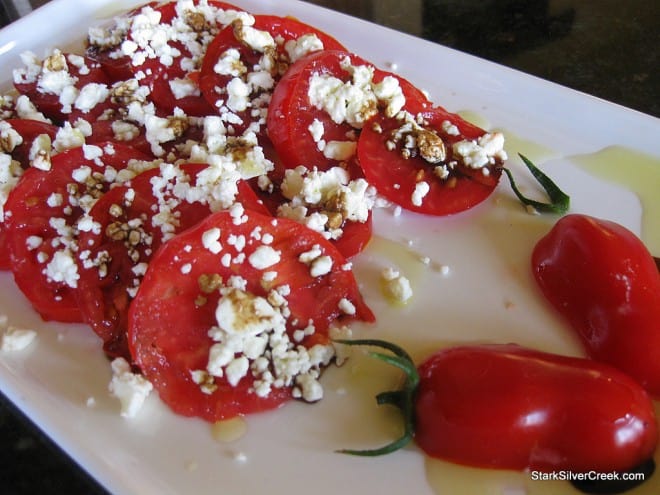 Ripe tomatoes from the kitchen garden. A shame to do too much. Pick, wash, slice. Place slice on plate, sprinkle with fresh crumbled feta. Repeat. Drizzle with extra virgin olive oil hand carried all the way from the rolling hills of Cortona, Italy. Drip some Oliviers & Co. Balsamic Vinegar of Modena purchased on my last trip to New York. Uncork and pour a glass of Chardonnay. So much effort exuded. In the end, perfection is in the simplicity of this dish….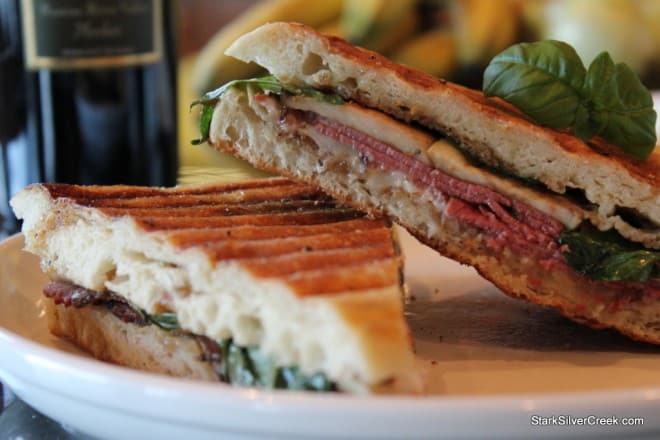 There is just something alluring about simple fresh ingredients pressed between two robust pieces of bread and two hot cast iron plates. Whereas the Earl of Sandwich was said to be fond of this general form of food because it enabled him to continue playing cards, I was very fond of the panini because it enabled me to continue to sight-see…