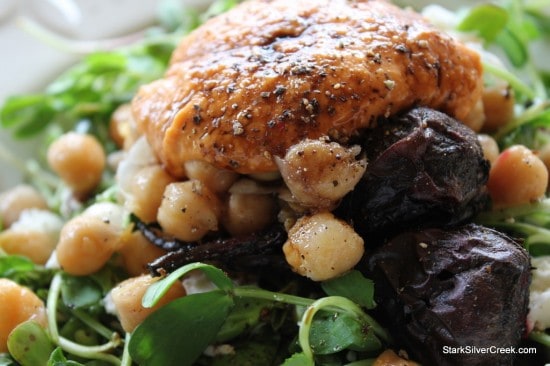 Gone are the days when salads consisted of some wilted green leaves and a bottle of undecipherable salad dressing from the supermarket. Today, salads are piled high with fresh ingredients and dressings made from vinegars, spices and oils emulsified in one's own kitchen.
My latest creation was inspired by the first shipment of vegetables from a local community-supported farm. Amongst the many interesting and organically grown produce was a bag of salad sprouts (sunflower, pea, buckwheat, broccoli and radish) and a fist full of fresh beets. With such vibrant ingredients, I wanted to create something fresh and yet with the cool weather, it has to be cozy as well.
My "Let's Cozy Up" roast beet and goat cheese salad recipe is the perfect meal on a cool spring day.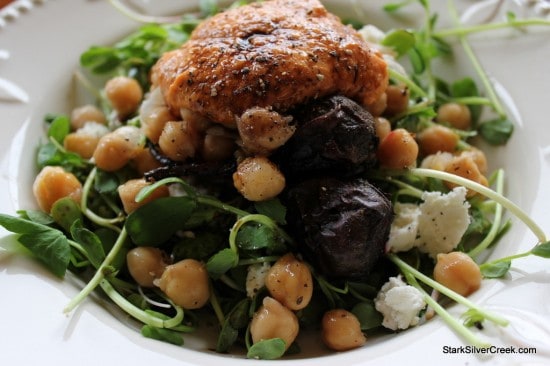 Loni's "Let's Cozy Up" Roasted Beet and Goat Cheese Salad
(per serving ingredients)

3 medium beets
4 oz of salad sprouts (sunflower, pea, buckwheat, broccoli and radish)
1 teaspoon of extra virgin olive oil
1 teaspoon of aged balsamic vinegar
1 tablespoon of garbanzo beans
3 slices of goat cheese from a small cheese log
1 table spoon of humus (in this case tomato and basil humus
Preheat the oven to 400 degrees Fahrenheit.
You will need approximately 3 beets per serving. Cut off the greens. Wash the beets, but do not peel off the skin. Dry the beets. Line a baking pan with foil and place the beets evenly spaced on the baking pan. Lightly sprinkle some salt and olive oil on the beets and bake in oven for 25-30 minutes until beets are tender.
While the beets are roasting, on a generous plate that has some depth to it, place a bed of salad sprouts. If you don't have salad sprouts, you can substitute with lamb lettuce or even arugula. The key is to have variety in your greens so try to combine a couple of different lettuce and sprout textures.
Drizzle 1 teaspoon of extra virgin olive oil. If you have some olive oil you have been saving for a special occasion, this would be the moment to break it open. Next, drizzle 3/4 teaspoon of balsamic vinegar.
Cut some slices of goat cheese from a log, you will need about 4 slices per serving. Place the goat cheese on the bed of sprouts.
When the beets are roasted, quickly remove from oven and place the warm beets on the goat cheese.
Place a tablespoon of cooked garbanzo beans on top and a dollop of your favorite humus (mine is a tomato basil humus).
Salt and pepper to taste. Add a tiny drizzle (1/2 teaspoon) of balsamic vinegar on top and you are ready to serve.
The delicious sweetness of the warm roasted beets against the saltiness of the goat cheese will have you wanting to cozy up to this salad.