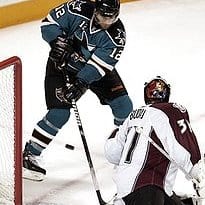 Just when they needed it most, the San Jose Sharks delivered their most complete game yet of these young 2010 NHL playoffs.
Nabakov gets a shut-out. Marleau scored. Pavelski scored again. And secondary scoring continued to shine, this time from Logan Couture of Ottawa 67's pedigree. Yes, my hometown pride is flowing—I can smell Brian Kilrea's cigar all the way from Northern California.
Did I tell you how great San Jose is playing in the playoffs?
What, no… oh, yes, right. About that, it's not supposed to be this hard: It wasn't, finally. Last night the Sharks played like the dominant team that they can be. At least when they try.
But first, disclaimer and honest admission: I missed the first two periods. I know, what have I become, here in Silicon Valley, now writing about SF Bay Area theater, arts, and wine?It's a long way from the golden bachelor days of Elgin Street of Ottawa. Or U2 karaoke revelry along El Camino Real here in San Jose.
Duty was calling, you see, and Loni and I were on location for the Wine Enthusiast Toast of the Town food & wine event at the War Memorial Opera House in San Francisco. Hey, when I need to miss a few periods of playoff hockey, it's for a very good reason. Tasting an '06 Cardinale Cab rated 100-points (by superb wine blogger Steve Heimoff) was a nice bonus.
By the time I made it home to San Jose, past all the leggy iPad billboards along Highway 101, the party at HP Pavilion was already under way, thanks to a three-goal outburst in the second period.
I did manage to see Couture's second goal, and, finally, Marleau's first goal. Good things happen when you head to the net, even sometimes without the puck. It's a Gretzky thing. Go where you think the puck is headed, not where it is. Easier said then done.
So Sharks lead the best-of-seven series 3-2, with game 6 in Colorado this Saturday an opportunity to close out the feisty Avalanche. Somehow I think I may need to once again rely on my SportsTap Droid app. What would my Logitech Ice hockey team mates thing if only they knew of my alternate theater and arts life?
Note: With Ottawa's 3OT win against Pittsburgh, my dream Sharks/Sens Cup final match-up lives.