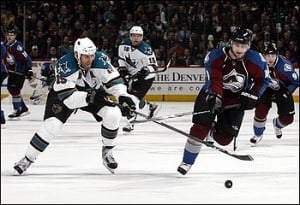 As the stomach turns. The best Shark in game 4 scored the winner in a game that started with good karma thanks to Dan Boyle's atonement goal, but was quickly followed by the bla's and plenty of lollygagging by a talented San Jose team. Ultimately they won 2-1 in OT.
But Joe Pavelski deserved it most.
Along with Setoguchi, the two players showed the heart and grit that is chronically absent from the rest of the lineup.
Someone tell these guys it's the playoffs. Where's the dominant win? The exclamation point? Like Crosby's shot-out-0f-a-canon performance last night in Ottawa, or Zetterberg's scoring form for Detroit.
Okay, a W is a W. I should stop whining already. Perhaps it's because the cynic in me was fully prepared to write this facing a 3-1 series deficit. Instead it's now a best-0f-three with home ice advantage (?) to the Sharks.
Craig Anderson continues to amaze. It's not uncommon for a young upstart to emerge in the playoffs in a big way (remember Jean-Sébastien Giguère's 2003 Cup run?).
The shot count can deceive, though. Like last night, for example, when the Sharks were lobbing in shots from all directions—sharp angles, from the blue line. Not a bad strategy for a team that just can't seem to score a normal goal like it so easily did in the regular season.
Ironically the winning OT goal was scored on a rush started by the Elvis of defenseman, Douglas Murray. This guy had more shakes and jives at Pepsi Center than an Eddie Shack bobblehead. From there the puck bounced randomly, off a defenseman onto Pavelski's stick who wasted no time in snapping it to the top of the net with Anderson screened.
Can you spell: R-E-L-I-E-F?
But the Sharks need to find a better, easier way to win. Say, like having their top players play like top players. Yes, we know they're trying hard and Heatley is playing on one leg. But these guys are paid to win in the playoffs. So far, Thornton, Heatley and Marleau have produced no goals. Zero.
Yes, watching a Shark's playoff game/series is a frustrating annuity.
It starts with a sinking feeling. Is followed by a glimmer of first period hope ("Ah, okay, now they're trying."). Then comes the mid-game blues ("I've seen this before."). And, of course the finish is always nail-biting and provides ample time to scream at the TV, and anyone within 15 ft. nonsensically at how bizarre life is ("I can't take anymore! … When does next season start?").
If these are the glory days, I can only imagine what the inevitable restructuring years ahead will feel like.