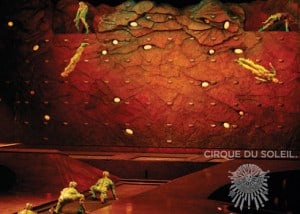 What is life like behind the sparkling glitz, flamboyant color and stunning acrobatics of Cirque du Soleil? If you've seen the new show OVO then you know the world of insects can be quite amazing, especially when a large, mysterious egg appears. You might even call it magical art.
Yahia Icheboudene, the "player" cricket and lead, says, "I started when I was five years old. I used to be a gymnast before (for the French team). It was my dream to be part of Cirque du Soleil."
Join Loni as she ventures behind the scenes at Le Grand Chapiteau (the Big Top) to see what it's like to train and prepare for a big-time Cirque show.
What she discovers is a world of intense workouts, physical conditioning and camaraderie amongst a diverse group of performers from around the world. The behind the scenes adventures continue with the Cirque OVO team, and SSC takes you inside, even if it means capturing's Loni's "holy crap" reaction to the acrobatic feats she witnesses on the trampoline before being invited to try it out herself.
In this episode: how high can Loni bounce on the trampoline? She tries her hardest to be a star cricket, then talks with Yahia Icheboudene about life in Cirque. But will he reveal the mystery of the the egg?
In case you missed it, check out Episode #1 – Wardrobe, and Episode #2 – Rock Wall Training. Also, watch the first hand account of the raising of the $1.5M big top in San Jose. And, finally, the SSC review of OVO ("Oh Wow!").