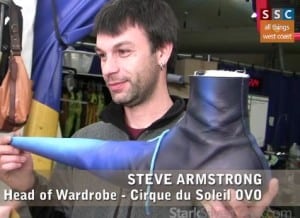 It's a visual feast for the eyes not to be missed. Now join us on a look inside the wardrobe department of OVO, the hot new show by Cirque du Soleil. Our behind the scenes tour of OVO continues, as Loni talks with Head of Wardrobe Steve Armstrong. Lycras, elastics, makeup, shoes. All of it comes together to bring the acrobatic and energetic world of insects to life.
See how the cricket legs work, and how they attach to an artist. Velcro is key! And, what happens at the eleventh hour when a costume breaks? Find out how Armstrong and his team ensure backups are ready to go. He reveals some secrets of the trade, with plenty of French Canadian pride.
Every bachelor's worst nightmare. Loni asks Armstrong what an OVO laundry day is like, "It's every day. We wash 500 to 600 pieces every night."
He reveals up-close the wild, colorful, athletic shoes including ones worn by the crickets, ants and main character—the longest shoe in Cirque.
Finally, what about makeup? Loni is astonished at the dream refrigerator containing all manner of foundation, lipstick, eyeliner, and more.
OVO plays a few more dates in San Francisco, before heading down highway 101 to San Jose, opening on February 4.