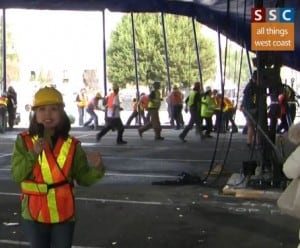 Today, Cirque du Soleil rolled into town, and SSC was there to bring you the behind the scenes action of the team raising the $1.5M big top for their latest show, OVO. It's a massive undertaking, requiring hundreds of workers and days of effort to be ready for opening night. OVO just finished a run in San Francisco, its US premiere. Now the show comes to San Jose (opens Feb. 4), before heading across the rest of the country over the next two years.
OVO is Portuguese for "egg," and, indeed a mysterious egg plays a central role in the show. Astounding acrobatics, artistic performance, and several entertaining scenes play out in a magical world of insects.
It's a family friendly show, and certainly one you won't soon forget.
For those that have missed Stark Insider's coverage and are hungry to learn more about OVO, here are links to additional videos, stories.
Stark Insider: Cirque du Soleil – OVO

Theater review: Cirque du Soleil 'OVO' – Oh wow! (4.5 stars)

On Location: Insects! OVO by Cirque du Soleil in San Francisco

Inside Cirque du Soleil – OVO, a behind the scenes tour

Inside Cirque du Soleil OVO: Episode #1 Wardrobe

Cirque du Soleil's OVO: An evening at the big top with insects and an egg