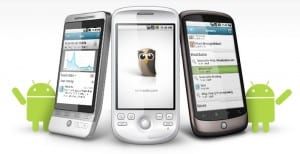 HootSuite (aka "the professional Twitter client") has amassed a loyal user base thanks to its ability to integrate social media tools and analytics into one easy-to-use dashboard. And since social media is increasingly a target for corporate marketing budgets, the company has continued to enrich the features that appeal to power users.
Today, the HootSuite app was released for Android.
I was eager to test it on my trusty Droid as we use the Web-based system for a few of our networks. HootSuite can scan them for updates and the send out automatic Tweets. It can also integrate multiple accounts including Twitter, and Facebook. Detailed reporting and analytics are a key strength and allow marketers to assess effectiveness of various campaigns, messaging and branding tactics, in addition to engagement level across target markets.
As a current HootSuite customer, the best part of the new Android app is that it can automatically sync all of your account information upon sign-in. That means you don't need to manually re-enter all of your login credentials.
But how does HootSuite compare to stalwarts such as Seesmic (my daily go-to mobile Twitter Android app of choice) and Twidroid?
Based on my early tests, I'd say it's a mixed bag.
If you like to schedule Tweets for your business then HootSuite comes in very handy. You can compose a message, and then hit the calendar icon to pull up a date/time wheel. This has been a traditional strength of HootSuite and now it's available in the app.
The interface is clean with iPhone-inspired navigation along the top to navigate back or compose a new message. Scrolling through Twitter streams was generally responsive, however on several occasions icons and avatars would not load properly, or take a long time to appear. I could not find a shortcut to jump to the top of a stream, although it may exist. Refreshing was okay (the automatic interval is customizable), but I found Seesmic faster overall here as well.
I like the layout of the profiles screen. Here a small group of tabs appear that you can click across to view all of the information related to a particular Twitter user or account. It also includes a "Relation" field which shows additional information. Again, I wish this part was just a tad faster, although it was decent.
Advanced users and corporate marketing organizations will want to upgrade to the Pro version so they can access the Stats feature, obviously an essential component of closed-loop marketing campaigns.
Photos can be included and are automatically shortened. I could not find a way to include video links or files.
Finally! Android now has a Twitter app that utilizes swiping. You can swipe left or right to access 6 panels: Home Feed, Mentions, Direct Message (received), Direct Message (sent), Sent, and Favorites. A small marker at the bottom of the app indicates what panel you're on. The swiping works reasonably well, but not nearly to the level of the iPhone's responsiveness. For example, when you swipe, the panel does not move with your finger, it simply switches over with a quick animation. It may sound insignificant, but I think there's work to be done here before it has the fluidity you can experience on the iPhone's TweetDeck app for instance.
Overall HootSuite for Android is a promising start. But there are some rough edges: refresh speeds are slower than Seesmic, occasionally avatars did not load correctly (although this could be network related, more testing is needed), and the app lacks advanced features included in Seesmic and Twidroid. However, the ability to schedule Tweets, track metrics using the built in stats (only in the Pro version) and easily manage multiple accounts will be a boon for on-the-go marketers that rely on social media for their campaigns and branding.
I expect the app to rapidly improve and eventually join TweetDeck and Seesmic as the top three Twitter clients on the market today.