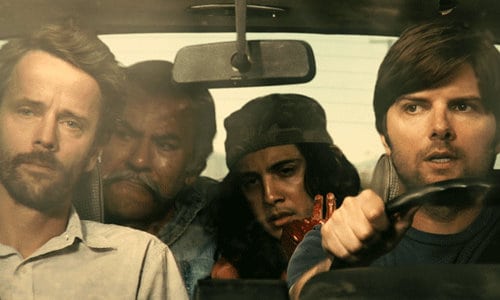 First, a quick recap. We're counting down to the Cinequest Film Festival 20, now opening in 15 days on Tuesday, February 23 with a screening of Dagur Kári's The Good Heart starring Brian Cox and Paul Dano. At the media launch party we received 10 screeners. We screen them. Write about them. Simple as that. If we get through all ten, then we only need to cover 66 more. Plus or minus.
Then there are the 71 shorts. The opening and closing night films. Special events, workshops. Silent cinema (how cool is that, at California Theatre?!). 10 informal Maverick Meet-Ups. And, of course, 13 VIP soirees sponsored by Intel, held at a different "hip spot" every night.
Come hell or high water, we vow to cover as much as possible here on SSC. Even if it means strapping two friggin' netbooks to my torso, a portable sat up-link on my back and a webcam on my head. I will be there, worse for wear.
Now you're all caught up. So, Passenger Side: Canadian indie film, named to top 10 list in 2009. Full disclosure, being Canadian I have a soft spot for all things great white north (Timbits, Harvey's, Smarties, BeaverTails, social safety nets).
In addition to great comedy (John Candy, Rick Moranis, Martin Short, Dan Aykroyd, Jim Carrey, Tom Cruise… wait, scratch that last one), one of my favorite NAFTA countries also produces top notch film. Often, quite intellectual. Usually quirky. Sometimes offensive and shocking, but always polite about it. Kind of like Passenger Side.
It's a brotherly road trip in a somewhat beat up, green 1975 BMW 2002. The car is a big part of the charm of the film. In fact, most of it takes place in that car, which apparently belongs to writer/director Matthew Bissonnette.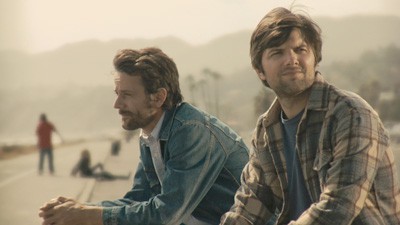 What begins as a simple day of running errands, turns into an adventure of the unexpected. Adam Scott plays the reluctant driver with a fine-tuned look of bewilderment. On the passenger side is the laid back, stoner brother played by Joel Bissonnette. The dynamic between the two is captured well in several montages, scenes, and travelogues.
Since this is Los Angeles, expect the unexpected. A car wash is not just a car wash. And strangers that invite you in for lunch, well, you know what your mother told you.
The cinematography is slick, with plenty of highway shots, and drive-bys. The green screen effect (I'm quite sure it's green screen, but I could be wrong), however, is just off a tad so it can make the light and color look inconsistent on scenes that are using it. It's the kind of thing I notice, but probably doesn't make a difference.
Acting here is solid. The story, much like Little Fish, Strange Pond and even Paulista focuses on character, not plot. So it ebbs and flows, at times more interesting than others… just like a road trip.
The balance of comedy and drama works for the most part, although more of the latter, especially at the mid-point could have made some of the final scenes more impactful. Still, Passenger Side is another great entry into CQ 20, and I'm looking forward to audience reaction to this quirky, intimate Canadian film.