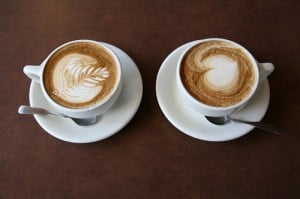 One of the bigger stories in the Blogosphere this week came from the right. Republicans now have an answer—in theory—to The Huffington Post (interestingly enough, if you Google "republican party blog" you get "Gospel of Jesus Christ, The Gift of Eternal Life" as the 2nd result… look no further, say no more). Called The Daily Caller it launched earlier this month in primary red, blue and white. Even Arianna Huffington couldn't resist the temptation to join in the fun with a guest blog entry on the very first day.
I'm loving this fresh brewed espresso, made from Costco beans (the red bag). I know; how pedestrian. But it came from an Italian Pasquini machine, all shiny, brassy… so there! Okay, true, the latte art didn't turn out all that well. No matter, I need caffeine is all. Remember, daily routine: Espresso -> Diet Coke -> 1 beer (light) -> wine. Repeat. And somewhere in there, hit the gym and try to rinse.
Local news
So, let me ask you a question. Where do you get your local news? Think about it. Is it television? Maybe your friend by the water cooler, all chatty about Survivor or Glee? Or is it the Internet, an RSS reader perhaps, or just a local web site?
You might be surprised by the answer.
According to one report at least, local newspapers still lead in, well… the reporting of local news. Ah ha! Got you. Amazingly local newspapers = local news. This to me, at least on this Sunday morning here staring at these new kitchen island lights from NapaStyle, rings true. Who else wants to reports news, and facts? Really? Really?! Opinion is where it's at Jack. Maybe. Facts are for people like Al Gore, to paraphrase George Bush, Jr.
Associated Press:
Newspapers and their Web sites provided 61 percent of the original reporting or fresh information on six major news stories that unfolded during the week of July 19-25, the study found. Local television stations and their Web sites accounted for 28 percent of the new information, followed by radio stations and their sites at 7 percent and Internet-only "new media" at 4 percent.
Repeat; "new media" comes in at only 4 percent. Makes sense. If ever a medium was made for opinion it would be the scratchy, dancing on the moon, look-at-me Blog. We just want to tell everyone what we think, all the  time. We take a CNN story, then give you the G2, straight from our opinionated ThinkPad keyboards. It's perfectly fine. Us new media folk don't need to march to a corporate agenda. We don't necessarily need to care about huge sponsorship deals (except for Diet Coke and U2). We can just, simply, tell you what's on our minds. Way of the future? Partially.
15GB of OVO
Last week, under the Grand Chapiteau (Big Top) in San Francisco we shot 15GB of behind-the-scenes footage at Cirque du Soleil's latest show OVO.
I'm impressed by a few things. First, the generosity of the Cirque PR team towards new, frisky guys like StarkSilverCreek; giving us the same access as traditional television stations and newspapers.
But even more importantly, for being just darn nice people. They love what they do. And it shows.
Part of me feels a certain amount of Canadian pride given that Cirque originated from Montréal; having grown up in Ottawa/Hull, the bilingual capital city of a proud multi-heritage country. Quebec is only 5 minutes away via the Portage Bridge (bars open to 3am!). I never could resolve whether I was a Maple Leafs (Rick Vaive) or Montreal Canadiens (Guy Lafleur) fan. In the end, the liberal attitude of the French Canadians towards nudity and sex probably won me over. Today, though, it's much easier: Sharks!
Oh, yes, 15GB. Just wanted to say, that new media, among other things, means lots of hard drive space. LOTS. And servers. And things like RAID, WordPress, cloud computing and CPM. That 15GB, for example, quickly becomes 45GB. You need one backup, plus another secured away off-site in a digital safe. You want to get in the game of high definition video? Then learn how to speak in Terabytes. Gigabytes are so 2005.
Droid redux
Maybe you're wondering if the honeymoon is over between me and Moto – Motorola Droid? I picked up the shiny new gadget, much to my iPhone-toting friend's dismay, at a local Verizon shop on launch day, November 6, 2009. I was slightly disappointed I didn't need to kick some weak kid to the curb to grab one. Instead, it was relatively calm. This was nothing like our 5am waits to get a Nintendo Wii.
The answer: I still love it.
The Motorola Droid lets me do business on the road like no other phone I've ever owned, including my old (and respected) BlackBerry 8700c on Cingular (now AT&T). Primarily because I've thrown myself, and our business, into the world of Google with committed velocity. Google Docs. Calendar. Gmail. Adwords. Adsense. Reader. Analytics. Alerts. Feedburner. Checkout. Picasa. YouTube. News. Chrome.
Also, Google Voice. Not available on iPhone. Reason enough to choose Android.
But my favorite new reason to sing praises of Droid is that Loni now has an iPhone. It is fantastic, no doubt. The network, AT&T, somewhat questionable though, especially compared to robust Verizon. Call me a contrarian. Suits me fine on this whimsical morning.