Cirque du Soleil brings its spectacular show OVO across the United States over the next few years. To put the effort into perspective, imagine a small village about 180,000 square feet in size encompassing everything from tents and training facilities to cafeterias and lounges. Then add 15 tractors, and 2 million pounds of equipment. Even a school is available so some of the touring cast can continue their education while embarking on what can only be described as an epic cross-country journey.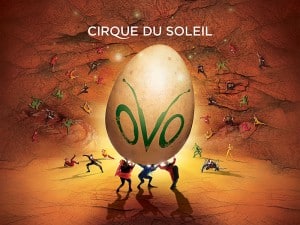 OVO opened in San Francisco in November taking the Bay Area by storm, and soon heads to San Jose (opens Feb. 4). And it will take 11 days, and over 200 workers (including 100 hired locally) to transport the show some 50 miles south, down highway 101. It's a U2-sized production.
Will we discover the mystery of the egg?
The fantastical show is a wonder for children and adults alike. The artistry combined with acrobatics and athleticism (my Maddenism for the day) make for a performance unlike anything you've seen before (unless, of course, you've taken in any number of the Cirque shows such as O, Mystère).
But during our recent backstage tour and shoot, I was simply amazed at what I saw.
We were invited to spend a few hours with the cast and given carte blanche to shoot video, photos, and take notes. We jumped at the opportunity.
Loni even got in on the action to see what it's like to train like a pro. And this is the amazing part. Being backstage at OVO is like being in a world class training facility. In many ways it is. Several of the athletes and performers have Olympic pedigree. It was astonishing to see up close. In one segment we shot, an incredible athlete (and cricket!), Yahia, demonstrated rock climbing, then swung his body out horizontally 10 feet in the air, using only his arms. Maybe this is common in gymnast circles, but too me it was one of the most amazing physical feats I had ever seen in person.
For a moment you may think you're at the United Nations with all the different languages being spoken. On this day, I heard plenty of Français, which made me realize how rusty my language skills are. It's been years since I enjoyed watching the Habs play on Quatre Saisons up in Canada. I could also hear Russian (at least I think it was). So in some ways this could be a pretty decent hockey team, what with the French Canadians, Russians. Not to mention, several dialects of Chinese when the ants are rehearsing.
As we weaved our way through tunnels, and through the training areas, into the Grand Chapiteau (Big Top) I realized how easy and seamless the performers make the show look. Behind the scenes, as you'd expect, there is a myriad of electronics, pulleys, ropes, computers, and even skate boards used to whisk actors to designated marks below the stage, for a pop-up.
We'll have more in our continuing coverage of OVO. For now here's a preview of the upcoming series Inside Cirque du Soleil – OVO with StarkSilverCreek. I want to thank all the performers, and Frederique and Kevin for their generous hospitality. It was a thrill to be part of their (insect) world.
OVO, "Oh Wow!" Take the family up to the SF show, or enjoy it when it hits South Bay next month.