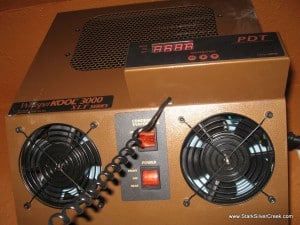 Don't you just love it when a home renovation project grows and grows in scope?
At the end of 2007, we celebrated the opening of our wine cellar. Like a lot of home renovations, it was another one of those incremental projects that somehow attached itself to an existing, but all-together different project: new travertine flooring.
Once a contractor is knocking out walls, chopping stuff and making daily visits to your house for a few weeks, why not double down?
We had always thought the walk-in closet was a waste of space. But it had great potential, especially since it was a short hop from our kitchen.
The closet layout turned to be perfect for a dedicated wine cellar/pantry. You could walk in, do a u-turn around a corner, and walk another 5 feet or so, before the ceiling sloped to a crawl space. Loni envisioned a small room with deep rusty-red walls, floor-to-ceiling wine racks, a display area for balsamic vinegars, olive oils, and other travel  odds and ends, dimmable spots and tile flooring. Oh, and of course, a Tuscany-inspired door with ironwork, glass and heavy wood construction.
Despite the ambitious list and a complete re-insulation, the project turned out to be modest. In the end, we have about a 600-bottle capacity wine cellar with some rear area storage that serves as a cooled pantry. 
One of the biggest decisions we made was regarding the cooling system.
There are a lot of choices out there. For our project, we decided to go with  a single self-contained unit (not the "split" systems that require a head unit attached via ductwork to an outdoor A/C system). This meant we could install it above the doorway, and vent to the hallway.
I thought this was be a good place to start in terms of evaluating the wine cellar project. Would we do anything differently? And how well are the design decisions and components working?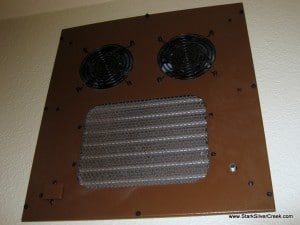 The WhisperKool brand is well known in the wine cooling industry. If you Google wine cooling or similar terms you'll see it pop up often. After some research we discovered it received generally solid reviews. So we chose the WK 3000 model which supports a room up to 650 sq. ft. in size which was about right for the converted closet. This would keep the cellar at an optimal 55-57F temperature.
A few things to keep in mind if you are planning to install a WhisperKool or something similar:
an exhaust duct is required; it will produce significant amounts of warm air at high velocity
humidity is as important for a wine cellar as temperature; the WhisperKool (and other manufacturers) provides a condensate evaporator system which keeps humidity automatically in check
for efficiency, your room should have the best quality, exterior grade R-1 or better insulation and appropriate vapor barriers throughout (including ceiling, floor and light fixtures)
the WK 3000 model runs at 6 amps, but requires 30 amps at start-up, so a dedicated circuit is highly recommended (if not, required)
a good quality surge protector is recommended to protect from power spikes and "dirty" electricity (we purchased one from Radio Shack and have had no issues)
it is designed to cool the air 30F from ambient conditions; so if you are venting externally this could be an issue in hot places where the air temperature exceeds 85F
also for optimal efficiency, it should be mounted within 18 inches of the ceiling of your cellar, so allow for this in your design
your cellar door should be exterior grade with weather stripping on all four sides including a bottom "sweep"
One of my favorite features is the probe that uses liquid temperature instead of air temperature. For some reason they call this feature Precision Digital Technology (PDT). The engineers won this naming war. This option connects the unit to a probe which you insert into a wine bottle filled with water. It works great! 
On the downside, the exterior venting side of the WhisperKool looks decidedly retro, with brown paint, and large fan covers and exposed screws and bolts. At least one guest has likened it to the backside of old 70s and 80s minicomputers. There is an optional cover that can be painted to match the wall color which may one day be in our future. But, in some ways, we kind of like the industrial retro chic look. Maybe.
Despite the name "Whisper" this unit can be loud. Especially during the summer here in San Jose, when it runs frequently. When it is on, which is at least every hour in the warmer months, you can hear it throughout the house. We've grown accustomed to it. But keep this in mind when designing your cellar. Relatively, I would say it's about 25-40% louder than our regular furnace or A/C.
So far, we're pleased with the WhisperKool. The contractor installed it easily. It has never failed, and keeps the cellar consistently around 55-57F.
Now if only I could get more organized in there… by country, by winery, by vintage, by varietal… so many choices on how to rack wines.
Cellartracker, a free web service, helps quite a bit thankfully, but we still have some ways to go before I locate that right bottle, at the right time.
Perhaps that's part of the adventure; spelunking in a small, dimly lit, walk-in closet at 9pm hunting for one of Loni's treasured Harlan Esate bottles. Maybe she hopes confusion will reign, and I will instead stumble upon our Trader Joe's stockpile.