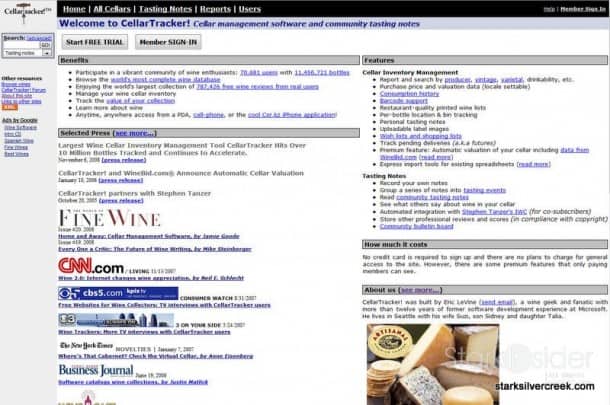 Let me simply state: wine collecting can kind of sneak up on you!
I know this first hand… a wine purchase here, maybe a case there, a gift or two, and bingo, that little 40 bottle cooler just won't do the trick anymore. My wine-collecting partner and wife only adds fuel to the fire with her thirst for interesting bottles, cult wines, and special releases.
Fortunately a few years back we invested in a refrigerated cellar during a renovation. Now we can store those extra cases, special bottles with aging potential and those little nick-nack collectables we have acquired abroad.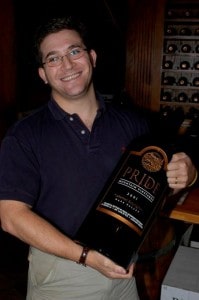 Thankfully to manage the chaos, I have 'CellarTracker!', a donation-supported web application for managing wines, from small to large collections and anything in between. I've been using it for about 3 years now and have been meaning to write about it for quite some time and finally was just enjoying it so much that I decided now was that time.
A wine geek turned entrepreneur
Eric Levine, a self-professed "wine geek" who founded CellarTracker, was a former Microsoft employee, and has turned his love for wine into an apparently successful business. According to a press release last November, the site now tracks over 10 million bottles and has more than 63,000 users. Impressive, considering the company was only founded in 2004.
It's been fun to watch it grow, and from time to time, Levine sends out helpful newsletter updates to members. Over the years, he has extended the power of the application, adding interesting partnerships or functionality with companies such as Wine Spectator one click links to reviews), WineBid.com (quarterly auction valuation of your collection), Twitter (tweet about your latest bottle), and a whole bunch more.
In some ways, it's a bit like a Microsoft Office product: there is tremendous depth, but most will likely use well under 50% of the potential. Although, over the months, I find myself learning just a little bit more, discovering new features such as the Twitter announcements or auto-valuations that soon become addictive. Wine can be fun, even when you're not drinking it!
But what exactly is so great about CellarTracker!? Well read on for my thoughts and more screen shots.