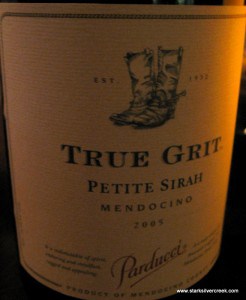 Here's a great, brash wine, aptly described on the back label as "an American original: big and bold, with plenty of heart." A pair of cowboy boots on the label emphasizes it's wild west attitude.
Last time we had a showdown with Parducci, it was with the respected, but perhaps undergunned 2007 Pinot Noir ($9.99, 84 pts). A decent enough fellow.
But this time Parducci, the feisty winery based in Ukiah in Mendocino County, came really packing. I'd say this Petite Sirah is in their wheel house.
Those who generally prefer smooth, non-challenging wines that tend to go easy should stay away from this one (and most Petite Sirahs for that matter).
To me, this is just about as good as a Sirah gets, and captures the early excitement California vintners had about this rogue grape.
Parducci True Grit Petite Sirah 2005
Rating
90
Clint says:
"What Petite Sirah is all about: a gun slinging, brash example with lots of intense pepper and big and bold. Highly recommended."
The Wine
Petite Sirah
14.5% alc.
$29.99
The Winery
Parducci Wine Cellars, Ukiah, California (Mendocino County)
True Grit definitely has character, and as the label suggests will mellow with age. So it's a win-win. You can enjoy the boldness now, or give it some time in your cellar and see how it changes with time. And unlike the mysterious Valley of the Moon we tasted a few weeks back (although not a Sirah), this Parducci is steadfast in character. Over the two days we put it through the tasting rounds, it scored consistently. A predictable, excellent wine.
Highlights from the tasting notes:
"Yes! Just what I expect in a bold Sirah."
"Pepper, pepper, pepper. Love it."
"Ok this is not for the feint of heart."
"Finish better than I expected: pleasant, with tannins and edge"
"This would be perfect for big time California BBQs"
I guess by now you know: highly recommended.