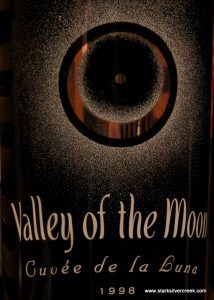 On one of our recent trips to Sonoma we spent some time at Valley of the Moon, another one of those charming little wineries. Not too big, not too small.
When we arrived, a distributor session was in progress. Fortunate for us we were able to get some good information by talking to the representatives about demand, pricing and market trends. Also we were invited to take advantage of some deals.
The tastings were quite good. So we picked up a mixed case.
The most interesting perhaps was this 1998 Cuvée de la Luna, a proprietary blend. I say interesting because 1998 is not known as a great vintage for Sonoma (or Napa) cabs.
Wine Spectator said it best when rating the 1998 vintage:
"Cool, damp, year, with mostly green, herbal wines marked by gritty tannins; few memorable bottles"
(Note: you can find a vintage rating reference in the forums)
It certainly helped explain why we are able to get some discounting. But to each wine its own!
Would this wine succumb to the '98 curse?
Yes and no.
Valley of the Moon 1998 Cuvée de la Luna
Rating
84
Clint says:
"An inconsistent vintage reveals itself with slight tanginess on finish in this Bordeaux style blend. But I still enjoyed it. Bold aroma, with prominent, rich fruits and oak. Look for better years of this blend."
The Wine
13.5% alc.
70% Cabernet, 25% Merlot, 5% Cabernet Franc
The Winery
Valley of the Moon, Sonoma County
Category
So ok I'm being middle of the road here, but this one has evolving character written all over it. A wine with a multiple personality disorder.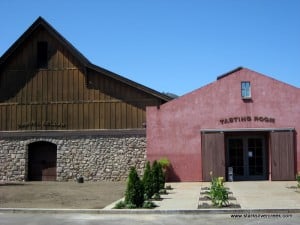 It's one of the most difficult wines to pin down that I've tasted in years. One moment it's smooth, full of strong aroma. The next it's ok, but with more tannins evident and a slight tanginess on the finish.
Others that tasted had similar experiences.
As usual I decanted. Then let breathe. More tastings, over  multiple days. Some blind. Comparing across various benchmarks we use.
The 1998 was blended Bordeaux style with 70% Cabernet, 25% Merlot and 5% Cabernet Franc. Not using a varietal label gives the winemaker flexibility to blend keeping in mind quality of harvest and personal artistic vision.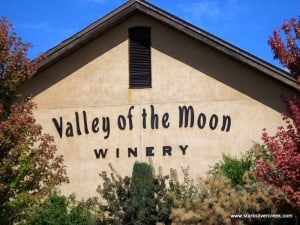 I still think the nose is wonderful. I compared across other blends and it is just so full. Love it. You can identify that trademark Sonoma aroma. Also, several nice qualities of a wine that has matured about 10 years: smooth, relaxed with nice texture.
But then again, there was that stubborn tanginess at the finish. For me, it was fine and gave the blend some character. Others though did not feel the same.
In the end though I think it was a nice deal at only $17.50 a bottle. Availability on this may be tough now.
Given the inconsistency, approach the '98 with caution if you do find some. However, I'm looking forward to trying other, more successful vintages of this blend, as it was good especially considering the challenging vintage.