Here's a somewhat wild bit of news in the world of coffee.
Espresso giants Mahlkönig (grinders) and La Marzocco (machines… mostly) have announced something called The Sync System.
It's not a cloud file syncing service — no surprise. Rather, it's a system that enables a grinder to talk and communicate with an expresso machine. Via wireless connection and the respective apps (Mahlkönig  Sync and La Marzocco Pro) they can exchange data and, more specifically, adjust the grind size automatically with the goal of delivering the perfect shot.
Basically, this is something that is typically done manually by a barista or at-home user. If the shot runs too fast you grind finer. Too slow and you do the opposite. Now, thanks to real-time communication between the two devices this process is automated.
In the announcement, Mahlkönig cites several benefits including things like maximizing consistency of coffee across shifts, increased efficiency, streamlined training, remote monitoring and sustainability.
The Sync System is clearly targeted at the retail and commercial markets.
Here's a simple diagram of The Sync System workflow: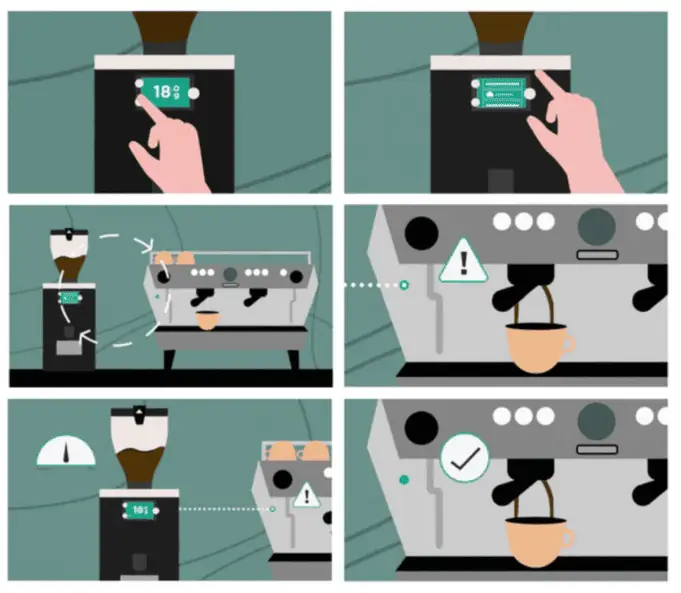 Mahlkönig says its new E80W Grind-by-Sync will be the first grinder to feature the new tech.
As for the La Marzocco it looks like there are three compatible Linea models: PB ABR, GB5 ABR and KB90 ABR. All are commercial espresso machines.
The announcement is part of the Host Milan 2023 show where you can stop by their booths for a demo of The Sync System.
A Solution in Search of a Problem?
As with many innovations you have to wonder if this is something that is really needed. Is it, as they say, a solution in search of a problem?
It's hard to say.
Yes, dialing in the beans and grind and brew ratio can be hit and miss, and time consuming. If you're operating a coffee shop the less time you can spend dealing with that hassle the better. Further, the more consistent your espresso the better as well. So, in theory at least, a system that can automate and perfect this process on a repeatable basis could be valuable for a business.
However, properly trained barista know how to adjust the grind. Easily. And can typically get the results needed quickly. This is simply part of the job. And once a certain bean is dialed in there's no reason to go back and adjust anything. It will just work once the grind adjustment is made.
RELATED:
Innovation is about pushing the envelope. Trying new things. Mahlkönig and La Marzocco are doing just that. Some of us might not see the necessity of something like the The Sync System, but it could turn out to be the groundbreaking invention they are claiming it will be for the coffee industry.