Apple's 'Scary Fast' event was a little unusual on a couple of fronts.
First, the timing. Typically, Apple holds these types of events and live streams during the day — as far as I can recall almost always in the morning. So to have this one at 5pm PT was in itself, odd, but kind of interesting too in that more consumers or would-be Apple buyers and customers would be able to tune in as work for most would be done for the day.
Further, this was a pretty rapid product iteration. The M2 chips in the MacBook Pros just came out earlier this year in January (for the 16-inch model like the one I upgraded to from my 2015). And, yet, here we are in only October getting M3. That's a short cycle!
Next, the products themselves. Sort of … more of the same.
Clearly, the M3 chip itself was the star. No surprise then that it makes appearances across the board in a range of faster MacBooks and iMacs. Yet I can't help but think Apple missed an opportunity here and didn't do its usual surprise innovation reveal and give us something unexpected. If it was, indeed, there I missed it. Instead the slick event was all about silicon. That's not a bad thing. But I'm surprised Apple didn't showcase some must-have upgrade features, beyond just speed improvements over M1 and Intel.
The most interesting part of 'Scary Fast', though, is what came a day later.
On Halloween — October 31, 2023 — Apple issued a press release and a companion YouTube video that details how the event was created, and, most essentially, shot on iPhone.
Apple Press Release:
Behind the scenes: An Apple Event shot on iPhone
The behind the scenes reveal demonstrates that, yes, the iPhone camera is capable of producing stunning imagery. At least, in the right hands.
Briand Oakes, a documentary film director, shot the event. Various photos in the Apple press release in addition to the BTS video show the iPhone rigged up on a variety of stabilizing gear and dollies. Quite impressive.
"We were able to get the same complex shots with iPhone 15 Pro Max," says Oakes. "It's amazing to see that the quality from a device that is so small and so portable can rival a large $20,000 camera."
Clearly, Apple is allocating large marketing spend on the idea that the iPhone can be used for professional shoots.
Read on in the release and you'll note that Apple used the recently released Blackmagic Camera app as well — that's a great win for Australian-based Blackmagic. Surely, the press will help generate further interest in their products.
But Will Hollywood Ever Switch to the Apple iPhone?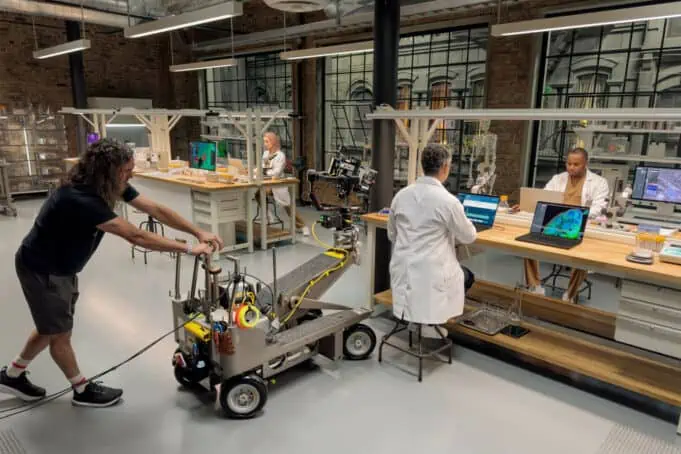 Apple did win over some Hollywood converts in the early days. If only temporarily.
Most notably, famed director Steven Soderbergh shot Unsane (2018) entirely on the iPhone. It's worth a watch, if not for the camera, but for the acting and directing — and for the somewhat non-conventional and entertaining horror elements.
Soderbergh could, of course, used any standard pro camera, like an Arri, for instance, that is commonly found on most film sets in Los Angeles. Or a camera by RED Digital Camera, another popular choice for commercial productions and apparently his most recent tool of choice. However, shooting on iPhone did give the film a free marketing boost as the stunt generated a boatload of free publicity.
His subsequent project High Flying Bird (2019) was also shot on an iPhone (6).
After that experimental period I notice, at least according to IMDB, that he's moved back to standard non-phone cameras. RED Monstro for the Laundromat (2019). RED Komodo for Let Them All Talk (2020) starring Meryl Streep. RED Monstro for No Sudden Move (2021). RED Komodo for Kimi (2022). And, most recently, the RED V-Raptor for Magic Mike's Last Dance (2023).
I'm sure the Apple iPhone (especially the most recent one!) could have performed well in all of those scenarios. Obviously, it would be particularly useful for working in tight spaces where traditional cinema cameras would present challenges due to weight and size. And, I believe as Soderbergh once noted and others as well, shooting actors with something like an iPhone is a far less intimidating experience. For inexperienced actors that can result in less anxiety and better performances.
Mostly I'm still seeing Arri and RED and Panasonic and Sony pro cameras being used on the big projects.
Regardless, it seems as if that iPhone experimentation is done with for now.
When I check out cameras used on high profile Sundance entries or recent Oscar winners the theme seems to be the same: there's not much iPhone being used on big film projects.
That may change, of course. Apple is doing everything it can to prove that the iPhone camera offers a compelling mix of convenience, speed, and quality — not to mention a far smaller price tag compared to the cinema camera competition.
Messaging is one thing, reality is another of course. Mostly I'm still seeing Arri and RED and Panasonic and Sony pro cameras being used on marquee projects.
For YouTubers, content creators, Vloggers and the like, the Apple iPhone is a slam dunk. It's easy to hold, there's a lot of accessories available, and the auto-focus and computational software stuff is top notch. I think this market is key — and massive in size.
For filmmakers it will be interesting to see if Apple can make inroads and displace the status quo. 'Scary Fast' definitely demonstrates what is possible with the iPhone camera and, no doubt, it's impressive. Just be sure not to forget to add on about $1M worth of pro rigging, lighting, set design, art direction, and color correction to your next iPhone project for similar results.