Philips today made a significant announcement, for the first time adding cameras to its traditional Hue lighting line-up. The move suggests a strategic move into the DIY home security market segment currently dominated by the likes of Google (Nest) and Amazon (Ring). Parent company Signify released this press release with the all the details. Also, see below for a thorough presentation video by Philips featuring the new platform and products.
Called Philips Hue Secure the new products include smart cameras, contact sensors (for doors and windows) and what the company says is an "all-new Security Center" in the Philips app. As is typically the case the announcement also included a bunch of new lighting products including string lighting (Festavia), track lighting (Perifo), bulbs (MR16), ceiling spotlights (Centris), and a table lamp (Signe).
In addition, the Dutch consumer company also announced support for the emerging Matter connectivity standard and protocol.
But it's the cameras and security part of this announcement that should likely grab the most attention.
With its acquisition of Ring in 2018, Amazon made a big push into the home security market, further expanding the capabilities of its existing smart home technology powered by the Alexa voice assistant.
"As the world leader in smart lighting, we know that light plays a major role when it comes to security. After previously having introduced innovations like Philips Hue motion sensors and the Mimic presence automation, we're now extending with a full suite of solutions for home security in day-to-day life. By integrating our smart lighting system with cameras, contact sensors, and app features, we offer a unique security solution through light to help users secure their homes. And it doesn't end here, as we will continue to build and innovate to unlock the potential of lighting and security for our users."

— Jasper Vervoort, Business Leader Philips Hue at Signify
Before that, Google acquired Nest in 201 ($3.2 billion) in a blockbuster move to boost its aspirations for smart home dominance.
Given the sizeable brand recognition Philips enjoys with Hue it will be interesting to see if that market position is strong enough to support a move into home security. One thing missing at this point is a voice assistant and associated smart speakers and displays that enable flexible control. For now, at least, users will strictly use the Hue app for all of that.
Philips Hue Secure Camera & Security Center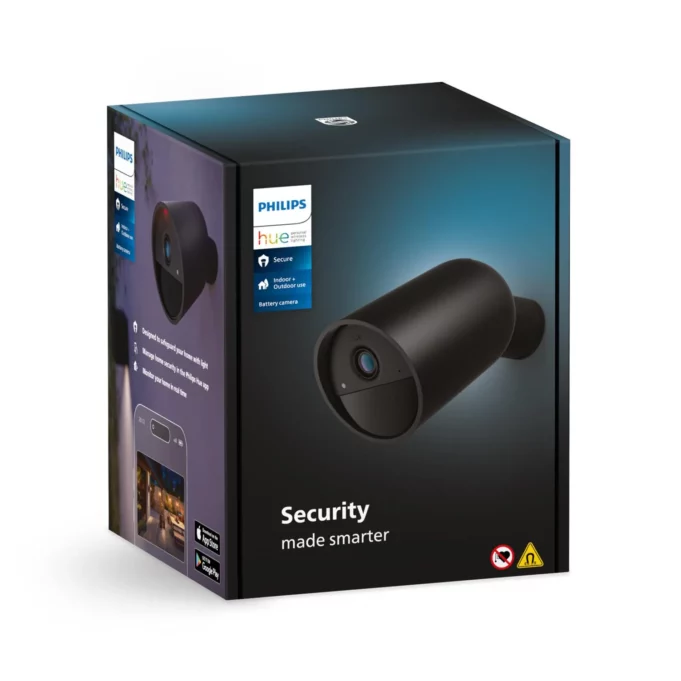 WATCH: Smart home security from Philips Hue
In terms of the security hardware itself, the Philips Hue Secure cameras will feature 1080p resolution, Wi-Fi, two-way communication, built-in siren, and motion-based notifications.
At launch there will be both wired ($200) and wireless ($250) battery powered options (just like Amazon Ring).
As you might expect, the cameras can be configured to trigger lights based on motion and events.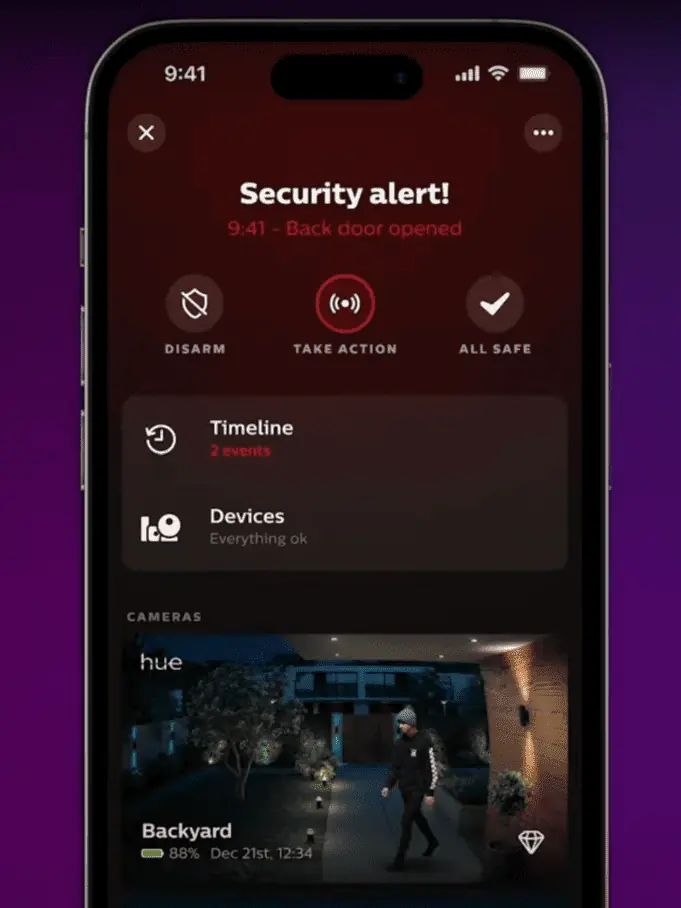 The associated Secure contact sensors can be to detect when a door or window is opened and also trigger notifications.
Subscriptions to Philips Hue Secure and the associated Security Center in the app goes for $4/month with 30 days of storage, or the Secure Plus plan for $10/month with 60 days of storage in the cloud.
That compares well with Amazon Ring Protect which starts at $4 for just one device, or $10/month for all devices at one location. However, Amazon does provide more storage with video history available for up to 180 days.
Meantime, Google's Nest Aware security plans start at $6/month with 30 days of storage and up to Nest Aware Plus at $12/month with 60 days of storage.
Note at this point Hue Secure does not support Amazon Alexa, Google Home or Apple HomeKit.
DIY Home Security Market Gets Even More Competitive
Amazon and Google are the reigning DIY home security heavyweights. With their voice assistant muscle and range of devices, both companies are extremely well positioned to continue to grow share. And that's not to mention their potential for AI capabilities.
Philips is an interesting — and perhaps unexpected — entrant. Known solely as the lighting platform, and an expensive one at that, can the Hue brand successfully take on the incumbents?
Philips Hue Secure

Early verdict — on Reddit?

Not so great, see: Philips Hue Secure Cameras officially announced

Random comments and feedback on the latest addition to the Hue product portfolio:

This move is turning me off from a product line I am heavily invested in.
Lost me at "subscription pricing"
Hue fixtures are usually quite minimal and stylish but that floodlight camera is pretty wonky looking.
Ugly. That white camera setup looks like the hunchback of Notre Dame.
Subscriptions… No thanks.
Feels a bit of a gimmick to me…
It's a tricky proposition. And I'm not so sure at this point there's a clear answer. Given the massive distribution of Amazon and Google products, in addition to brand recognition, it would seem Philips would need to somehow differentiate its Hue Secure offerings to at least offer something tangibly better than the competition. It could be price. Or ease of use. Or something in terms of features that the others don't offer. Yet, at this point I don't really see anything that suggests Hue could have a leg up in any of those terms.
Die hard Hue fans and those who have invested heavily into — pricey — lighting products could see the new Hue Secure offerings as a natural extension. That is, so long as they have yet to already buy into something like Amazon Ring or Google Nest.