Peloton (NASDAQ: PTON) is planning a rebrand. And it looks like it will happen quickly too — thankfully, as the company needs to continue to make significant moves if it has any hope of reversing its downward spiral.
Regarding the planned rebranding or repositioning, CEO Barry McCarthy had this to say during today's quarterly conference call Q&A after a Q3 earnings miss:
"I want everybody to experience it along with the consumers at the same time. In the letter I spoke about the fact that we're primarily known as a bike company. But the behaviors of our members extend well beyond that into many different categories of exercise and a large percentage of folks use no hardware at all. I've done a very good job of communicating that prospective members. And we're looking to improve upon that. I think the advertising can be more inclusive than it has been historically."
In addition McCarthy indicated that the Peloton app (a major way of accessing workout content when not using a bike or treadmill) will also be receiving "considerable focus."
He indicated that since taking over the company as CEO from John Foley, Peloton has written down about $1.7 billion in revaluations and restructuring.
After this quarter, he notes, the company will have settled supplier's payments in relation to inventory commitments and that they will be "completely in the rearview mirror" after this quarter.
What will a Peloton rebrand look like?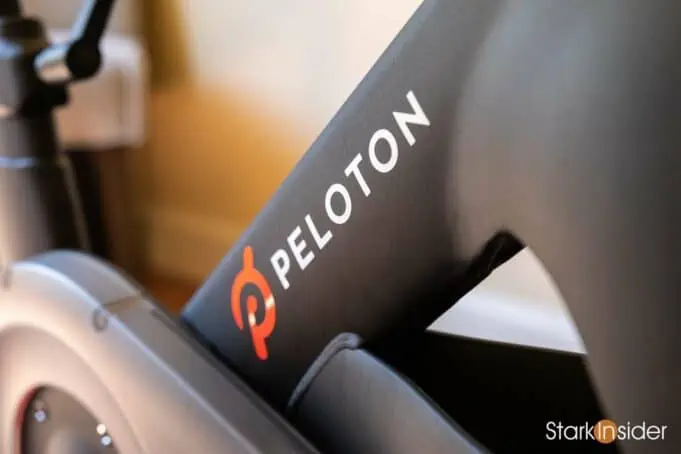 We don't know for sure what will happen with respect to the Peloton rebranding, but we do have some clues as McCarthy and the team alluded to several factors on today's earnings call.
For one, Peloton wants to be known as more than just a bike company. My guess is that most people immediately picture a spin bike when they hear the word "Peloton". That makes sense. Peloton's marketing and especially its TV advertising is quick to put the bike front and center in most of its campaigns. Hence, Peloton equals bike. Of course, there's much more, including off-bike workouts, the treadmill, and most non-Peloton users don't realize this value. So they think, okay, if I want a Peloton I need to fork out a bunch of money up-front to buy a very expensive bike. Going forward I suspect Peloton will want to shift that mind set.
Peloton wants to be known as more than a bike company.
In the call, McCarthy mentioned that the new marketing campaign would try to reach "slightly younger" people. How and what that means we will find out soon enough. But likely it will be a way to make the Peloton brand seem cool again. Right now I think the perception is focused on it being a pandemic stock (like Zoom and others).
On the strategic side it would seem the shift from the bike to the app would help McCarthy's goal of welcoming an "asset-light" model. Like Netflix, subscriptions can provide for a sizeable, predictable business model and cash flow. The more Peloton can generate future business based on the app, the less it needs to worry about the complicated drag associated with managing hardware (Bike, Tread) inventory and shipping logistics.
Regarding the Peloton app, The Verge says we should expect a tiered subscription model with access to various content dependent on the plan. Only those who own Peloton hardware will be granted all-access.
Finally, there was a mention of "content is king" on the call. Definitely not the first time we've heard this expression before, but as a Peloton Bike owner (love it) I agree that its the instructors and classes where Peloton really has an advantage. It's hard to get that point across to others sometimes. Without experiencing it yourself you may think you can get an equivalent experience on a random $300 spin bike from Amazon. I've tried some of them, and I've also tried the bike classes on things like Apple Fitness+. That's a decent service, but its instructors pale in comparison — by a lot — when compared to the stellar line-up Peloton has grown over the years.