If you're shopping for a Nespresso machine either to spoil yourself or as a gift for someone special, your timing could not be better.
Amazon has slashed the prices of a whole bunch of Nespresso and Nespresso Vertuo models. These are home-based espresso machines that use pods to make a variety of espresso and milk-based espresso drinks at the touch of a button.
Leading the pack with a wallet-friendly 30% discount is the Breville Nespresso Vertuo Coffee Machine: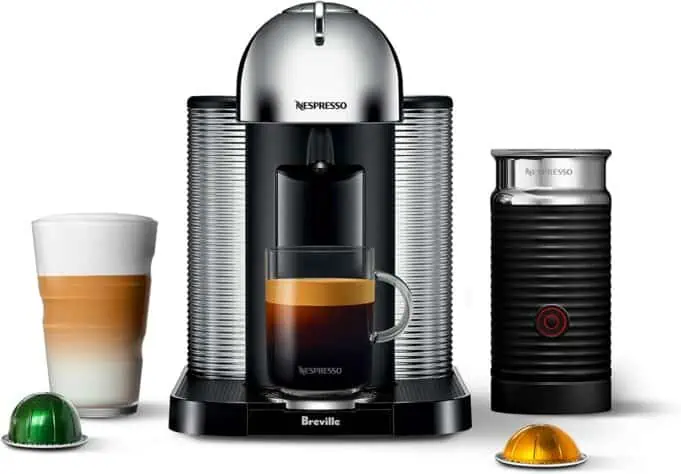 Normally retailing for $269.95, the sale price is now only $188.99 over on Amazon.
In addition to the machine itself the bundle also includes the Aeroccino, which is a convenient tool for frothing milk. Simply pour in your favorite milk type, push the button, and in less than a minute you're ready to pour your favorite Latte, Cappuccino, Cortado or other milk-based beverage of choice.
A Non-Pod Alternative

HOME BARISTA RECOMMENDATION

Looking for a non-pod alternative that will be fun to evolve your home barista skills?

Consider a semi-automatic espresso machine such as this Rocket, a top pick on Stark Insider:

You get full control of the espresso workflow including tamping and brewing. However, it's a much more complex process than something like Nespresso or Keurig. And more expensive.
In our tests we find Breville espresso machines among the best on the market, often even out-performing other brands such as De'Longhi.
We found espresso drinks to be flavorful and rich with crema, making for a delicious morning treat.
The Vertuo pods come in range of sizes and flavors, so you'll be able to keep things interesting. You could, for instance, enjoy strong espressos in the morning before switching to a decaf milk drink in the afternoon. Nespresso's flexibility is one of our favorite benefits of this espresso system.
Other deals to be had currently include other Breville and De'Longhi models:
Many of these models include Nespresso Vertuo starter pods, so you'll be ready to enjoy at-home espresso right of the gate.
Top Deal: Nespresso Vertuo Coffee and Espresso Machine by Breville
Our pick of the litter at 30% off would be the well-built and reviewed Breville:
I'm not sure how long the Nespresso sale will last, but now seems to be a great time to be shopping around for a machine.