Yes, the hyperbole is true, at least in terms of brand awareness. The Gaggia Classic Pro reigns as the gold standard of entry level at-home espresso machines. There's simply no escaping this iconic Italian. If you're Googling for best espresso machines and diving deep into Reddit for recommendations for something under $500 USD, the GCP comes up time and time again.
So I couldn't resist. As a long-time, and somewhat stubborn user of a single boiler heat exchanger, I just had to know: does this compact semi-automatic machine really live up to its reputation? And is the Gaggia Classic Pro still worth today?
I wondered too if I'd miss things on my HX, especially the ability to brew and steam at the same time. Plus, the GCP has a small boiler. Would that mess up my espresso workflow?
In any case, I went ahead and purchased one in Polar White. Interestingly, that color choice knocks $50 off the already reasonable price of $549, bringing the purchase price down to $399 on Amazon. I mean, that's pretty amazing. Don't forget, the specs are mighty, even at this budget level:
58mm portafilter
3-way solenoid
Chromed brass group
Professional steam wand
Those are just a few of the headline features. In 2019 Gaggia updated the Classic, and brought all sorts of tweaks and improvements to an updated "Pro" model based on decades of experience and customer feedback. I appreciate the simplicity of three rocker switches up front — everything looks clean and modern. Art deco chic even.
I'm still working on a full review, but I just couldn't help share some first impressions and initial test results below. Spoiler alert: I kind of really like this machine!
IN PHOTOS: Gaggia Classic Pro Unboxing and First Impressions
Our Gaggia Classic Pro unit came double boxed which I really appreciate:

Here is the Gaggia Classic Pro in Polar White. $399 USD. You can also get it in Brushed Stainless Steel, Ferrari Red, Industrial Grey and Blue. Available now on Amazon.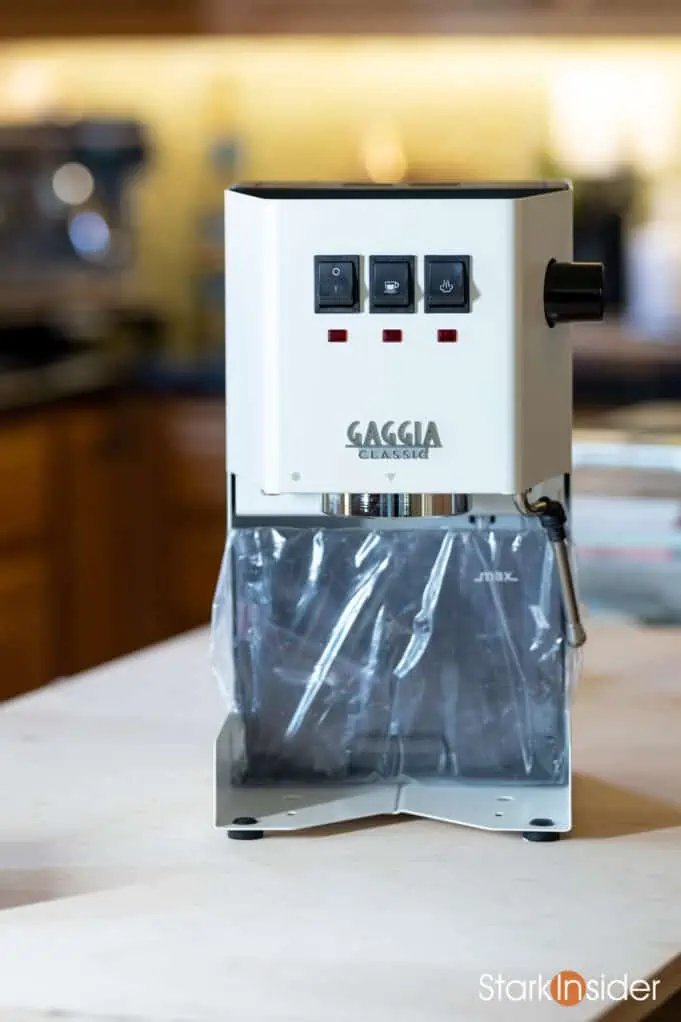 Nice and easy. Three simple rocker switches: power, brewing, steaming. In addition, the power button physically locks into the on position meaning you can use a smart plug to turn the Gaggia Classic Pro on and off. I did exactly that using Samsung SmartThings.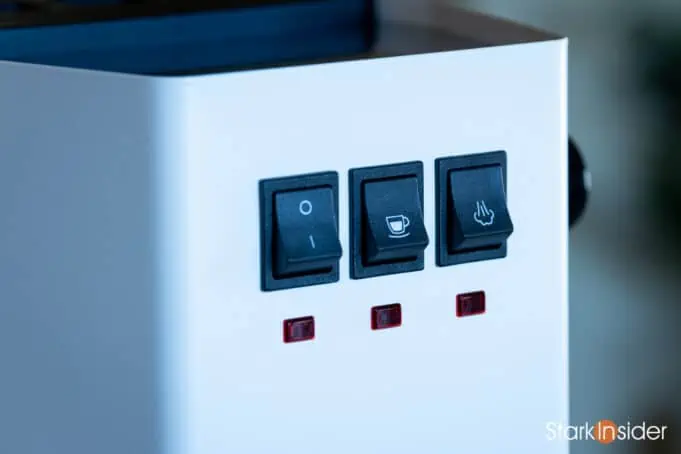 The steam wand has a two-hole tip and rotates. Knob on the side is large and easy to use. While the wand isn't quite as flexible in terms of positioning as my 360-degree ball joint on my Bezzera HX, it more than gets the job done.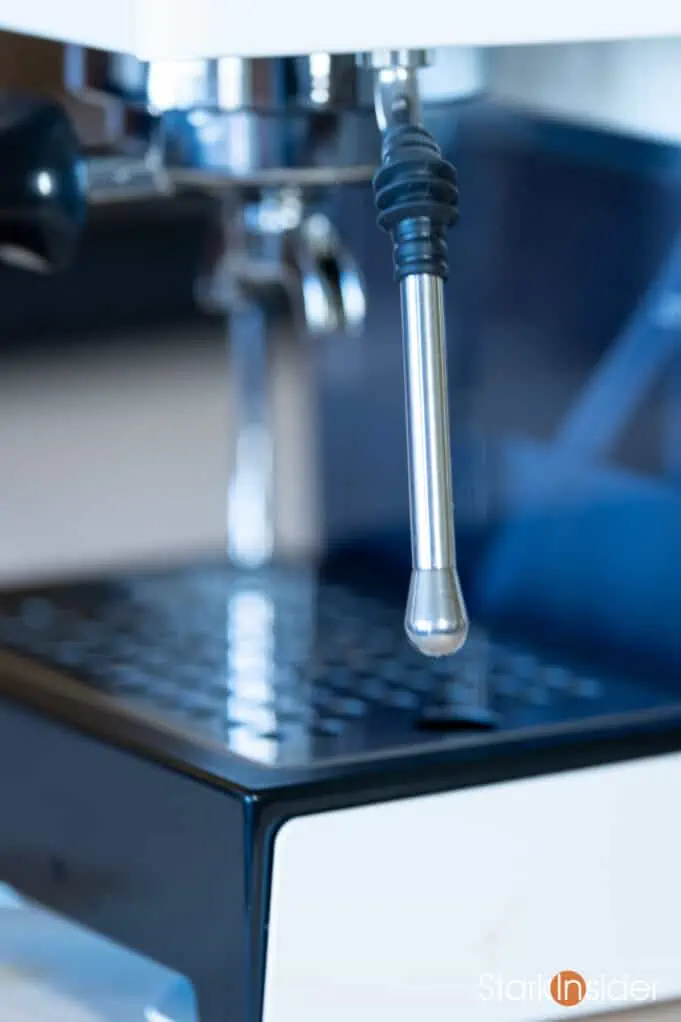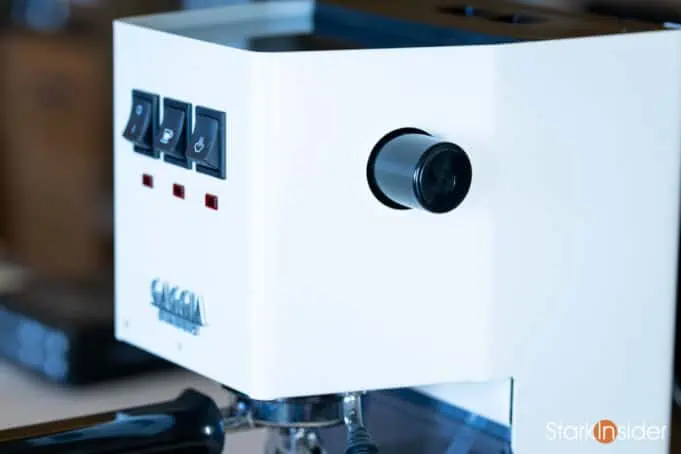 Drip dray pulls out like this: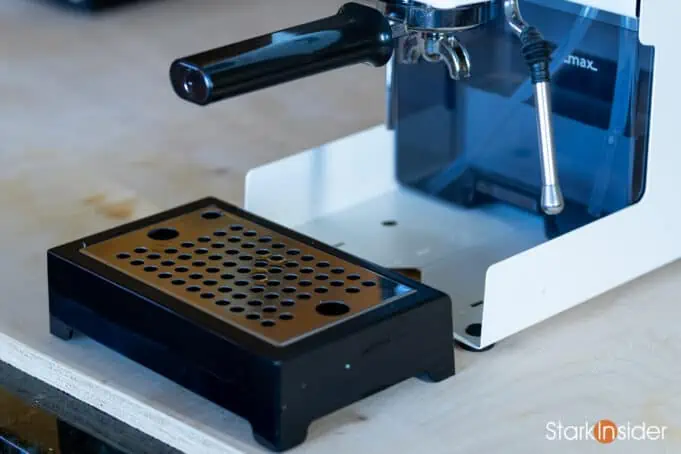 Water reservoir is accessible from the front which is convenient for those with overhead cabinets. Also, it's generously sized at 72 ounces. If you like you can also pour water into the GCP using the funnel at the top-rear.
One complaint I hear about this Gaggia is that the water reservoir level is hard to see. However, I never had a problem with that. It may be related to the lighting in your kitchen or coffee station.
I will say I'm not a big fan how those two water hoses look sitting in the tank… it just sort of take away from an otherwise clean aesthetic. Maybe I'm being too picky here.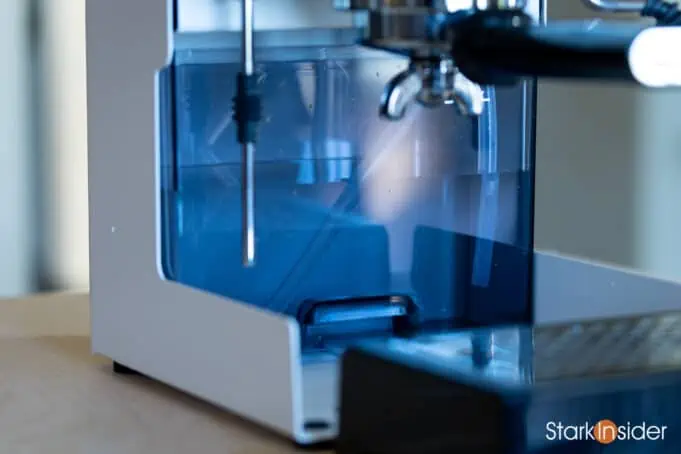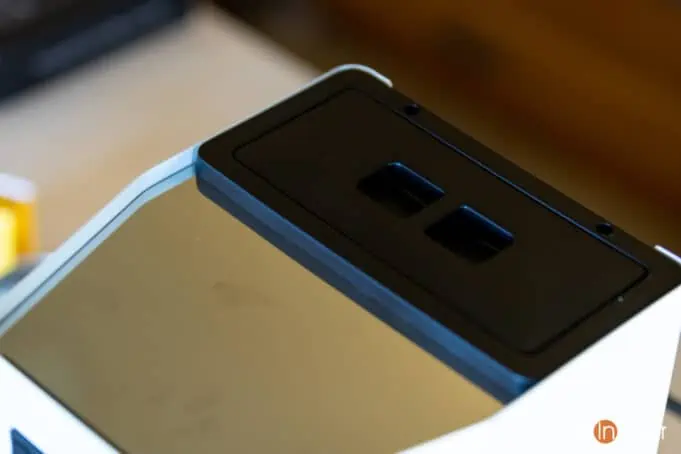 The portafilter feels good in hand. While the chrome plated brass is most welcome, the plastic handle is cheap by comparison. Not that it impacted working with the machine, but you just know Gaggia had to cut a few corners here and there to keep the price competitive. Also, that's an IMS 58 gram Nanotech basket below which I swapped out immediately on day one while unboxing. They make awesome baskets.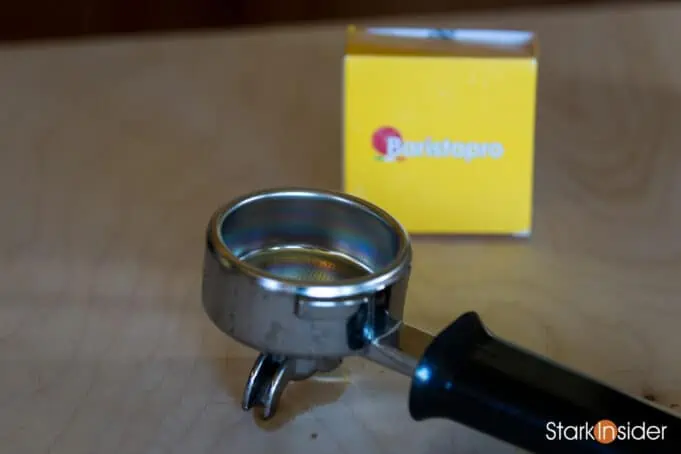 A quick look at the group head and shower screen. A rubber gasket comes stock. I'll probably swap that out for a silicone one this week.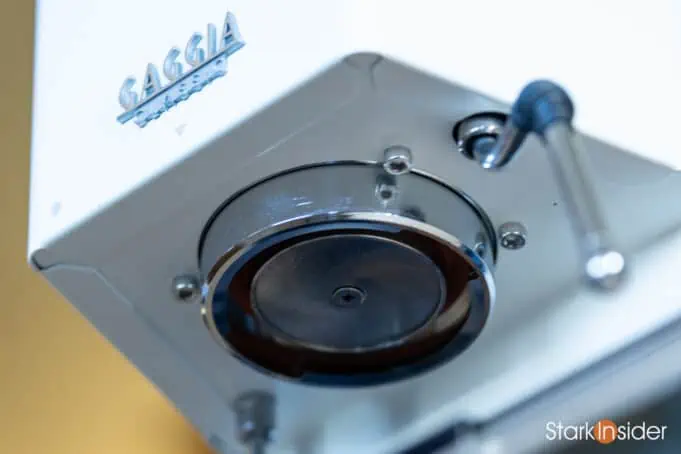 Some of the accessories included with the Gaggia Classic Pro in below photo.
Definitely put that plastic tamper in a drawer or the basement and get a proper one!
Also, warning: do not tamp grind beans using stock configuration. Gaggia is ready to go with a pressurized filter which it calls a "Crema perfetta" filter. If you plan to grind your own beans and tamp traditionally, swap this out for the traditional basket. The pressurized filter is suitable for E.S.E. pods or pre-ground coffee.
Note: if you do opt to swap for the traditional you don't need to use that little plastic bit as shown in the diagram below. I think this could be made more clear, those new to espresso might miss this key point.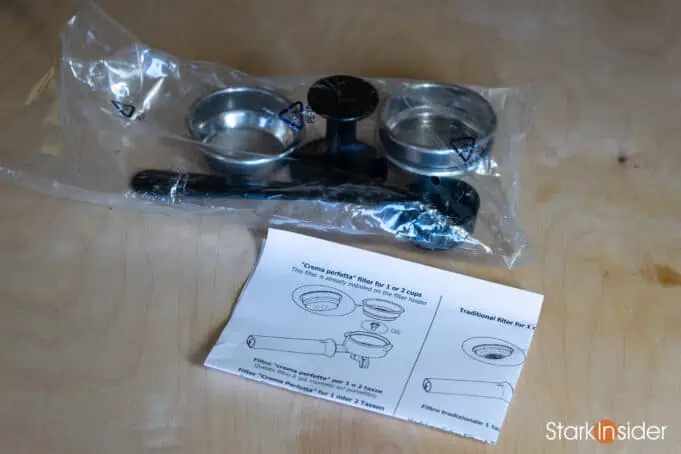 Next to the workhorse grinder that is the Rocky Rancilio. Still waiting for a replacement Eureka Mignon Specialita to come in and look forward to pairing that with the Gaggia.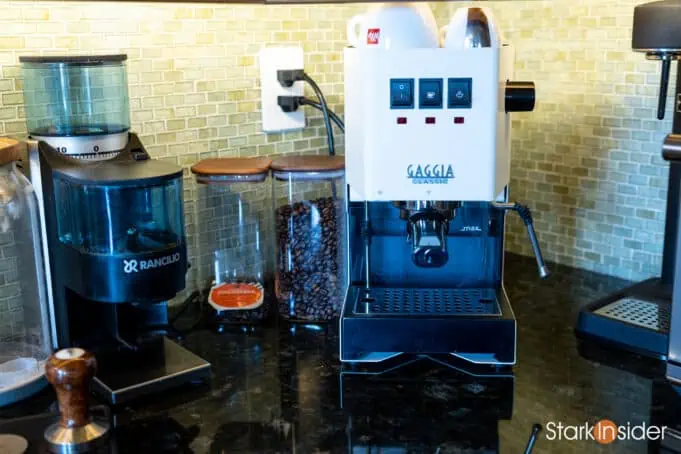 A test shot. Not bad for a first pull, though it ran a tad fast: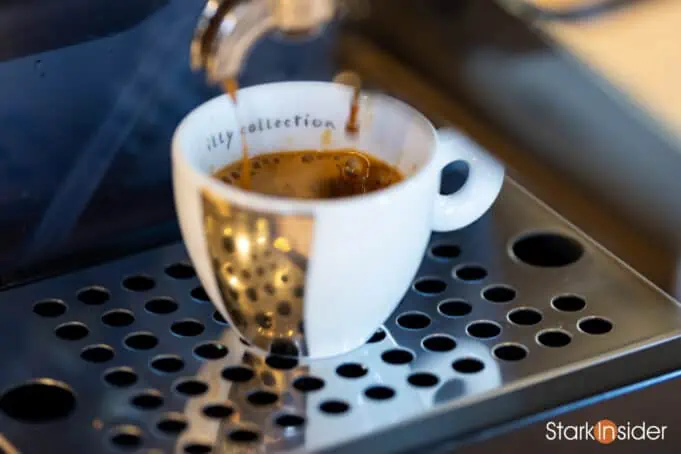 And this is what it's all about. Doing some serious testing in the lab here. We did do a double blind comparison of a double espresso shot versus the Bezzera (Pasquini) heat exchanger. Interesting results to be sure.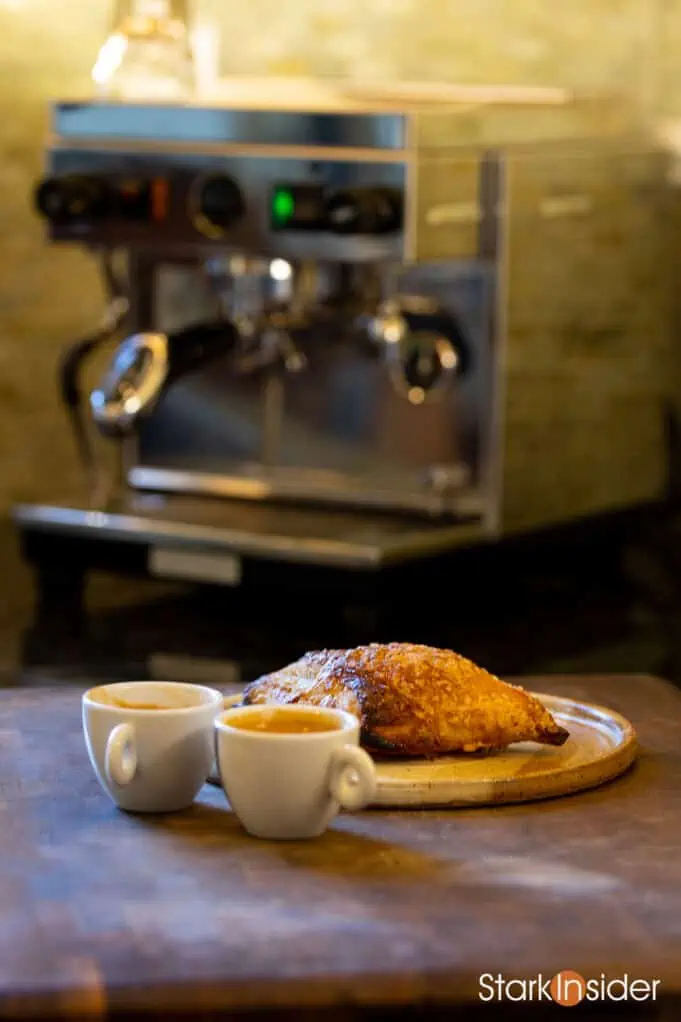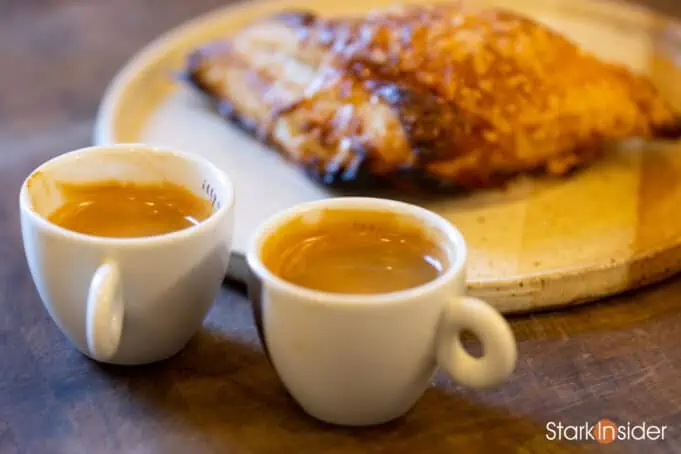 First Impressions: Gaggia Classic Pro
I knew going in that the Gaggia Classic Pro would likely not disappoint. People rave about this machine. I mean really, really, really rave about it. They talk about it. They share photos of their setups. And they mod it… and mod it some more. Funny enough I've already done my first Day 1 mod: the 9 bar OPV. I'll share more on that later. Highly recommended.
As for using the Gaggia itself, I had no problems whatsoever regarding temperature profiles (surfing) though the results were absolutely outstanding even without any of that wizardry — I think sometimes the internet and Reddit over-thinks and over-complicates things?
Espresso shots tasted superb. Waiting for the steam to reach temp was a non-issue. Just pull your shot. Then, flip the steam rocker. By the time you dump the portafilter puck, fetch your pitcher and milk, it's ready to steam. If you're just making a drink or two in the morning, the Gaggia should present no issues with respect to handling the low volume.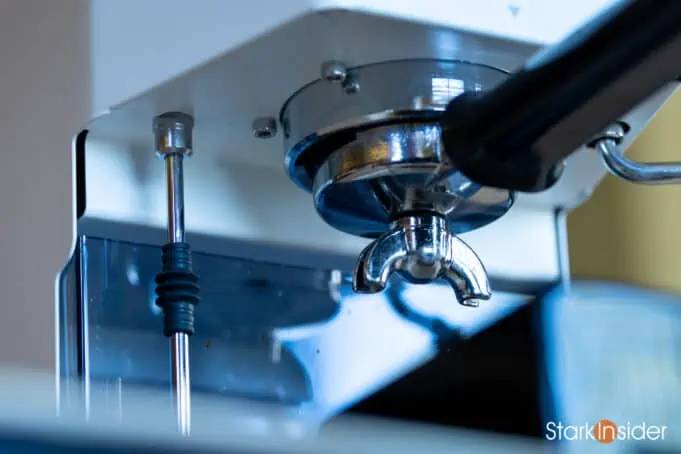 I've been pulling shots on my HX for 18 years so experience-wise I can get up to speed pretty quickly. But I think for someone exploring home espresso for the first time the Gaggia Classic Pro is a fantastic option. It's reasonably priced — if a bit more expensive than some other popular entry choices such as the Breville Bambino and Bambino Plus — and offers a super helpful community of enthusiasts willing to help and share all sorts of useful tips and tricks.
A machine like this Gaggia Classic Pro is an excellent entry into the world of espresso. It may challenge beginners. You'll need to have a good quality grinder, and learn to tamp and clock the portafilter. And you'll want to dial in the machine and aim for a 1:2 brew ratio. All of this takes time at first. However, there's great satisfaction on learning the barista craft and then sharing the results at home with family and friends. Make a killer Cortado or Café Latte at home with the Starbucks premium and you might just fall in love.
A full review of the Gaggia Classic Pro is coming soon here on Stark Insider. I think you might have guessed how I already feel about this legend. I mean, for the price and performance, there's no denying: this thing is pretty killer. More to come.
RESEARCH/BUY: