Apple's shift to its own silicon is proving to be a smart move. No longer having to rely on other companies for CPU chips that power its laptop, desktop and mobile devices including the iPad and iPhone means the company can beat to its own drum when it comes to release cycles. No doubt this makes internal planning more accurate, drives down costs, and improves margins.
As a longtime MacBook user I'm mighty tempted to upgrade my 2016 laptop for one of the shiny new M2-based variants revealed last week.
But, aside from the lofty price, there's a few things possibly causing me to hesitate.
For one, despite my MacBook Pro being over six years old it still runs great. Sure, my screen has a bit of minor water damage due to an incident involving the Baja and a Tecate. Doesn't matter. I can still read and work just fine. Meantime, the keyboard and battery were replaced as part of a recall by Apple just a few years ago so that sub-assembly/module is quite new and there's no problems there. Wi-Fi is reliable and fast enough. As is the processor — I'm mainly using Google Chrome anyway to mostly research and write in WordPress or other web-based apps, with an occasional photo edit in Lightroom as needed for Loni Stark's paintings.
So given that I'm not a power monger (I use a Ryzen-based Windows desktop for the all the heavy lifting) there's far less of a reason to upgrade. In fact, if you're like me and and mostly a Web user maybe even a basic Chromebook would do the job.
However, there's something that really throws caution to the wind when considering an upgrade from a 2016 MacBook Pro to a 2023 MacBook Pro. And that's, simply:
… weight!
The new MacBook Pros are sort of porky things. That also includes models over the previous few years. Ever since Apple (wrongly) decided to add all sorts of legacy ports back into the MacBook its weight has ballooned. Yes, dongle hell was real back in the day. True. Most of us adjusted and moved on. It's no big deal for me to connect a small SD reader when needed. Plus, USB-C is a ubiquitous standard so I use it for charging all the time instead of MagSafe. I asked Loni what she uses the HDMI port for and she mentioned something about conference rooms. Conference rooms!!??
Compared to my old, but still slick looking, MacBook the new ones are hefty and a bit of a pain to take on trips. By comparison my 2016 MacBook Pro has a clean look with just four USB-C/Thunderbolt 3 ports (and a legacy headphone port). I've learned over the years that's plenty enough to get just about any job done. USB-C power adapters and cables are almost always readily at hand, and if need be in an emergency on the road they're available. No need anymore to lug along Apple's ungainly power adapters and cords.
I decided to dig deep and really research this upgrade dilemma, internet style. I discovered this important data below direct from Apple itself.
New MacBook Weighs Significantly More than Before

MacBook Pro (15-inch, 2016)

4.02 pounds (1.83 kg) / Intel i7

MacBook Pro (16-inch, 2023)

4.7 pounds (2.15 kg) / M2 Pro
4.8 pounds (2.16 kg) / M2 Max
The new 2023 MacBook Pros weigh 4.7 (M2 Pro) or 4.8 (M2 Max) pounds. That's about 20% more than before. In a world where tech is supposed to get smaller and faster that's slightly confounding. I wonder if Steve Jobs would approve of the bulk and all those legacy ports?
Plus, amazingly, my almost seven-year-old MacBook Pro can support connecting up to four (!) 4K monitors at 60Hz. That's pretty impressive, and I have to say a testament to Apple's engineering teams.
A quick confession before I figure out the best path to upgrade. Apple recently cutoff support for MacBooks prior to 2017. That meant when the macOS Ventura update rolled out I (and all of us with older devices) was left out. I had to settle for Monterey. To be fair, that OS was humming along well enough. But I was envious of those being able to use productive new features such as Stage Manager (flat out awesome for window management) and I also wanted to keep receiving updates. Googling a bit I soon found myself learning about something called OpenCore Legacy Patcher. Aside from the geeky name and geeky install instructions I soon found myself with a 2016 MacBook Pro running Ventura with no issues. Time Machine worked still. As did Chrome, my apps, and everything else. I was impressed. With a bit of elbow grease the old dog learns some new tricks.
Upgrade Choices for 2016 MacBook Pro Users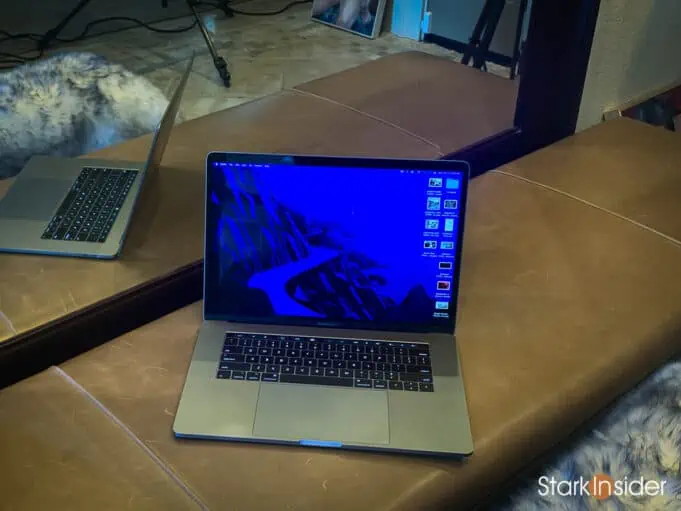 Nevertheless, where do I and we go from here?
Granted, this is the definition of a first world problem. I tend to be a laggard when it comes to upgrades as I like to milk the value as much as possible. With an expensive product like the ones Apple makes it's the only way to justify the price — to amortize the cost over as many years as possible. These things only go down in price, and fast. Trade-in values are absurdly low (you're better off donating to a non-profit, educational institution or arts organization in my opinion).
Option 1: Stay the course and stick with your 2016 MacBook Pro
If it works why break it… or break your bank account. My 2016 MacBook Pro is absolutely serviceable as a web-based machine. Given its Intel i7 chip and it can even occasionally do some moderate work when needed — in my case, Lightroom and some Illustrator and Premiere Pro.
While I have the first round draft pick bust known as the Touch Bar configured as a normal physical one, I can't deny that it's a pretty cool looking innovation. Apple's marketing team sure did milk that feature in its demos for these models back in the 2010s. It does make for a cool party trick. The fact that the physical Touch Bar has returned probably speaks to the fancy digital one's utility and customer approval (disapproval!).
Option 2: The 2023 MacBook Pro is only 3/4 of a pound more, what's the big deal? Upgrade already
In theory .7 or .8 pounds more doesn't seem like much. In practice it might as well be 10 pounds more. Or at least it can feel that way when you're lugging a MacBook Pro and accessories across massive airports on a trip. Also, don't forget that the newer models also have a slightly larger height, meaning the trackpad and keyboard are ever so slightly raised off a desktop. The 2016s just feel better how they sit on a work surface.
And then there's the price. We know MacBooks and Apple devices are expensive. Since I (and maybe others of you too) use a purpose-built Windows rig for video editing, why bother investing in a speedy laptop when the one I have is more than good enough for web work?
Option 3: Wait. Maybe Apple will bring out an entry, reduced ports version of the MacBook Pro?
Waiting is always an option. It's possible Apple realize that slimness is a feature that a lot of us value in portable devices (just look at the competition). Could Apple someday release a back-to-basics MacBook Pro without HDMI and MagSafe connectors? Surely some day the HDMI port needs to die!
Then again, maybe I'm really talking about something called the MacBook Air. That's the stripped down lightweight model that could be suited for the specs I'm talking about. Only problem is that the largest version is a 13-inch model. If you're like me you need a 15- or 16- inch screen minimum for photo re-touching and other projects requiring a larger workspace.
The good news is there's rumors abounding that Apple may indeed launch a larger version of the MacBook Air.
Fewer ports? Lighter weight? Lower price? Paradise.
Waiting does indeed seem to be the best option. Meantime I'll keep chugging along on the vintage wunderkind that is the 2016 MacBook Pro, hipster Touch Bar and all.