GH5 video shooter Clinton Stark shares his thoughts on the new Panasonic Lumix S5.
Aside from so many more important things currently happening around us, in the hybrid camera world 2020 will be known as the year of the full-frame. Everyone seems to be releasing new full-frame models. Canon. Nikon. Sony. Z Cam. And… Panasonic. The latter is of most interest to me. As a long-time GH5 video shooter I was keen to see what Panasonic's new S5 hybrid camera brings to the table, and if it could be a suitable replacement for the MFT wunderkind that's been so reliable over the years.
I'll share more over the coming weeks and months, but for now I'll just post some first impressions. There's no shortage of in-depth S5 videos and reviews and comparison tests on the internet so I'll focus on my GH5 perspective for better or worse.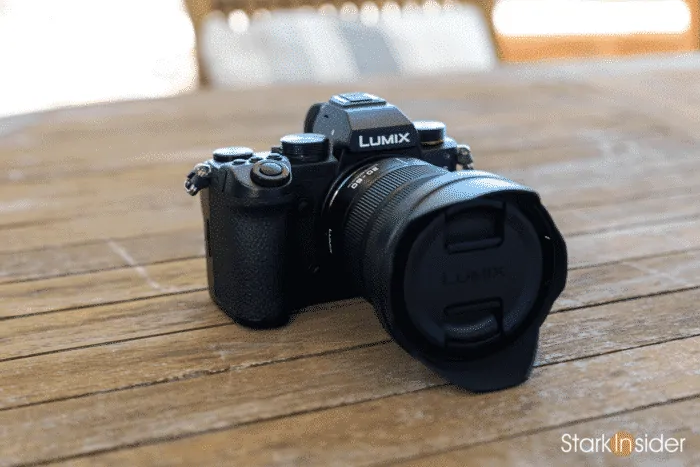 It's worth noting I'm perfectly fine with the GH5. Even though this mirrorless Micro Four Thirds camera came out in 2017, in my view it's every bit as good three years later. 10-bit 4:2:2 video. Outstanding IBIS. Dual SD slots. All the filmmaking tools you'd want. V-Log (optional paid upgrade). What's not to love? And with the recent price drops it's a veritable bargain; although I did make the case recently on Stark Insider that the S5 could possibly be the better buy when you factor in that V-Log is included and the kit lens (12-60mm) is a great deal.
Panasonic Lumix S5:
Key Specs

24.2MP Full-Frame CMOS Sensor
UHD 4K60 Video,10-Bit Internal Recording
2.36m-Dot 0.74x-Magnification OLED LVF
Dual I.S. (lens and body)
Rear 3.0″ 1.84m-dot LCD
V-Log, HDR, and Dual Native ISO
Dual SD Slots (one UHS-II, one UHS-I compatible)
96MP High Resolution Mode (uses sensor shift to combine 8 shots)
Micro HDMI
USB Type-C
L lens mount
DMW-BLK22 battery (rated 440 shots)
Price: $1,998 USD body only, $2,298 with 20-60mm kit lens
Availability: Amazon
However, the reason why a full-frame body holds appeal for me is the ability to take very high resolution photos of Loni Stark's artwork. Here I do need to pixel peep — a first for me. We need high quality stills with lots of detail and as much resolution as possible so that we can blow them up as needed for posters and showings and so forth.
So the "High Resolution" mode on the S5, which captures a 96MP photo using I guess what might be called some computational photography jujitsu — essentially sensor shifting eight copies of an image — has me interested. That could allow me to capture Loni's artwork in, let's say, a master original, perfect for archiving. And as a bonus I could use the S5 to replace my GH5 for video. In theory that would mean I could use the S5 for both stills and video. But without a sacrifice in quality for either. A hybrid in every sense of the word! (such was my sales pitch to Loni Stark).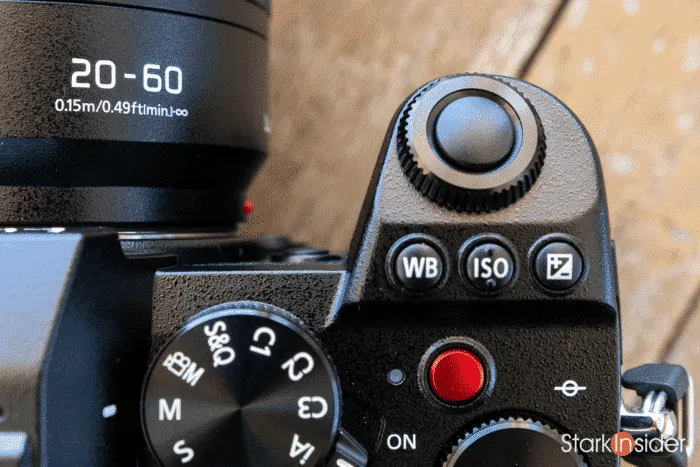 The Canon EOS R5 flagship full-frame is also on my radar. At $3,899 USD it's very expensive (the S5 with kit lens is $2,299 by comparison). True the R5 has a native 45MP sensor. However, with the aforementioned High Resolution 96MP mode my hope was I could get what I needed with the S5 without forking out the big bucks for the R5. Plus, I prefer the video on the Panasonic bodies. Just something about the ergonomics, the image, the UI and the build that makes it the best for me when it comes to video compared to Sony, Nikon and Canon.
With all that, I've briefly tested my S5 with the 12-60mm kit lens.
And so far… I'm impressed.
As others have said it really feels like a full-frame version of the GH5. You get a larger full-frame sensor with 24MP (vs. MFT with 20MP), better low light performance, more dynamic range, handy 96MP High Resolution mode (only useful for static scenes), modern L mount, and improved EVF and LCD. Not to mention faster processing, and all of this in a body about the same or even smaller than the GH5. Good stuff.
Heads up: Panasonic S5 does not have an ALL-I option for video recording…

One thing missing worth pointing out: the S5 doesn't currently offer ALL-I for video recording (the GH5 does). That means that, yes, files will be smaller as they're capturing less information (differences between frames as opposed to the entire frame), but processing them in your video editor will tax your computer's processor harder as it will need to re-build those frames using interpolation. Easy solution. I would just create ProRes 422 (Quicktime) proxies and everything will run smoothly. No big deal.

Knowing Panasonic it's quite possible some form of ALL-I could be eventually added to the S5 in a future firmware update. Either way the lack of this recording format at this point is a minor point, at least for my needs.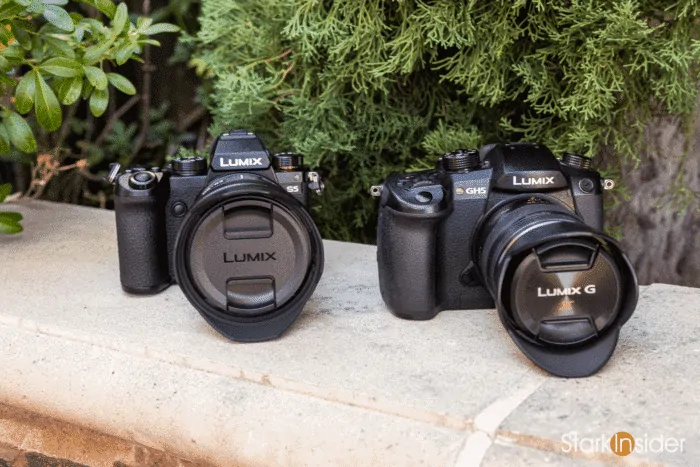 Handling-wise, coming from the GH5 everything feels immediately familiar. Dials and buttons are almost all in the same places, with some, like the focus mode switch on the back, sporting a minor redesign. Thankfully Panasonic moved the dreaded "Disp" button on the S5 to the lower right on the back, a place where your right hand won't accidentally hit it like I find myself so frequently doing on the GH5 (about the only design flaw I've encountered). Mode dial almost identical save for the addition of S&Q and deletion of the unneeded "Expressive" mode on the S5. Same too for the Drive mode. Here the S5 simplifies with 5 choices (vs. 6) and adds two custom settings for burst modes which you can easily adjust to taste in the menu.
The familiar WB/ISO/Exposure Compensation buttons found on the GH5 top plate is the same on the S5 though the buttons are slightly taller. Note that you lose the "Fn1" button found on the top of the GH5. I guess Panasonic couldn't squeeze it into the smaller body of the S5 without crowding things.
I like that the front dial on the S5 is now integrated into the shutter button (see photos above, GH5 on top, S5 on bottom), as opposed to the separate vertical dial found on the GH5. It's a small thing to be sure. But in daily use it means your fingers need to move less.
The back side of the S5 is, again, similar; though there's another custom mode button (Fn2) that's a goner.
Menus will seem onerous for first-timers. On the other hand, GH5 shooters will be able to quickly zoom through them and set up everything as they like. Thanks to the included V-Log there's one less step when setting up the camera, and that's much appreciated — not to mention where the industry is headed anyways with built-in log picture profiles.
On the performance side, admittedly I haven't spent much time yet with the S5.
But I did take some 96MP shots of Loni Stark's recent oil painting work. I was surprised at (a) how easy it was to shoot in High Resolution Mode, which you "Start" in the menu; and (b) the result, which was fantastic. I'll share more on this feature in a future post.
Everything feels extremely fast. Be it scrolling through menus, working with the touch screen, or using burst mode using the S5 is thoroughly modern and satisfying.
In general I prefer shooting video in Super 35 mode. There's something classic about the look. And I believe audiences are somewhat attuned to the format. So it will be interesting in the coming weeks as I turn my attention to the various S5 video modes which are, of course, full-frame resulting in a larger frame compared to Super 35. Better low light performance — a struggle for the GH5 to be sure — will be an anticipated benefit. (update: the S5 does have Super 35 video options so that might be the perfect solution… having your cake and eating it too?)
Since the S5 uses the relatively new L-Mount, I will need to get an adapter to use my EF/EF-S glass. On this point many are native lens mount purists. While others don't mind using adapters. I suppose I'm in the latter camp as I've used a Metabones Speedbooster on the GH5 since day one and had no issues. The extra stop of light thanks to the Speedbooster along with a lens like the Sigma 18-35mm f/1.8 has saved my bacon in dark environments when the native Panasonic 12-35mm f/2.8 just wouldn't cut it.
Net-net, my first impressions of the Panasonic S5?
A+.
A 24MP full-frame camera with 96MP high resolution photo mode and outstanding 4K 10-bit video for $2,000 USD is a pretty compelling value proposition. I'm not sure I even need the higher end S1H or other Panasonic full-frame models. This one, at least so far, feels just right as a step-up for a GH5 shooter. To be fair and up-front: if I were looking for only one camera for video and didn't already own a RED Dragon I'd have to say the new Sony Alpha a7S III would definitely be of strong interest.
Panasonic S5:
Review Round-Up

Here's a summary of what people are saying about the new Panasonic S5. And as an aside, isn't the internet a picky place these days (I'm not referring to the articles below). I want it all. I want it all. And I want it now. Life on demand!

"The S5 is arguably one of the more versatile cameras Panasonic has ever produced, and, unlike some, it's not aimed at a niche audience such as videographers or high-performance stills shooters. Instead, the S5 is more a jack-of-all-trades…"

Digital Camera World (4.5 out of 5):

"Despite its compact size, the Lumix S5 shares the impressive 24MP CMOS sensor housed in the Lumix S1, but with improved AF… It's tough to beat in this category."

Photography Blog (4.5 out of 5):

"… the new Panasonic S5 is a compelling mid-teir camera that punches well above both its weight and its price-tag. It deserves to give the likes of the Sony A7 III, Canon EOS R and Nikon Z6 more than a run for their money (and yours), and is a deserved winner of our Highly Recommended award."
My next test will be video.
There I'm hoping the image is less clinical, less digital than the GH5. On the GH5 I turn off noise reduction and dial down sharpness all the way. Even then I have to dirty up the image in post using film emulation in Lumetri Color. This is where my jaw still drops when I shoot on the RED Dragon. Modern shooters (wedding, commercial most notably) probably don't want that grain, but to me the way RED doesn't over-process footage in camera results in something magical. I don't expect the S5 to look as good as the Dragon sensor, of course, but it would be nice if it leans more toward an organic look as opposed to the digital look found on the GH5.
One thing to keep in mind if you're cross-shopping cameras in this approximate price range (Canon EOS R6, Canon EOS R, Sony Alpha a7 III, Sony Alpha a7C, Nikon Z6 II, Panasonic GH5, Blackmagic Pocket Cinema Camera 4K/6K) is Panasonic's excellent support with on-going firmware features. Out of the major manufacturers — most notably Canon and Sony — I think Panasonic is consistently the leader when it comes to adding new video features to its existing cameras. In the case of the S5, Panasonic reps have already committed to adding the following new features via firmware update by the end of 2020:
5.9K ProRes RAW output over HDMI to the Atomos Ninja V monitor/recorder (won't this be a sweet run-and-gun combo?)
Vectorscope display
Master pedestal adjustment
SS/gain operation
That's pretty amazing. And, no doubt, even more will come, along with bug fixes in the coming years. The current firmware is v1.1 which is the one I've been using to test the S5.
More soon.
Meantime, with the competitively priced and feature rich S5 and a wide range of impressive hybrids (S1, S1H, S1R) I'm thinking that Panasonic has firmly entrenched itself as a major competitor in the full-frame camera market.
Parting Thought: Even though I'm now fully on board Panasonic for Stark Insider videos all the above photos of the S5 were taken with… an old school Canon EOS 80D DSLR. Still quite good, despite the questionable operator.