Stark Insider (ClintTheMint) — Updated May 26, 2020 with official announcement and details.
Peloton (NASDAQ: PTON) has amped up its marketing. Smart thing. While in lock-down with gyms closed due to coronavirus, people are looking for alternatives. An at-home spin bike is one of them, and Peloton — and other fitness companies focused on the home — are reaping rewards.
The latest effort appears to be a racing special — All-Star Ride — featuring professional athletes that could not only draw attention to the Peloton brand, but also satiate fans' desire (if partially) for sports content. ESPN will air a one-hour special on May 30, 2020 featuring two Peloton races. Here are the details below shared across social media platforms, plus at top the email I received on May 26: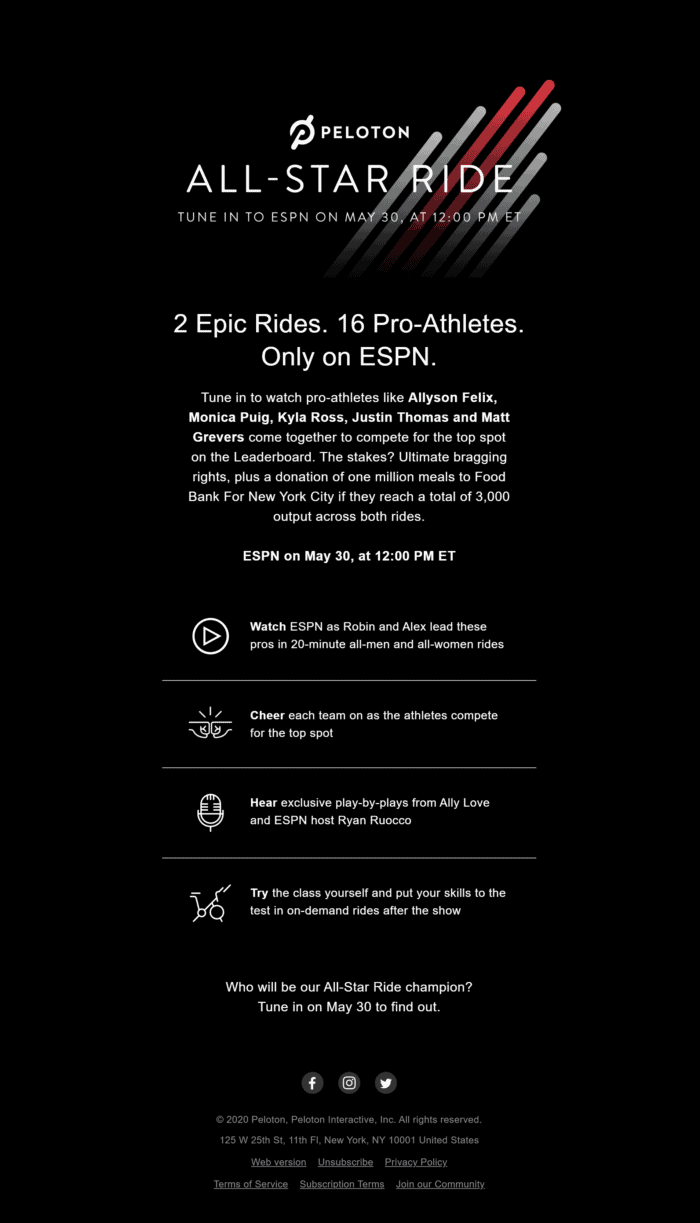 Tune in to watch pro athletes come together to compete for the top spot on the Leaderboard. The stakes? Ultimate bragging rights, plus a donation of one million meals to Food Bank For New York City if they reach a total of 3,000 output across both rides. pic.twitter.com/uzWvNFBGVI

— Peloton (@onepeloton) May 26, 2020
Next Saturday 5/30 at noon ET, ESPN will air a one-hour Peloton special. 2 rides taught by Robin and Alex featuring the following: pic.twitter.com/q1jPa9lmIz

— Melissa Jacobs 💙 (@thefootballgirl) May 22, 2020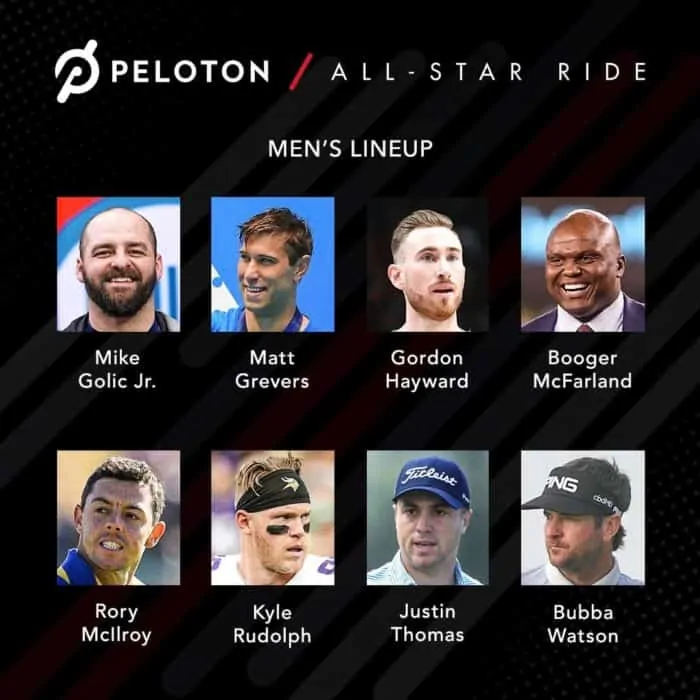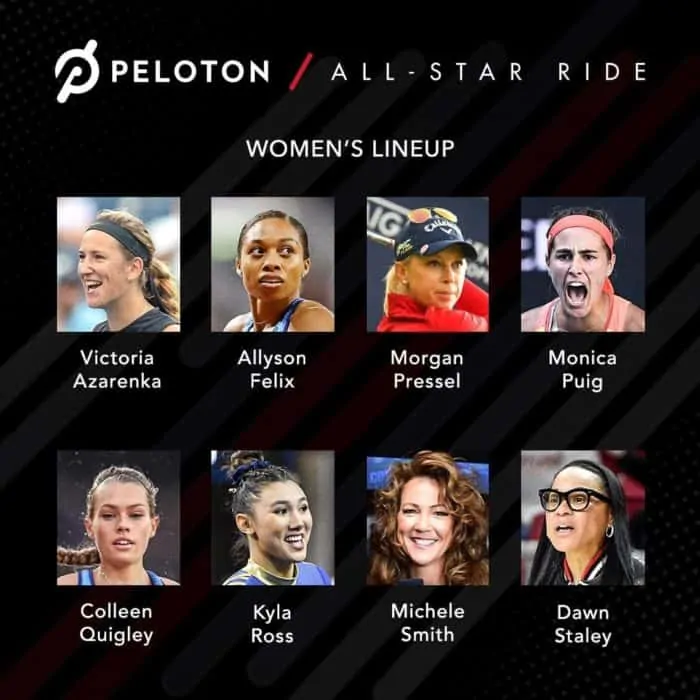 Instructors Alex Toussaint and Robin Arzón will each lead a 20-minute Peloton race of eight riders split across Men's and Women's divisions as follows:
Men's Division Participants:
Booger McFarland (Football)
Bubba Watson (Golf)
Gordon Hayward (Basketball)
Justin Thomas (Golf)
Kyle Rudolph (Football)
Matt Grevers (Olympian/Swimming)
Mike Golic Jr. (Football)
Rory Mcllroy (Golf)
Women's Division Participants:
Allyson Felix (Track+Field)
Colleen Quigley (Track)
Dawn Staley (Basketball)
Kyla Ross (Olympian/Gymnastics)
Michele Smith (Softball)
Mónica Puig (Tennis)
Morgan Pressel (Golf)
Victoria Azarenka (Tennis)
Aside from the above information I couldn't find more about the format. For example, will this be a public ride that others can join? Or are we merely spectators? Update: it appears to be a private ride that we can all watch on ESPN, but won't be able to participate during with our Peloton bikes, but will be able to take later as an on-demand class (per Peloton Instagram the class will be available at 1pm ET the same day — basically immediately after airing on ESPN).
One notable absentee includes Super Bowl winning quarterback Patrick Mahomes of the Kansas City Chiefs, a high profile Peloton owner. In my neck of the woods, I would've liked to have seen relatively new Peloton owner and San Jose Sharks captain Logan Couture in the ride.
Peloton ESPN All-Star Ride

Meet the Instructors

Alex Toussaint

He calls it "Tough Love with AT." Since becoming a Peloton instructor, he has become the go-to trainer for professional athletes including Patrick Mahomes, McIlroy, Baker Mayfield and Watson. He has been helping pro athletes stay in shape with virtual sessions throughout the coronavirus pandemic. Toussaint has a love for fitness, teamwork and discipline rooted in his military school background.

Robin Arzon

New York Times bestselling author, a Type 1 diabetic and corporate litigator-turned-fitness superstar. Called The Queen, she is an ultramarathoner and a cycling superstar.
Ally Love will provide play-by-play and Ryan Ruocco of ESPN will host.
In addition, Peloton says the event will also include a donation of one million meals to Food Bank For New York City … so long as "they reach a total output of 3,000 across both rides."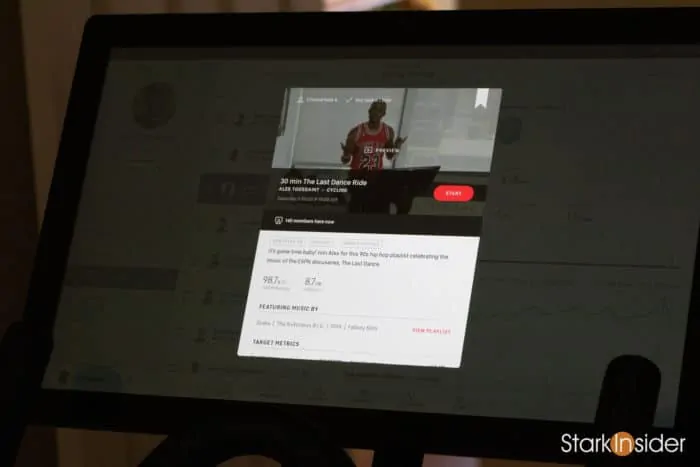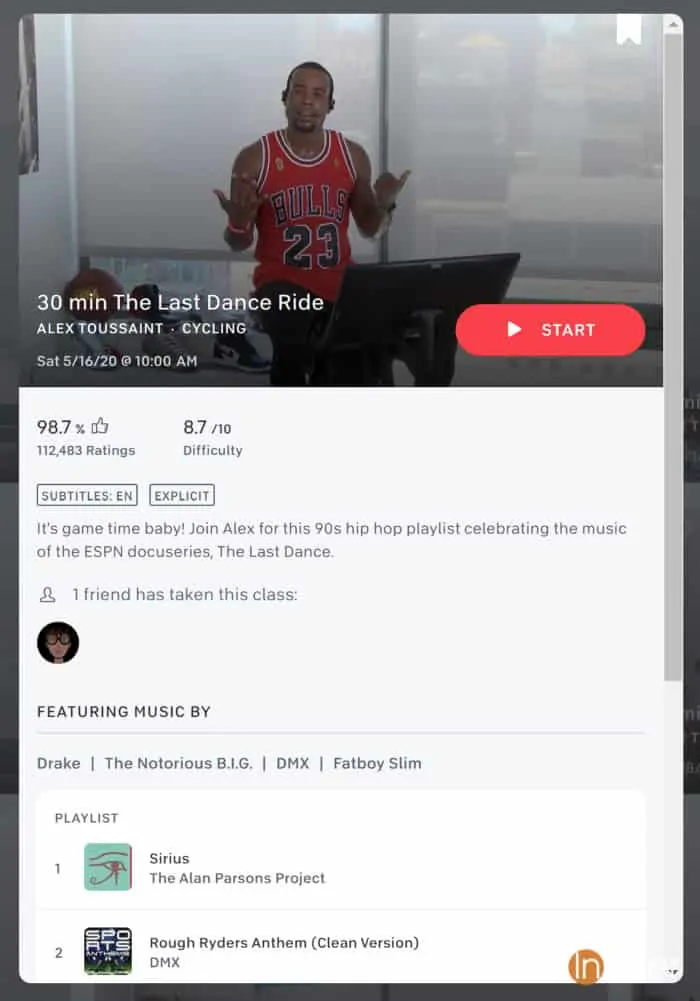 This isn't the first time ESPN and Peloton have partnered on a project — or at least marketing effort. Alex Toussaint recently led a ride in honor of the epic Michael Jordan documentary The Last Dance. That 30-minute ride is now available in the Peloton on-demand library. Beware, its difficulty rating currently sits at 8.7 out of 10 (see above image). If you know Alex, this is no cakewalk.
ALSO SEE: ESPN airing a Peloton special on 5/30 featuring pro athletes (REDDIT)
This ESPN special is yet another interesting — creative — way for companies to try to fill the sports void with programming that would certainly seem odd in any other, non-virus year.
Look for the Peloton All-Star Ride on ESPN on May 30, at 12:00pm ET.