As a guy who has shot and edited videos on Stark Insider for the past 13 years or so, I'm always keen to follow the latest developments in the world of cameras. Be it a new mirrorless body like the Canon EOS R/RP, Fujifilm X-T3 or Sony A7 III or perhaps new microphones (Rode is not doubt a good place to start) or new software and apps that make completing projects faster and more efficient I keep my ear to the ground and dig in to all the latest.
But, more recently I've found myself mostly focusing on three things:
Camera movement
Storyboarding and shot lists
Lenses
After all is said and done a camera body is simply a camera body. Yes, there are technical differences among them, some large and some small.
The Panasonic GH5, for example, has superb in-body image stabilization (IBIS) that can give you smooth footage even with non-stabilized lenses. That's pretty great. But in terms of auto-focus performance in video it falls behind in comparison to the likes of Dual Pixel enabled cameras such as the (still great) Canon EOS 80D and new mirrorless models such as the Canon EOS R and RP and apparent internet darling the Sony A7 III.
Regardless, the camera is ultimately not going to tell your story. You are.
Does 8-bit this or 10-bit that matter? Or "pixel binning"? BTW- what is pixel binning?
It kills me when I see people waiting on a new camera release so that they can then — finally! — shoot their project(s). Trust me. Do it today. There's nothing stopping the creative process, aside from perhaps gear insanity and procrastination; two afflictions served up perfectly by the internet.
Technical stuff does matter. Of course.
But at least in my experience it's far less important than we might all think, especially for those of us on tiny productions who publish primarily to the web such as Vimeo and YouTube.
Imagine if we traded in all the time we spent endlessly pixel peeping in exchange for spending that time coming up with ideas, stories, scenes and concepts?
For me it's the process that matters most. Not the somewhat fruitless spec-sheet comparos. Well, okay not completely useless to be fair. But take them with a grain of salt. In the world of video and film I've learned that just about anything is more important than a camera body for any given production: lighting, sets, acting, script and plot and emotion, camera movement, music and sound design, editing, etc. And let's not forget craft services, aka food! Even for just a two-person show like we have here on Stark Insider having a full stomach and plenty of energy can make a world of difference in achieving a successful outcome.
Which brings me to lenses.
In addition to camera movement and getting a better handle on story-lines for Stark Insider videos (a work very much in progress) I've turned my attention these days to composition and, in particular, improving my abilities when it comes to identifying which lens and focal lengthes to use for a particular shot.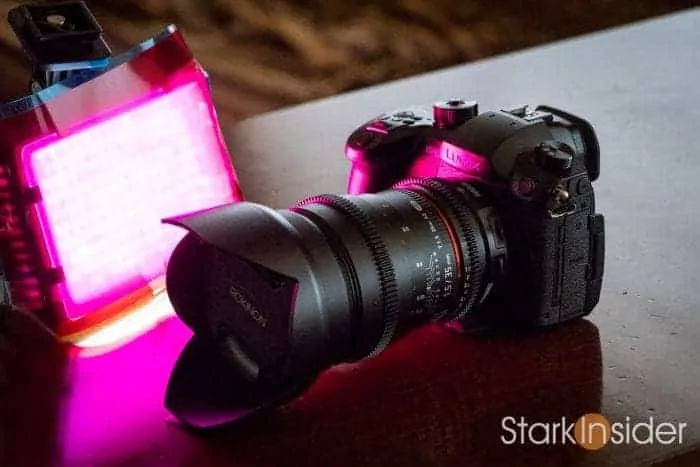 Recently, I've forced my hand, as a sort of film school-like challenge. That is, for some projects (I am allowed I tell myself)) to use only one lens. That is: the Rokinon Cine 35mm prime lens.
Putting away your zooms and various lenses and sticking to a single prime lens on a shoot dramatically alters the situation. At least it has for me.
Instead of "cheating" and zooming when needed you need to move your feet. Get closer. Get further away. Change the angle of attack. It keeps you on your toes. And because I'm worried less about which lens to use in the middle of a project, I'm likely more in tune with capturing the shot with as much drama and/or emotion as possible. One less distraction to worry about.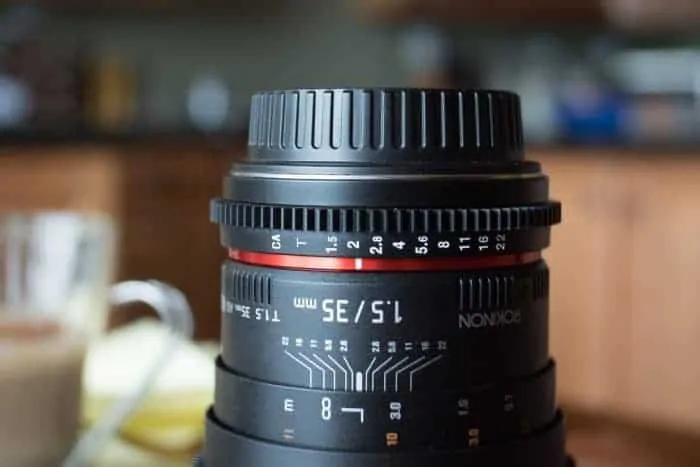 I particularly like the Rokinon Cine lenses because not only are they relatively inexpensive — well actually incredibly inexpensive ($399 for the 35mm) relative to their high end counterparts which cost 10's and even 100's of thousands of dollars — is that they're well made, are fast (T1.5) and have really nice manual, de-clicked focusing and aperture rings that just feel right. Butter smooth rotating action is always welcome.
For my latest project Loni Stark and I prepped a shot list and rehearsed briefly before spending 30 minutes shooting footage for a little bit called AND IT HURTS:
Project: And It Hurts
Type: Short promo for Stark Insider featuring Loni Stark (thanks!)
Gear: RED Dragon Scarlet-W, Rokinon 35mm T1.5 EF Cine lens, 2 Genaray LED light panels, orange leather jacket
Again, the idea was to get it done fast with results with high quality looking footage, without wasting a lot of time. Using only a single prime lens definitely helped save time.
I did something similar for the opening scenes of CRAZY OR DIE. Again, shooting only using a Rokinon 35mm Cine (but later switching for outdoor scenes).
Project: Crazy or Die
Type: Short Film by Clinton and Loni Stark
Gear: Panasonic GH5, Rokinon 35mm T1.5 EF Cine with Metabones Speedbooster Ultra 0.71x, Panasonic 12-35mm 2.8 (for later scenes), Genaray light panels
I think if you want to challenge your videography and short film skills, ditching OIS and Auto lenses and going fully manual with a prime is a great start.
ALSO SEE: And It Hurts: Looking to 'Beyond the Black Rainbow', 'Drive' and 'Lost Highway' for filmmaking inspiration
Sure, it's not for everyone. Wildlife shooters obviously need long telephoto lenses to capture distant action. Wedding videographers/filmmakers, same thing. And in many cases for run-and-gun situations you may need a zoom with auto-focus. But for narrative, experimental and short film stuff shooting with a prime cine lens might surprise you with interesting and hopefully creative results.
Happy shooting!