In the camera world 2018 will be remembered as the year that both Canon and Nikon finally entered the full-frame mirrorless market. Canon with a single model, the EOS R and Nikon with a pair of full-frame models, the Z6 and Z7.
It was a long time coming. Sony had gotten there long time before, with its quickly expanding Alpha range, with models such as the A7 III, A7 S2, A7 RIII and so on — it's tough keeping track of Sony cameras, as they've apparently opted an iPhone-like refresh model with new updates coming annually.
But now that Canon and Nikon have entered the market things are heating up. The competition for us camera and videographer nerds will be most welcome. We should expect more choice obviously, but also falling prices.
Case in point: Canon's rumored Canon EOS RP.
The RP from what we know (and we know almost all there is to know because leaks are almost always these days accurate… sadly no surprises in tech anymore) is a full-frame mirrorless camera that slots under the $2,299 (USD) EOS R. That's interesting as many were expecting and hoping that Canon would release a proper "pro" RF mount based camera that would match up against heavyweights such as the super high resolution Sony A7 R.
Instead with the RP, Canon cut some features, and is expected to price the camera at about $1,499 or $1,599 according to CanonRumors. If that's true, I expect it to sell very well. Yes, at "only" 26MP the sensor is slightly smaller than the pricier and fancier R. But that's plenty enough for a lot of us casual photographers, especially for those of concerned first and foremost about video features. And on that point, it will be interesting to see if Canon even offers 4K video on the RP, and if so what the crop factor will be — I'd expect it to be about the same as the EOS R, meaning 1.8x which is unfortunately pretty bad if you're hoping to achieve a full frame video look (me, I'm fine with APS-C or Super 35).
Aside from the price, however, Canon in an effort to cut costs on the new RP has cut a few features, namely:
No topside LCD that provides a quick glance of settings
No Multi-Function touchbar
To which I say: great!
I do prefer a topside LCD. Still, after using the (incredible) Panasonic GH5 for a few years, which also doesn't have one, I've come accustomed to using the flip out LCD to check shutter speed, ISO, aperture, battery life, etc. It's no big deal at all. Photographers might feel otherwise. Plus, the EOS RP features an old fashioned physical mode button which is what most of us are already used to using to switch from, say, manual photo mode to video mode and back again in a jiffy.
Canon EOS RP Key Specs

26.2 MP Full Frame Sensor
Dual Pixel CMOS autofocus
DIGIC 8 processor
Continuous shooting performance: 5 frames/sec
ISO sensitivity: 100 to 40000 (equivalent to extended ISO: 50, 51200, 102400)
OLED EVF
3.0-inch touch panel variable angle LCD dispplay
Dual Sensing IS
DLO in camera, RAW development in camera, C-RAW compatible
Size: 132.5 x 85.0 x 70.0 mm
Weight: Approximately 440g (body only), about 485g (including batteries)
Kit lens: RF 24-105mm f/4L IS USM

Source: CanonRumors
As for the Multi-Function touchbar?
In my tests with the EOS R for Stark Insider I found it finicky and overly sensitive. In the end I deactivated the feature. Shame. I think there's potential there, and perhaps over time Canon will evolve the capability and firmware to better enable the possibilities of a custom slider on the rear. With the RP Canon has removed it, and instead you'll find empty space and, sadly, no joystick — like you'd find on the GH5.
So I won't be missing those two features at all, and am perfectly fine trading them in so to speak for a discounted price on the RP.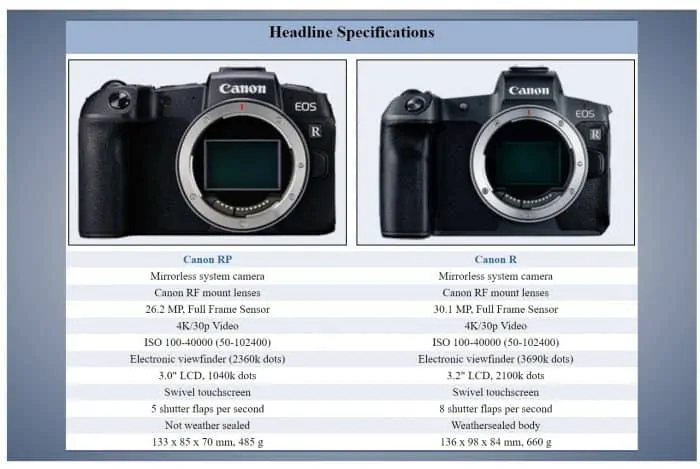 Better still, the EOS RP looks to be smaller and lighter (1.07 pounds) than its heftier EOS R brother (1.45 pounds). Again, being "entry level" does have its advantages.
ALSO SEE: Canon EOS R Mirrorless Camera: First impressions by a GH5 video shooter
I'm not so sure I'll replace my GH5 with the upcoming EOS RP anytime soon. The GH5 is just so, so good for shooting video it's not even funny. Two years after its release in 2017 the GH5 is still the king in my books with no one coming close to its feature set, robust build and fast performance. But, if I were shopping for a small full-frame camera that will easily support all my Canon EF glass without breaking the bank then the RP looks to be a sweet option.
Canon is expected to announce the EOS RP full-frame mirrorless camera along with 5 new RF mount lenses on February 14, 2019.