Deep within the tech specs of the new MacBook Air (2018) is something many of us thought we'd never see:
"3.5mm headphone jack"

And with that, the seas parted. CEO Tim Cook descended, and bestowed old school love for the audio faithful.
So, yes, the new MacBook Air has a bunch of new stuff, including updated USB-C ports (as was found beginning with the 2016 edition of the MacBook Pro), the highly anticipated Retina display (13-inch, 2560 x 1600 IPS) and that updated click-y keyboard, but it's that headphone jack that will likely have coffee shop nerds everywhere break-dancing.
Given that the iPhone (and most of the competition) have done away with the headphone jack, and instead moved to wireless Bluetooth, it's a slight surprise that it lives on in Apple's laptops.
One thing you, however, won't find on the new MacBook Air: the touch bar.
I have a 2016 MacBook Pro and I'd suggest that you won't miss it.
Despite all the fancy demos and endless marketing about the possibilities I find myself using the touch bar for far less aspirational things. Things like adjusting screen brightness, keyboard brightness and speaker volume. So I've configured — simplified — the touch bar accordingly. If these were regular physical keys, such as the ones found on the Air, I wouldn't miss a beat. Though I do like the Touch ID sensor on the far right side, the same place where you'll find it on the Air, also powered by the same Apple T2 security chip.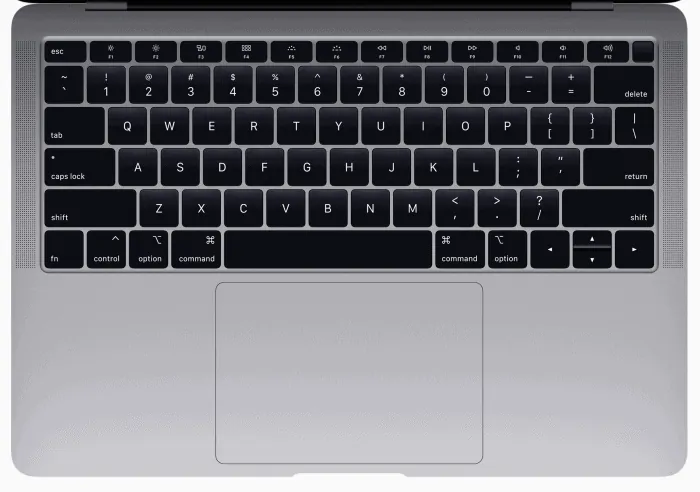 Apple has done well with the Air.
True, it's probably overdue. But it looks the part, with those narrow bezels, nice and large force touch enabled trackpad (still the best in the business), outstanding screen, clear and loud speakers, and that new shallow keyboard now in its third iteration. On that last feature, probably a little controversial. I find this new Apple butterfly keyboard very loud. Type somewhere where the environment is relatively quiet, even trying to be as soft as possible, and you might just draw a few glances from those nearby trying to concentrate. Clack. Clack. Clack. On the upside, the tactile feedback makes for a fantastic Mavis Beacon approved experience.
Apple MacBook Air: Specs (2018)

1.6GHz dual-core 8th-generation Intel Core i5 processor with Turbo Boost up to 3.6GHz
Retina display
8GB 2133MHz LPDDR3 memory
128GB SSD storage
Intel UHD Graphics 617
Touch ID
Force Touch trackpad
Two Thunderbolt 3 ports
Available in 3 colors: Gold, Silver, Space Gray

Starting at $1,199 USD with up-charges for additional RAM (up to 16GB)  and storage (up to 1.5TB SSD).
USB-C seems to be the way forward at Apple — not to mention the industry. I wonder when we'll see that increasingly universal port makes its way to the iPhone?
I look forward to that day. We can then forever stow away our proprietary lightning cables and enjoy multi-purpose USB-C, the one that will not only charge our Apple products, but also when needed also our red-headed-step-child Androids. Ah, simplicity. Please, it can't come soon enough.
The new MacBook Air — with 3.5mm headphone jack and all — starts at $1,199 USD. Pretty reasonable if you ask me, given that you can spec out an iPhone for far more than that (crazy, but that's life in 2018).