Amazon today unveiled a 2nd generation Echo show featuring a larger screen. You can now get the Alexa-powered speaker with a 10″ screen and improved Dolby audio.
There's a bunch of other small improvements to the two-year-old original Echo Show including:
Real-time Dolby processing
8 microphone array
3rd party browsers, such as Firefox
New skills
Built-in Zigbee smart home hub
And, of course, a 10.1″ display (1280×800 with 720p HD video) — twice the size of the original Echo Show
Pre-orders begin today on Amazon.
I'll be among the first to admit that the Echo Show has taken me by surprise.
When I first tested one a few years in our home I thought it to be another Amazon gimmick, likely something we'd use for a few weeks — "Alexa, tell me a joke!" — before it would find its way to the back of a drawer next to so many other unloved gadgets.
But, that was before we added some smart home switches.
Previously, we had to manually turn on 4 or 5 light switches to get the kitchen lit up at night. Behold, with Echo Show, we need only say, "Alexa, turn on the kitchen lights (please)" and every switch turns on to the right dimness level, and without having to run around manually operating the various switches. Even though we have a small kitchen, it's very handy and something we use every day. Turns out using the Echo Show as a smart home hub brings convenience that I never expected.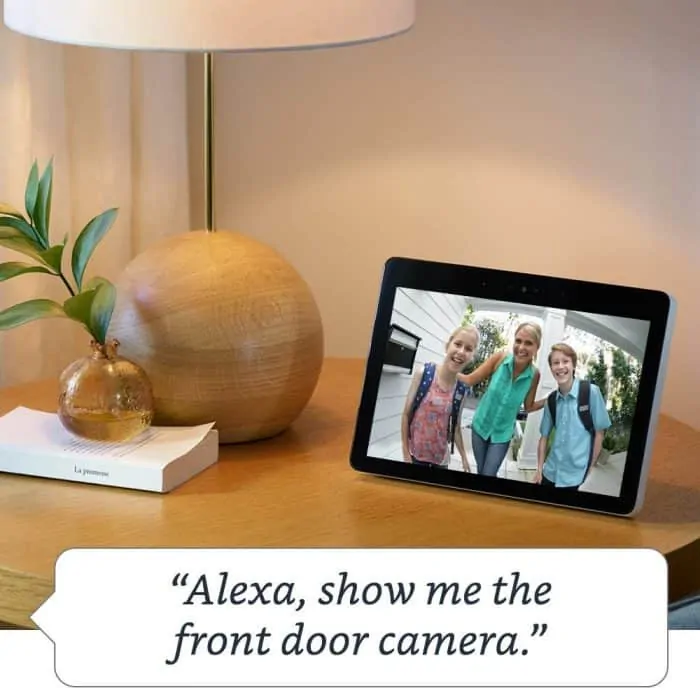 Then there's the music control. I suspect music is the #1 use case for all these smart speakers that are currently storming the market. With the screen on the Echo Show, you can now enjoy lyrics when streaming music. That's pretty nifty.
My favorite thing about the Echo Show — and why the bigger screen would be even more useful — is that we use it to shuffle our own artwork. I create a folder in Amazon Photos and upload my wife Loni's various paintings and drawings and also artwork from our videos here on Stark Insider. Then, Echo shuffles those as backgrounds on the Show's screen. It's a nice way to stay immersed in creativity — or at least try. Over this summer, we visited Rome. Again, I created a folder on Amazon Photos. Uploaded are favorite family moments from that trip, and for a few weeks every time we walked past the Echo Show we could re-live the adventure of a lifetime (see new Stark Insider video Rome: Waking Up the Vatican for some of the highlights including an unforgettable, early morning tour of the Vatican Museums and Sistine Chapel).
Who knew smart speakers and voice assistants would dominate our homes so successfully?
Amazon leads the way, but Google is pushing hard with its own line-up of devices. In part, the new Echo Show is a response to other smart speakers that feature larger displays. Even though we all carry smartphones, it seems there's still a place and need for in-place devices that are within our voice's reach, and that easily create whole home audio networks without the high costs and complex in-wall wiring that would be required in the past.
In addition to the new Show, Amazon released updated Echo Dot and Echo Plus speakers, plus for the first time a device designed for the car called the Echo Auto.
In total Amazon's surprise hardware event today resulted in 14 (!) new or updated smart home products. CEO Jeff Bezos and team continue to charge hard into this space, and, in my estimation and based on early market share reports, have an early, an sizable, lead in the race for smart home domination. In the coming months Google is expected to respond with updates to its own Google Assistant-based products.
The 2nd gen Echo Show with 10″ HD screen is available for pre-order on Amazon. Two colors are available at launch: charcoal and sandstone.
Shipments are expected to begin October 11, 2018.