A new report reveals something that we already pretty much know: the camera market is (mostly) still in turmoil.
According to CIPA, shipments in the overall segment "Digital Still Camera" is down approximately 24% year-over-year.
Hit the hardest appears to be camera with built-in lenses which seems to have fallen about 40% y/y. This makes sense. Smartphones are the new compact cameras that are always in our pockets and purses. So the need for entry level all-in-ones is on the way to extinction.
But there is a bright spot.
Mirrorless ("Non-Reflex") also dropped according to the report, but only by about 2%. Outside of Asia, however, the mirrorless segment seems to be doing well. In fact, easily the strongest category in the report (which includes sales figures for Jan-Jun, 2018) as follows: Europe (+24.1%); Americas (+21.3%); and other areas (+11%). So, according to the way I'm reading this report at least, mirrorless sales are struggling a bit in Asia, but selling well everywhere else: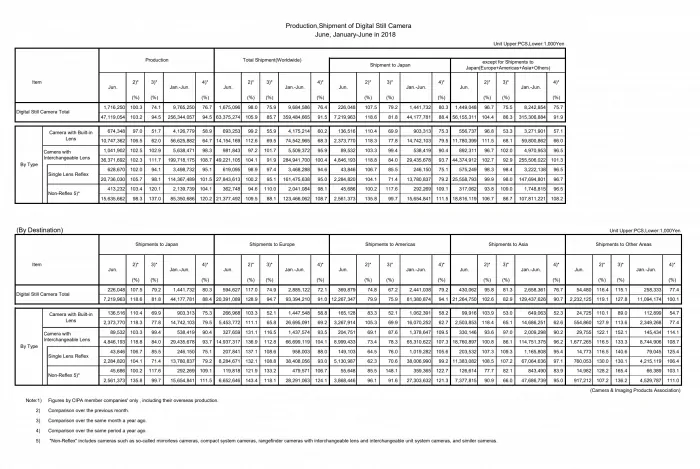 There's really nothing new to glean from this report, as these trends have been in place for a while now — possibly driven or at least partially motivated in part by the release of the first iPhone in 2007.
Essentially in everyday terms the trends seem to be:
The smartphone is the new compact camera – people are not buying cheap point-and-shoots anymore. iPhones. Samsung Galaxys. Huaweis. Motos. All do the job and, of course, are always connected to the internet and social media.
Mirrorless cameras are selling well – possibly because of their small form factor compared to their Single Lens Reflex (SLR) counterparts, or it could also be that they generally tend to excel for video shooters (and the YouTube and Vlog generation is here, and video is huge these days). The Panasonic GH5 is a good example of a camera performing well in this category.
DSLR isn't dead, not by a long shot – DSLR bodies haven't sold as well over the 12 months in relative terms, but shipments are overall about 30% higher (161, 475, 638 units).
You can dig into the report Production, Shipment of Digital Still Camera (January – June 2018) at the CIPA web site.