DJI is on a roll. With the foldable, 4K Mavic Air and the killer-deal that is the entry level Spark, the drone maker has redefined what consumers and videographers can expect when looking for quality aerial photography for under $1,000 (USD).
With the just-announced "Mavic 2 Series" — Mavic 2 Pro ($1,499), Mavic 2 Zoom ($1,249) — DJI is now pushing the price point while offering even more tantalizing features when it comes to sensors, cameras and bit depth of video files.
The Chinese company, which owns about 75% of the drone market (and also sells popular gimbals for cameras), is hoping to keep a leg up on the competition for casual flyers, while attempting to also lock in the pro market (or at least the mid-range pro; after all, high-end drones can cost tens of thousands).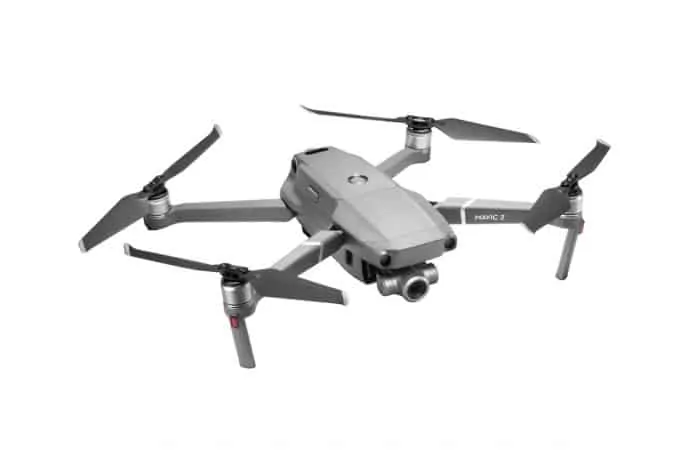 As you'd expect with any consumer tech, the new models are pretty much better in every way possible — albeit pricey. Like the Mavic Air (absolutely fantastic drone we use and crash here on Stark Insider), the the Pro and Zoom are both foldable, and feature an overwhelming number of tracking modes, so that the operator can get shots that would otherwise be impossible with the help of software and AI.
Key features in the new Pro version are 10-bit files (like the Panasonic GH5) which will give the ability to better color grade in post-production before the image falls apart, and a high end camera co-developed by Hasselblad out of Sweden. This is the same company that makes very expensive, top tier medium format cameras that are astounding performers.
As you might've guessed the Zoom model features a zoom lens.
And this is where things are going to get crazy… especially on YouTube.
DJI Mavid 2 Series Specs

DJI Mavic 2 Zoom

2x 24-48mm Optical Zoom Lens
1/2.3″ CMOS Sensor
48MP Super Resolution Photo
4x Lossless Zoom FHD Video
Dolly Zoom
Hyperlapse
Foldable, 31-minute flight time, omnidirectional obstacle sensing
$1,249 USD

DJI Mavic 2 Pro

Hasselblad L1D-20c Camera
20MP 1″ CMOS Sensor
Adjustable Aperture, f/2.8 – f/11
10-bit Dlog-M Color Profile
10-bit HDR Video
Foldable, 31-minute flight time, omnidirectional obstacle sensing
$1,449 USD
That's because of a new "dolly zoom" feature. This is a shot made famous by Hitchcock (see Vertigo, for instance) and emulated endlessly to eternity. The look is disorienting as the perspective changes on a subject in a way that seems surreal.
It's a pretty neat trick. You can use it in your next video if you so much desired to disorient your viewer (and character) in a key scene.
The effect is achieved by simultaneously zooming in the lens, while physically moving the camera itself away from the subject. Both these actions together create the much-vaunted Hitechcock dolly zoom. And, quick tip, you can even achieve the look — but not quite as effectively as the real thing — by using digital equivalents in a non-linear editor (Apple Final Cut Pro, Adobe Premiere Pro, DaVinci Resolve, etc.).
I have little doubt this new dolly zoom effect will work well on the Mavic 2 Zoom. Based on my experience with the Mavic Air, DJI has really honed its app and the functionality — especially things like tracking and crash avoidance (when turned on!) — work exceptionally well.
But what does this mean for YouTube drone videos? (don't you just wish there were more of them?)
It means Dolly Zoom! Dolly Zoom! Dolly Zoom!
Get your Pepto-Bismol out of the cabinet. YouTube is about to get all Vertigo.
If there's one thing I've learned over the years shooting and editing videos for Stark Insider over the years, while tracking the cameras and wannabe hipsters we all aspire to be, is that geeks like us love new features. 10-bit? Love it! In-body stabilization? Love it! 4K? Love it! Dolly Zoom? Well… this is a YouTube romance made in Hitchcock Heaven (actually, China).
Both new DJI drones are now on sale.
DJI Mavic 2 Pro is priced at $1,449 (USD).
Vertigo Mavic 2 Zoom at $1,249 (USD).
Happy uploading!