January turned out to be a tough month for camera sales. Canon, Nikon, Sony, Olympus, Panasonic and all the rest are likely reeling a bit from this bit of troubling news.
A report out of Japan suggests sales for the digital still camera (DSC) segment fell 28% y/y. CIPA's data show that total shipments for January 2018 were just 1,340,492 units vs. 1,867,875 units for the same period prior. Note that this includes worldwide shipments and cameras both with and without built-in lenses.
Some are saying this is the worst month for camera sales in the last 10 years.
Given the rise of the smartphone this shouldn't come as much of as surprise. Camera phones are with us all the time and keep getting better. For most consumers, the hassle (and cost) of carrying an extra — albeit better performing — camera just isn't worth it.
That's why, in my view, camera makers are actually increasing prices, and chasing pro-sumers with models that have advanced features. Their idea? To avoid the sub $1,000 camera market where iPhone and Galaxy S phones reign supreme.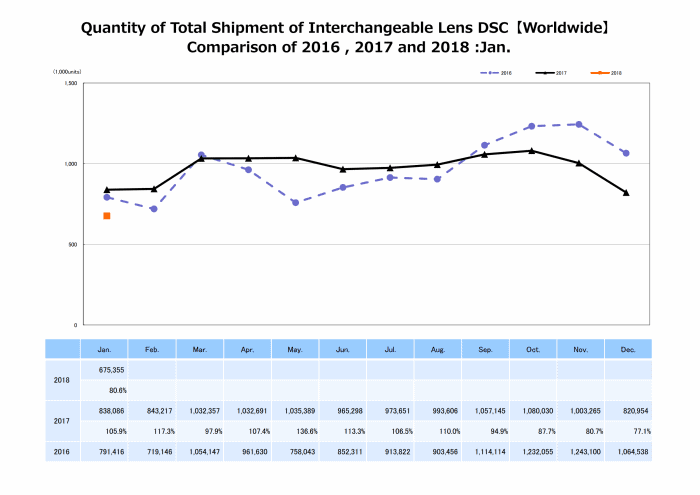 Note: please keep in mind this is just one market report. I would look to validate across other analyst and market research sources first for drawing any serious conclusions.
For someone like me who spends a large amount of time shooting and editing video, it obviously makes sense to own a more advanced camera or two. Hence that's why I have a (fantastic) Panasonic GH5 and some Canon cameras for producing videos here on Stark Insider. I suspect the Panasonics and Canons and Sonys of the world are likely to target this market more heavily in the coming years. I'm a dying breed that mostly uses a non-smartphone camera. However, that may eventually change…
Not only is the hardware on cameras on iPhones and Androids getting better and better (dual lenses, variable aperture, etc.), so too is the software. And that's a particularly important point. A sensor can capture an image, but it's really the software that provides all the magic. So, for example, on an iPhone you can select "portrait" mode and automatically blur out the background for a high-end looking shot. To accomplish the same result on a standalone camera would require a long lens (typically 85mm or longer). Those are large and often quite expensive. But with clever software you can get a very close result on your iPhone without the inconvenience and cost necessitated by a DSLR style camera.
If I were Sony or Canon I'd be concerned about the capability of software; because typically tech companies are far better at programming than those in other industries… especially the camera business which has typically moved slowly and not innovated much over the years. If the future is in software than camera makers had better start re-vamping business models.
Another point: Apple and Google and Samsung relentlessly market the capabilities of their cameras.
We're living in a world of billion photos an hour — or something like it.
Instagram and Twitter and Snapchat and Facebook are largely driven by visuals. And those visuals almost always come from a camera phone.
So it's no surprise then that the camera is the #1 feature that is marketed when a new phone is released.
Massive marketing budgets further drive down mindshare for traditional DSLR cameras. Out of sight out of mind.
If you're like me you're probably thinking you'll always want or need something like a Panasonic GH5 or a Canon or Sony cinema camera to do your job.
RED, though, might have other ideas. To add to the confusing disruption of the camera market is something they're cooking up in the lab called Hydrogen. And it looks ground-breaking. Not only does it have a fancy holographic camera, Hydrogen is actually a modular smartphone (running Android). The idea is that you can add functionality as needed. For example, I'm guessing you could add a sophisticated camera module based on RED's technology (Redcode) that could eventually eliminate the need for buying a traditional cinema camera. I wouldn't expect this to happen overnight of course, but you can see where things are possibly headed by imagining smaller, modular devices that don't sacrifice capability. Once again, this trend will be driven by advanced software.
It will be interesting to see where the camera market heads over the coming months and years.
Canon is finally pushing hard into mirrorless.
Once the province of big Hollywood productions or rental houses, cinema lenses are dropping in price dramatically and finding their way into more filmmaker's hands.
Smartphone cameras are becoming incredibly powerful and approaching DSLR quality.
And then there's AR/VR and holographic technology that's just about ready for prime time.
For now, though, I'm happy enough shooting video on my GH5.