Chances are many of your favorite childhood memories are triggered by a certain smell or sound. In my case, like Mom's homemade chocolate chip cookies, perfect for a stormy winter night in Ottawa. Or, my grandfather filling the night sky in the backyard with a whimsical solo on his tenor saxophone.
Scientists have long studied the correlation of sight, sound and smell and their impact on recollection, and, even, how the brain stores and processes these in the face of fear. Or loss.
I'm no expert on any of this by any means (Google?) but, fortunately, you don't need to dive deep into behavioral psychology to walk away from Magic's new play Reel to Reel tinged with equal parts melancholy, inspiration and, especially, appreciation for the preciousness of life and family. It's a really sweet evening of theater — at only 80 minutes, a brisk and memorable encounter. The world premiere opened last night at the always beautiful Fort Mason center in San Francisco, and if you're looking for a night on the town, it doesn't get much better than this new work.
Playwright John Kolvenbach (who was last seen several years ago here at Magic with the outstanding Goldfish and Mrs. Whitney) taps into our collective memories, even at a few points inviting us — through his smart, sharp and uniquely crafted characters — to close our eyes during the show, letting sound ignite our imagination. And sound here is just one of the stars.
An older couple, laid back and anxious Walter (Will Marchetti), and clogging and know-what-she-wants Maggie (Carla Spindt), enjoy kibitzing in their apartment, taking turns poking fun at each other, telling stories, and reminiscing. She's a sound engineer, perpetually capturing their lives, special and the mundane, onto an old Sony reel-to-reel tape recorder. So she can literally pull out an old tape and re-experience that time he made chicken for dinner and the results were not exactly the stuff of Julia Child. Meanwhile, he's at the point where, the hell with it, if he wants to eat copious amounts of chocolate cake and stroll around the park in his bathrobe then so be it!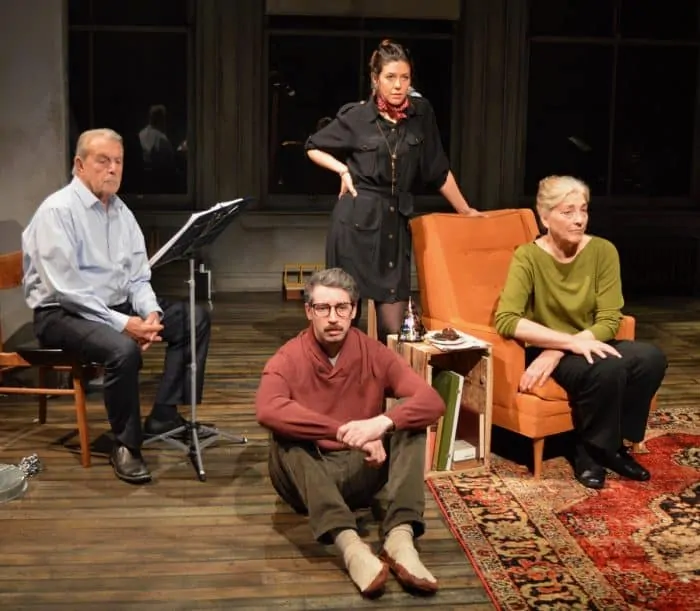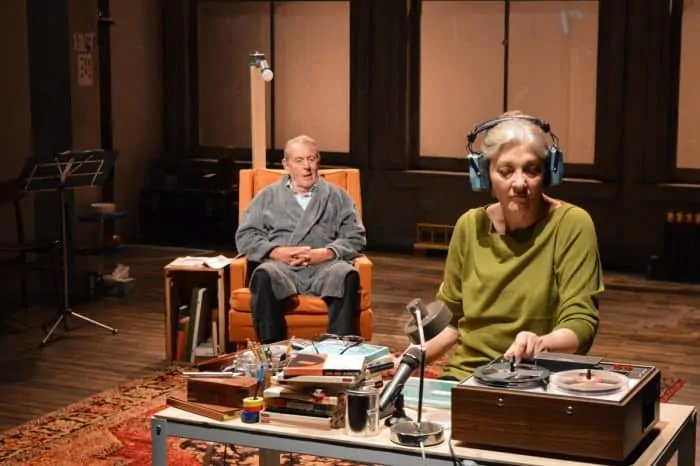 Flashbacks of the couple's lives are played through their younger selves (Andrew Pastides and Zoë Winters). The four actors sit on chairs at the corners of an intimate stage — a wonderful hallmark of Magic Theatre productions — taking turns playing musical instruments, performing foley (using various odds and ends to simulate, for instance, the sound of a noodle cracking). That all the sound in this play is produced live adds an exciting dynamic.
At the heart of Kolvenbach's story are two people who can be any of us. They celebrate the small things in life, cherish even failure, and share a life together that is rich with what any relationship might encompass: passion; celebrations; surprises; silliness; the mundane; and, of course, heartbreak and loss.
Alexa, replay my life.
Capturing a life on a reel-to-reel could very much be a metaphor for today's social media, and AI-driven voice assistants. "Okay, Alexa, replay my life." This is a generation now where almost everything is being captured, often in real time. Photos. Videos. GIFs. Memes. Snaps. Decades into the future — say 2050, when this play is set — what will it be to look back on a life forever captured on the internet?
Uniformly strong performances bring Reel to Reel to life. For an opening night performance it's hard not to think that Andrew Pastides, Zoë Winters, Will Marchetti, Carla Spindt have done the near impossible with their characters. There are no grandiose projections, no booming soundtracks. Merely actors, acting. And, what acting!
On a final note I should add that the lighting is, once again, outstanding. What Magic does in this small space brings all the tingles.
Reel to Reel doesn't pull any Christopher Nolan-like twists. Thankfully, it also doesn't traffic in sentimental syrup. Rather, this is a story about nuance, and the fragility of life and curiosity that is our relationships — especially in marriage. On the way out of the Magic, as we headed into the brisk evening in the Marina District, my wife Loni suggested that "if you could bottle up what love sounds like, this would be it." Sounds about right to me.
Reel to Reel
Magic Theatre, San Francisco
4.5/5 stars
Photo credit: Julie Haber