This past Friday, I attended a John Kolvenbach marathon at Magic Theatre—a double dose of comedy and heartbreak starting with Goldfish and concluding with Mrs. Whitney. I had seen the Bay Area Premiere of Goldfish previously, (review) but decided I wanted to experience the entire pacing and flow across both these plays which are bound together by the fascinating character of Mrs. Margaret Whitney (Patricia Hodges).
Whereas Goldfish explores the bonds between parents and their children, in Mrs. Whitney this theme takes a back seat to explorations into the nature of loneliness, companionship and the compromises we make under each condition. Mrs. Whitney is a fascinating character from Goldfish and I enjoyed seeing her further developed in Mrs. Whitney.
With her daughter Lucy moved out, Mrs. Whitney, who has been divorced for the last 30 years, is plunged full force into desperate loneliness. Margaret is only occasionally visited by her befuddled, married neighbor Francis (Charles Dean) who brings over leftovers made by his wife.
Make no mistake, Mrs. Whitney is successful, smart and very practical, except when it comes to matters of the heart. Her Achilles heel she reveals from the onset, abruptly as one would expect: "My name is Margaret Whitney, and I'm a romantic."
The object of her affections? Her ex-husband Tom Whitney (Rod Gnapp). Hardly a prince charming, Tom openly admits he is a lousy husband often disappearing for months at a time with no explanation and barely able to hold a job. However, Mrs. Whitney after years of deconstructing love to animal instinct, has given in to wanting her ex-husband back as she has found the alternative of loneliness unbearable. She is not alone, because as much as Tom seems to be a write-off on paper, we find out that there have been subsequent women who have fallen for his kind of charm including his current wife, Louisa (Mrs. Whitney, the fifth?).
The characters' actions are heightened by grand gestures such as breaking glasses, shooting guns and desperate laments which require falling to the knees while professing undying adoration. It takes the desperation for companionship that we all have felt in our lives and acts them out, searching to capture in physical form, the emotional desires to not be alone. In its exaggerations, Mrs. Whitney examines the nature of love and romance stripped of the Hollywood pretensions.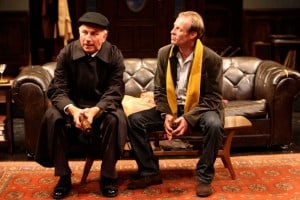 The play has a certain tension that only relents during monologues by Mrs. Whitney. In these moments the stage lights dim and a spotlight gives the moment a surreal, dreamy feel. It is often a nice break from the chaos that ensues at the climax of the play. One scene where all characters were on set lacked a certain naturalness that was reminiscent of the early Batman and Robin TV show fight scenes.
The set, unlike Goldfish with its elaborate changes between the two households, hardly changes at all. Most clues of whether we are in Mr. Whitney's or Mrs. Whitney's home is depicted by the placement of alcoholic beverages and the area of the stage that is used. A little more visual modifications would have been nice to help the audience move from one location to the other.
Mrs. Whitney's need for love extends beyond Tom Whitney as she grapples with trying to salvage her love of self as she continues to put herself in vulnerable positions in order to woo Tom back into a joint living relationship. There are also hints of being needed as a parent when she asks Fin (Patrick Alparone) to act out a scenario where she is prepping him for school.
Mrs. Whitney engages the audience to laugh at the foibles of love in the real world while it dangles you dangerously above the jaws of heartbreak. It is through humor that we can stare into the truths and stark realities of loneliness and desperation for affections outside our control.
Clint says:

John Kolvenbach knows how to make a play pop. Dialog is crisp, rhythmic, never wasted. And his characters, especially Patricia Hodge's Mrs. Whitney and Rodd Gnapp's Tom, are real, damaged and, yet, always likeable. You're cheering for them.

Of the two in this marathon, Goldfish was stronger. It was tight and stayed on track, whereas Mrs. Whitney sometimes takes, albeit amusing, detours, but loses momentum on occasion.

Patrick Alparone, who I last saw in the strong One Flew Over The Cuckoo's Nest at SF Playhouse, delivers an energy boost when he saunters back home from school, one again confronted by yet another, would-be Mom. His disbelief, the tormented son, is amusing.

I had difficulty believing the much younger Arwen Anderson, as Louisa, being married to the older Tom. They seem generations apart.  Still, she showcases a mighty fine pitching arm. Kolvenbach, you should know, likes breaking glass. Shattered glass. Dropping glass.

I enjoyed both these plays, but give the slight edge to Goldfish, perhaps because it is told from a gritty, male perspective, whereas, Mrs. Whitney, is, well, about life as a "hopeless romantic."
Noteworthy:

John Kolvenbach at rehearsal.

Duck! During the talkback we learn why Arwen Anderson has such a wicked throwing arm: she used to be a baseball pitcher. During one performance Arwen was so excited that she missed the mark. The glass hit an overhead arch, showering glass across the stage.
44-year old playwright John Kolvenbach is big on timing, and inserts "beats" into the script.
On writing, Kolvenbach says, "I try to load up, almost like you have a jet pack and you fill the jet pack with as much fuel as you can. Then you go, hoping you don't go careening into a building."
Seeing these two plays, Goldfish and Mrs. Whitney, in repertory is a special experience. In between, enjoy some food and drink in the nearby dining hall.
Follow Magic Theatre on Twitter: https://twitter.com/magictheatre.
Kudos to Magic for a smart looking Web site redesign. It's aesthetically pleasing with artistic flair, but still functional.