With its recent addition of "Everywhere" mode, Amazon is pushing hard into the whole home audio market. Traditionally that's been the domains of the likes of custom installers, and, more recently, Sonos.
In the Alexa app or in its companion browser interface, you can select songs, stations, playlists from various service providers including Spotify, Pandora, iHeartRadio and, of course, Amazon Music. Not surprisingly you won't find Google Play Music here — just as you won't find Amazon on the Google Home smart speaker. Turf wars 2.0.
Over the holidays I dove in to find out what Amazon had to offer with its whole home audio capabilities.
We have a few Echo Dots speakers sprinkled on various tables around the home, an Echo Show in the kitchen and an original — and quite decent — Echo in the bedroom. So when my Swiftie wife says, "Alexa, play Taylor Swift everywhere" there's absolutely no escape.
But there's a problem.
We're a house divided.
That's because we have a few old Sonos speakers still in active duty. And though you can issue them basic commands via Alexa to control music, you can't integrate the two systems. That means you can play Taylor Swift on all your Echo speakers or all your Sonos speakers, but not all together at one time. Shame.
That got me thinking… like I'm sure a lot of folks are thinking…
Should I fully commit and switch everything to Amazon Echo speakers?
Full disclosure: this question did not dominate during the holiday season, though it was near the top of my gadget research list. I did for the most part, at least I believe, interact with normal humans on a regular basis and did my small part to contribute to society. Turns out, why, yes!, there are certainly bigger issues at stake in this world beyond smart speaker strategy!
Unfortunately I think companies like Sonos are in trouble. I suspect they too will be eventually Amazon-ed.
In the past, the secret sauce to a home speaker system like Sonos was in its clever software (and before they were supplanted by smartphones, their powerful, expensive hardware controllers). You could easily play different music across the home, adjust volumes, search music, etc. all via an easy-to-use app (PC, Mac, and mobile). But the advent of voice activated assistants like Alexa and Google and Cortana has made things really easy. Just speak your mind. No loading up an app or browser. It works so well that the Echo speaker line has become Amazon's all-time best selling product.
Amazon needs a dedicated Music App for Echo
The music controls in the Alexa app (and browser UI at alexa.amazon.com) are decent enough. You can see what's playing, fast forward, pick a playlist, surf across various music providers and do just about anything you'd want. At least, for casual users.
For serious playlisters and aspiring DJs, though, it's hard to top the magic of the current Sonos app. It's speed and depth of features is hard to give up — which is what I'd have to do if I dumped Sonos and made a full switch to Alexa and Echo speakers for whole home audio.
I can see what Amazon is trying to do here.
Bezos would prefer there to be one app to rule them all. So, currently, the Alexa app does a lot. It can be used to control music, create and manage to-do lists, set reminders and alarms, add skills, and control smart home devices.
Eventually, though, I wonder if Amazon should peel off some of those capabilities and create purpose-built Alexa apps?
Music would be a good place to start.
I'd like to see an "Alexa Music" app.
It would be very much like Sonos or Google Play Music and be built around playlists, stations, and advanced music controls. You could do things not currently possible with the Alexa app such as drag and drop song order, easily create playlists, set timers, setup zones and control volume levels across them easily, and, well… and basically everything that Sonos does so well with its well designed Sonos Controller app: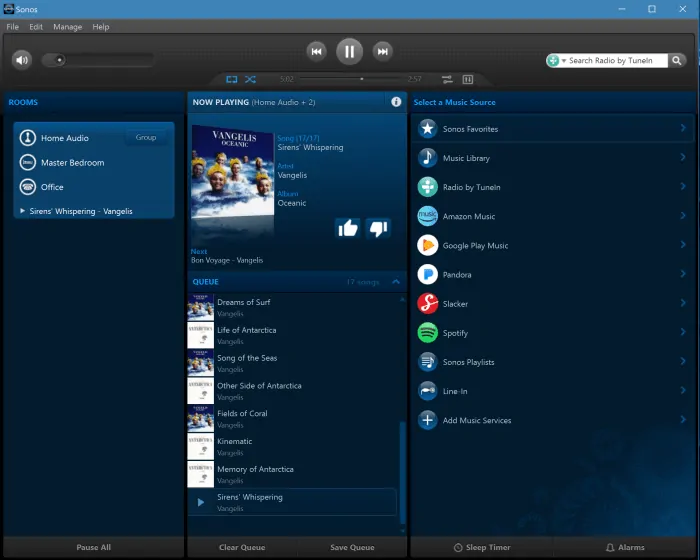 I fear the end is near for Sonos. If Amazon does in fact build a dedicated music app for Alexa then I would likely make the jump once and for all and replace Sonos speakers with Echos. It would be bittersweet. Yet I can't see how a company like Sonos (and others) can survive — at least with their current strategy — against the inevitable tide of voice and platform control that Amazon brings. Competing on price and audio quality are not sustainable long-term in such an environment.