We're on location in Venice Beach and Santa Monica; our first time here, just west of L.A., shooting some video coverage for Stark Insider.
It's a very pretty area. And, not unlike the San Francisco Bay Area, scenes of beautiful coastlines and swaying palms are juxtaposed with massive highway congestion and throngs of people, tourists and locals alike.
Needless to say it's an inspiring place to help trigger creativity — which is something Loni Stark and I do about this time each year with a 10-day work/create getaway. Typically in the past we've gone to a small fishing village in the Baja called Loreto, talk about a change of pace from San Jose and San Francisco! A beautiful oasis with friendly people, no Starbucks or In-N-Outs, and without the touristy build up of better known destinations like Cabo. If you like outdoorsy adventure and serene landscape definitely and beautiful blue sea (Sea of Cortez) check out the town of Loreto and the resort of Loreto Bay about 20 minutes South on Highway 1 in Nopolo.
Our goals are always the same on these schedule hacks: to plug away on our regularly scheduled programming in the morning, and then to shift gears later in the day to brainstorm and create mode, taking a break from email, social media and any other distractions. Loni typically paints and I shoot and edit video (this time using footage from the wonderful and compact Panasonic GH5 mirrorless 4K camera). And we also set goals and timelines for the next 12 months of Stark Insider.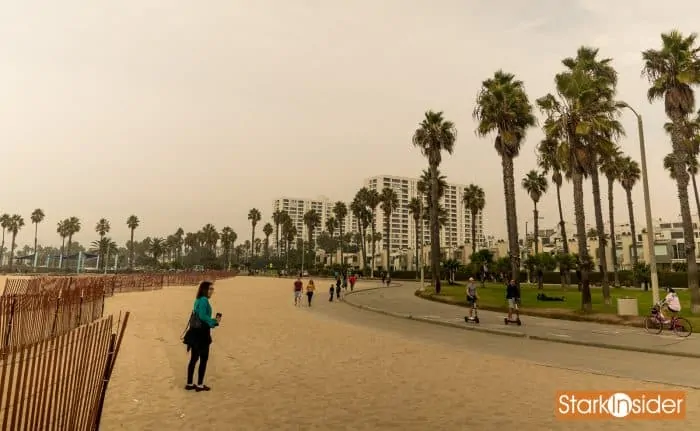 ICYMI we released the first ever SI short film collection. Who is Stark Insider? You can read about that here … if you dare. It was an interesting process. Once the shorts are done, they're done, and we move to the next project. For better or worse. The beat goes on.
Next up, look for the long-promised "3 DAYS" video series to roll-out. Sonoma. Paris. Iceland. Vancouver. We have a bunch of wanderlust to share Stark Insider style. We may even toss in a bit of David Lynch himself — and scenes from the 2nd annual Festival of Disruption — into the whole thing because who doesn't like alternative universes and cherry pie every now and then? Don't forget! Please be sure to follow us on YouTube and Vimeo to get notified of new video uploads.
Meantime, we're exploring so-called "hippy" coffee culture here in Venice Beach (me in a Silicon Valley-ready hoodie). We could get used to this…