Amazon. Google. Microsoft. Sonos. And a raft of other up-and-comers.
All are making so-called smart speakers. But why?
According to TechCrunch a new report out of Juniper Research might just have the answer. The market for smart speakers is exploding… and fast. By 2022, merely five years from now, it's expected that about 55% of homes here in the US are expected to have one.
That is simply incredible.
It's easy to forget that first mover Amazon only entered (i.e. created) the smart speaker market with its Alexa-based Echo in the summer of 2015. A strong Super Bowl advertising campaign helped push a new way of interacting with our homes and devices — via voice. Sure, we already knew how to do this with our smartphones ("OK Google"), but now that same AI was making its way into our homes. In only two years Amazon has blazed a trail, and blind-sided Google and Apple.
There's a reason why Amazon and so many others are pushing these assistants so adamantly (for instance, you'll frequently see Echo speakers featured predominantly on the Amazon landing page): Big Revenue.
According to RBC Capital Markets, for example, the innocuous Echo speakers could bring Amazon $10 billion in revenues by 2020. That figure includes sales of the devices themselves ($5 billion), voice driven shopping sales ($5 billion), platform revenue (an app-like marketplace for "skills" that are used to give Echo speakers more capabilities), and Amazon Web Services which the report suggests will be needed by especially by developers looking to tap into opportunities based on Alexa and Echo speakers.
The interesting thing about these smart speakers — be it the Google Home or Amazon Echo or others such as the Sonos One which feature Alexa — is that, unlike a smartphone, most households will likely end up with several. A new feature recently introduced allows multiple Echo speakers to be grouped to play music throughout the home. You could have a small Dot in the office, for example, an Echo Show in the kitchen, and maybe an original Echo on a nightstand, and all could be playing Taylor Swift at the same time with a simple command (Alexa, play Taylor Swift everywhere). Welcome to the future… ?
AR/VR? … not quite … for now, it's all about smart speakers, voice assistants, and the smart home
Augmented, virtual and mixed reality get all the hype these days. Though much of it is finally dying down (inflated expectations?), you can expect a good AR/VR demo to get the imagination flying.
On the other hand asking Alexa to turn on the kitchen lights while pretty cool, doesn't exactly have people running down the streets, waving their arms in the air madly while singing a Sheena Easton tune. But… the money now, and at least for the short term, clearly is in smart speakers.
But what about Apple?
All of this is a little bit surprising then. Because where on earth is Apple?
We got a peek of HomePod earlier this year. It's expected to ship in time for the holidays, and it will be priced — not surprising given this is Apple after all — as a premium smart speaker, with an emphasis on sound quality and sophisticated features that should appeal to audiophiles.
But, man, did Tim Cook and company cede early market share to Google and, especially, Amazon in a big way. Its estimated Amazon's share of the smart speaker market is around 70% (but I don't have verification of that figure).
The HomePod had better be a hit. And, if Apple has any designs on grabbing share, it might want to think about an entry product as well. With its $49 hockey puck, aka Echo Dot, Amazon is essentially counting on impulse purchases. So much so, that Amazon even sells them in packs of 3, and in bundles with home automation products such as smart bulbs.
It's about $$$, but it's also about Brand Loyalty
Yes, Echos are flying off the shelves at Amazon (and now also Whole Foods!).
But there's more here.
This is also a war for the consumer's mind share. Brand loyalty is key. Like the smart watch, the smartphone and tablet and laptop, the smart speaker is yet another ecosystem reinforcing purchase. Go deeper with Echo speakers and it's hard to sidestep for a moment, and go with a Google Home for the office, when it won't play friendly with the rest of the home.
Further, default services such as music are, predictably, set to the maker of the speaker in question. For Amazon that means music defaults to Amazon Prime Music. For the Google Home speaker, to Google Play Music.
Holiday sales will be massive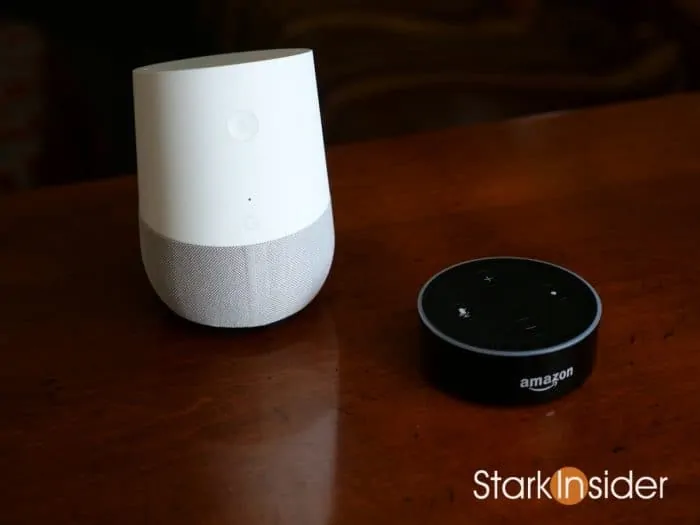 By the peak sales season for Christmas, Apple will have entered the market with the HomePod. Expect massive marketing campaigns from all the majors. Most notably Google and Amazon and Apple will duke it out. Look for smart home bundles, creative packaging of services with smart speakers and volume discounting.
For now VR/AR seems resigned to providing us with cool and mildly entertaining if not utterly utterly useless animated emojis and all of that jazz. Okay, sort of fun. Meantime, however, Amazon had its eye on the prize when it created the smart speaker market in 2015 along with the Alexa voice-based AI service. It is now reaping the rewards. Can anyone stop Team Bezos in this segment?