This week we kicked off our first ever collection of short films here on Stark Insider.
Past. Present. Future., a retrospective of the Mill Valley Film Festival, was released on Monday.
Each week we will be posting a new short, aka vignette to starkinsider.com. Over the coming weeks and months the idea is to celebrate film, and in some ways that enigma known as the creative process. And what better way than to try our hand at some new ideas. Status quo? Meh. Wading deep in search of big fish; succeed or fail, we must do what we must do, no?
While we'll still be publishing interviews and short docs, Loni Stark and I will also be scratching that creative itch from time to time. Earlier this year it was a wig, some stuffed animals and a Stella: short film Crazy or Die.
We've been producing videos on Stark Insider for almost 15 years now, regularly publishing to our channels on Vimeo and YouTube, and also tidbits ("fragments!") to Instagram and Facebook. Every now and again we tweak the "formula" a bit and see where things land.
Call it re-invention. Call it troubling. Call it restlessness or therapy. Or call it nothing at all…
Who is Stark Insider?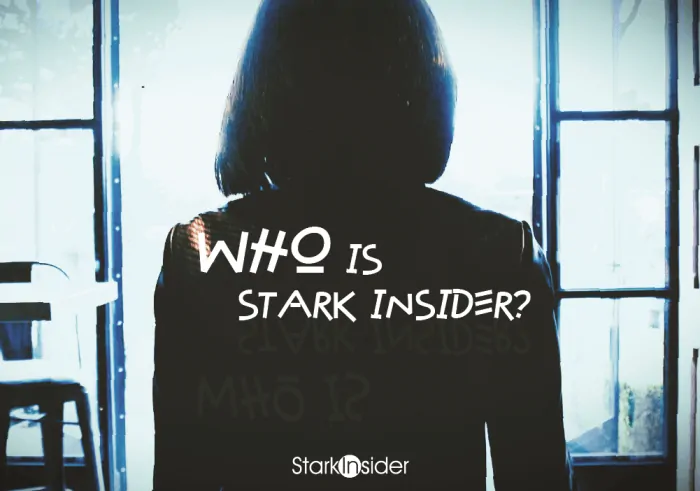 For 2017 the theme of our short film collection is: Who is Stark Insider?
I mean, who is Stark Insider?
"Who is Stark Insider?"
We're headed on location for the 40th edition of the Mill Valley Film Festival which looks, once again, to offer an appetizing selection of indie film, docs and shorts. Look for updates soon from MVFF40 including interviews, and highlights from some of the most interesting panels and filmmaking discussions we attend.
In the coming weeks, we may also have a few surprises in store. Stay tuned!
In addition, we continue on our mission at Stark Insider of bringing a mix of arts coverage and tech news with a dash of wanderlust occasionally thrown in for good measure. Heartfelt thanks to people who tirelessly and wonderfully contribute especially Ilana Walder-Biesanz, Jeanne Powell and Janice Nieder. And, of course, Monica for the calendar and social media help and keeping our lives in order.
With that, here's the first vignette from the Stark Insider 2017 Short Film Collection:
Stark Insider 2017 Short Film Collection
A retrospective of the Mill Valley Film Festival.
By Clinton Stark
Featuring Loni Stark
MVFF footage from 2010-2016
If you dare, return here to Stark Insider next Monday, when the next short/vignette will drop. See you then!