For all the features the GH5 brings to the table, I'm starting to believe that its dual IBIS stabilization may be my favorite, not to mention the most useful for everyday video shooting. In a word it's exceptional.
If you're not familiar with Panasonic's newest mirrorless flagship camera, here's the quick specs.
Panasonic GH5 Key Features:
20.3MP Digital Live MOS Sensor (Micro Four Thirds)
4K Video with No Crop
Internal 4:2:2 10-Bit 4K Video at 24/30p
5-Axis Sensor Stabilization; Dual I.S. 2
0.76x 3.68m-Dot OLED Viewfinder
3.2″ 1.62m-Dot Free-Angle Touchscreen
Advanced DFD AF System; 6K & 4K PHOTO
ISO 25600 and 12 fps Continuous Shooting
Dual UHS-II SD Slots; Wi-Fi & Bluetooth
GH5 Body $1,998 (USD)
Note:

Another sweet GH5 feature worth pointing out is the ability to record 4K/60fps with 10-bit 4:2:2 color using an external monitor such as the (wonderful) Atomos Ninja Inferno monitor/recorder. Pretty impressive stuff considering the GH5's relatively reasonable price point (to get similar specs you'd need to step up to a cinema camera from Sony, or Blackmagic, or RED).
Dual IBIS (in-body image stabilization) means the GH5 body and lens are both working together (hence, "dual") to stabilize shots. Paired with a compatible lens, I've found the results to be very steady, even at long focal ranges.
The benefit for video shooters is immediately apparent. In many situations you may not need to lug around a tripod or gimbal or any other sort of stabilizer.
I've been shooting videos for Stark Insider with the GH5 since its release earlier this year. Though we do use a Canon C100 for interviews and events, the Panasonic is quickly becoming a favorite. I especially like that it looks like any other camera out there. You can play tourist, blend in, and get the shot without attracting unwanted attention… or, worse, security detail.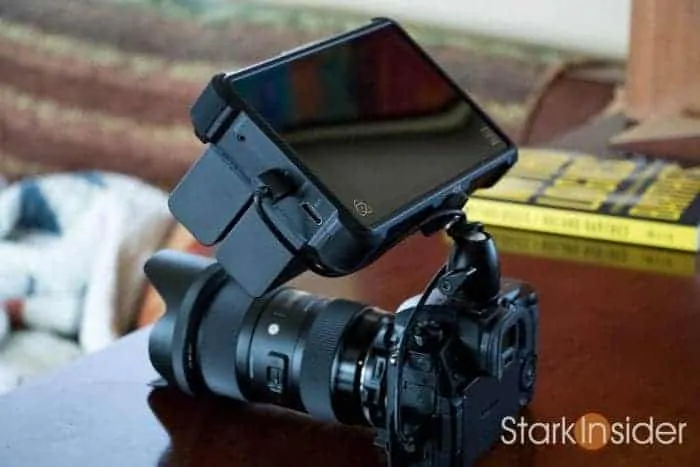 Recently I took the GH5 to the San Francisco Museum of Modern Art (SFMOMA). I left my backpack and my normal gear at home. This was just me, a camera strap, and the GH5. Well, also, there was a Loni Stark, who agreed to let me shoot her while attending an exhibition for Norwegian master artist Edvard Munch.
My rules were simple:
No stabilizers – all GH5 footage is handheld. I was allowed to use the strap, and lean against things, etc.
No post production stabilization – software tricks such as Warp Stabilizer in Premiere Pro were a no-no for this project/test.
You can see the video below.
Shots that really stood out to me in terms of showcasing the performance of the GH5's dual IBIS are at the following points of time:
2:24 Shot of "Sonic Shadows" installation, the POV shot of Loni looking up at the SFMOMA bridge
2:32 Exterior building shot
2:38 Loni walking through maze – this is digital zoom from 4K to 1080p to simulate a telephoto lens
Again, all handheld.
To be clear, I'm not suggesting you ditch your tripods and gimbals anytime soon. They will still produce the best result in most situations. But for those times when you want to travel light, or don't have the luxury of rigging up it's nice to know you can get reasonably steady shots just shooting handheld with a GH5, a compatible lens (for Dual IBIS) and nothing else. I think wedding videographers will (or are going) gang-busters over the GH5.
Overall, I'm thoroughly impressed. As a long-time Canon DSLR shooter I know that I could get decent results with Canon glass with OIS. Never really had any complaints. But, wow, the GH5 really does take the game to the next level.
Dual IBIS along with all its other features — dual SD card slots, 4K/60, 10-bit 4:2:2 color, extended tele for punch-in without resolution loss — have me very convinced.
Yes, I'm a believer. The GH5 is a keeper. Hurts me to say this: my 80D may be finding itself often sitting pretty on a shelf.
SHOT ON PANASONIC LUMIX GH5:
Edvard Munch. SFMOMA.
A test of image stabilization. Panasonic GH5. Panasonic 12-35mm f/2.8 lens (Mark I). Workflow: capture in 4K 150M 23.976fps 422/10 to GH5 internal, edit in 1080p using proxies in Adobe Premiere Pro, finish in 4K.
Note: Panasonic released a Mark II version of the 12-35mm lens I used to shoot this video, and it's supposed to be even better at stabilization when combined with the GH5. Not cheap. But, man oh man, what a combo.