Amazon is coming for your kitchen (Dash Wand), our grocery stores (acquisition of Whole Foods), and now it's coming for our wardrobes.
Not that the mega web site doesn't already sell clothes. It does (of course, what doesn't it sell?). But now you can actually buy clothes… without paying for them.
ALSO SEE: 10 ways Amazon can use Whole Foods acquisition to bolster its shopping stranglehold
It's called Prime Wardrobe — a new, optional service for customers who pay an annual fee ($99/year in the U.S.) for Amazon Prime. Under the new program, unveiled today, you can order from 3 to 15 item. You don't pay upfront. Amazon sends you the stuff (in a white "Prime Wardrobe" box). Try on the clothes. Keep what fits. Return the rest. And then Amazon charges you for whatever you decided to keep.
According to some analysts, as reported by the New York Times, Amazon will become the largest apparel retailer by the end of 2017. There was a time when we thought Target and Walmart superstores were big. It would be unfathomable to imagine what a physical Amazon store would look like if it literally contained all the products you can find on its web site. I remember walking to school in snow. I also remember a time when Amazon was all about books and DVDs.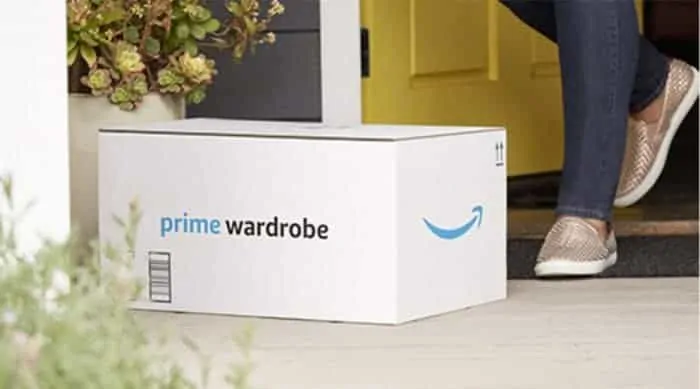 Amazon (NASDAQ: AMZN) stocks hundreds of clothing brands, from everyday stuff from Levi's and Adidas, to more upscale, luxury items from the like of Hugo Boss and Michael Kors. As is keeping with the current trend, Amazon also offers an Alexa-based voice assistant targeted at home wardrobe shoppers: Echo Look.
And because CEO Jeff Bezos and his management team are no strangers to aggressive promotional strategies, Amazon will offer discounts as follows:
10% off if you keep 3-4 items; and
20% off if you keep 5+ items.
Interesting times. Though I'm not a big clothes shopper — a comfortable pair of jeans and a t-shirt and I'm Silicon Valley ready — my wife does occasionally need to make trips to the mall. Well, she used to make those trips. Increasingly she orders clothes online — say, from Nordstrom. The challenge, though, is size. In store you can try things on, and walk out with stuff that fits perfectly. So, she often orders several sizes of the same item, then returns the ones that don't fit.
Amazon is not really changing that scenario too much… except for the payment aspect.
For Nordstrom shoppers, for example, you pay upfront for everything, including multiple sizes of the same item. Then you need to return the items you don't keep, and a refund is issued.
For Amazon shoppers, you'll just pay for what fits and what you keep (a pre-paid UPS return label is included). It's one, clean transaction. Less fuss, or so goes the theory behind Prime Wardrobe.
I read recently that Bezos is close to becoming the world's richest person. Amazon itself is worth about half a trillion dollars ($480 billion or so). I wonder, how big is too big? Can Amazon keep out-scaling the competition? And who, if anyone, can legitimately take on the Seattle juggernaut?
Prime Wardrobe is currently in beta. You can learn more here and get notified when Amazon launches the service.