If you're looking to buy SD cards for shooting 4K video on your new camera, filmmaker Clinton Stark shares his favorites. Read on for his recommendation.
There's lots and lots of options out there when it comes to SD cards. There's also a lot of nomenclature and things to think about: read/write rates, storage capacity, reliability, and cost.
If you're like me and occasionally shoot video projects on 4K, then you're probably researching what SD memory card(s) to buy.
When it comes to data I have a few unwritten rules:
Backup everything at least 3 times
Keep one backup off premises
And regarding media:
Don't, under any circumstances, skimp on quality!
For me that means spending a little more to buy known, established brands; predominantly SanDisk.
Are there other good manufacturers out there? Yes.
Over the years I've tried others (PNY, Transcend, Lexar, Samsung) and haven't had issues. But if I'm shooting an interview, say, with the magnificent Emma Stone, or if I've spent hours setting up a scene for a short or music video, then there's absolutely no way I'm taking a chance on data corruption. One failure, and all of a sudden those extra few dollars saved buying a cheaper brand won't seem like much. To get that nice footage… that's why we spend so much on cameras, lenses, lights, microphones, batteries. It's all that matters at the end of the day. All right there, on an itsy-bitty memory card.
We recently added a Panasonic Lumix GH5 camera to the Stark Insider arsenal. If you've missed some of my earlier articles about this magical mirrorless wonder, you can find those here (hint: it's a winner). I've shot a few travel pieces. And, recently, as I've done in the past when "testing" a new bit of gear, I wrote some lines, had my wife dress-up, grabbed a wig and a Stella, and shot a short film with the GH5:
SHOT ON GH5: Crazy or Die
A short film by Clinton Stark shot on the Panasonic Lumix GH5. Starring, of course, Loni Stark.
Okay… back to media.
Here's the memory cards I use on my GH5: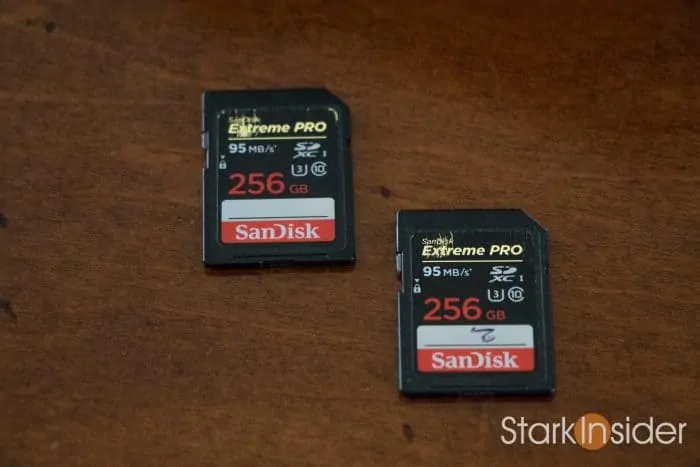 They cost anywhere from $39.95 for 64GB ($0.62 per GB) up to $129 for 256GB ($0.51 per GB).
BTW…

… if you think $129 is a lot to spend on a SD card you might want to check out RED minimag memory ($6.64 per GB) or even Cfast card pricing (like the ones used for the new Canon Cinema EOS C200 camera). If you do, please make sure you're sitting… comfortably.
Are these particular SD cards the best?
For me they are. Because, above all else, including the specs, using them just means I can sleep at night. Kind of like "best lenses" these things are definitely subjective. So, I suggest you do what you feel's right in your gut (and for your budget).
The Wirecutter, known for in-depth tests, chose the SanDisk Extreme Pro as their top pick: "The SanDisk Extreme Pro is the fastest UHS-I card we tested for the price, and it's covered by a lifetime limited warranty." You can read their SD card test here.
I bought the biggest I could. That way I can record video — 4K, 1080p, VFR slowmo — and take photos without having to worry too much about needing to dump it in the middle of a shoot, likely when I'm miles away from my hotel room. In Vancouver, recently, I was able to save up several days of footage. Granted, we weren't shooting non-stop.
ALSO SEE: Lumix GH5: 5 lessons learned shooting video with Panasonic's flagship mirrorless camera
I especially like that the GH5 has two memory slots. I use the second as a redundant backup. If I ever need to leave the camera in the car, or hotel room, for instance, I pull the 2nd SD card out of the slot, slip it into my wallet and take it with me. Bingo: peace of mind.
How much 4K video can a 256GB SD card store?

The GH5 LCD screen tells me (above photo, lower right corner) that after a fresh format I can record up to 3 hours and 46 minutes on a single 256GB SD card (see settings below). Impressive!

If I were recording in relay mode, meaning that after the first card filled up the GH5 would continue recording files onto the 2nd 256GB SD card, I'd be able to record over 7 hours of footage.

Obviously if you don't need that much storage, and would like to save some money, you might want to consider 128GB cards.

Here's the settings on my GH5 to get the 3h46m record time:

3840×2160, 23.98p
4K 150M (MOV)
422/10bit/LongGOP
LPCM

Other 4K cameras, such as the Sony a6500 (also 4K 150Mbps), should yield similar results, but you should check just to be sure before making any purchases.
I've found these SanDisk Extreme Pro cards to work without a hitch. I've also used them with Blackmagic cameras in the past, and use them on my C100 and EOS 80D — predominantly for capturing events and interviews that we publish on the Stark Insider Vimeo and YouTube channels.
A Ninja Inferno recorder has arrived. Holy jumpin' George! It's quite big — and it drains batteries like nobody's business. Still, the 7-inch monitor makes nailing focus so much easier. And it can, as widely reported, capture 4K/60fps from the GH5 in 10-bit 4:2:2. For a terrible color grader such as myself I'm not sure, sadly, that's going to make much of a difference.
VIDEO TIPS & TRICKS: Top 10: Best lenses for shooting video on the Panasonic GH5
I'll know soon enough as I put the Atomos recorder through its paces.
More on that soon. Plus we've got some new videos — starring Loni Stark, of course — in the pipeline. All that and more coming soon to Stark Insider.
Happy shooting!
BUY/RESEARCH: