While some are slowing down development for Android Wear, it appears others are jumping on board.
ZTE, the Chinese manufacturer known mostly for its low-cost Android smartphones (the fourth largest smartphone supplier in the U.S.), today announced its first wearable for the U.S. market. It's a smartwatch called Quartz, runs Android Wear 2.0 and will be available exclusively from T-Mobile.
"The ZTE is the industry's best introductory smartwatch that allows you the opportunity to experience Android Wear 2.0 without breaking the bank."
As we might expect, ZTE plans to undercut the competition. Whereas most smartwatches on the market today (including the premium positioned Apple Watch) are priced $300 (USD) and up, the ZTE Quartz will retail for only $192. Aside: curious number that. Wonder why they didn't go with $199 or $189 as is customary pricing practices Stateside?
The ZTE Quartz smartwatch will be available online at tmobile.com beginning April 14 and in "select" T-Mobile stores on April 21.
Specs-wise one of the stand-out features that caught my eye was the battery size. Rated at 500mAh this would be, to my recollection, perhaps the largest battery of any watch out there currently running Android Wear. For comparison the new (and underwhelming) LG Watch Sport has a 430mAh battery. Hopefully that will help give it plenty of run time. We'll find out soon when Stark Insider gets a chance to put the Quartz to the test.
ZTE Quartz: Specs
Other specs of note for the ZTE Quartz smartwatch:
1.4-inch AMOLED display (400×400) with Gorilla Glass 3
T-mobile connectivity for standalone operation (not clear if buying the watch requires a contract of some sort)
IP67 water and dust protection
Snapdragon Wear 2100 processor
500mAh battery (ZTE says it will provide up to 36 hours of battery life)
768MB RAM / 4GB ROM
Built-in speaker and microphone
Sensors: accelerometer, gyroscope, barometer
Connectivity: Bluetooth 4.1, Wi-Fi b/g/n 2.4 GHz
OS: Android Wear 2.0
1.8″x0.57″ / 3.14 oz.
$192 USD, available April 14, 2017
ZTE provided this chart as part of the press release which shows the Quartz compared to some of its key rivals, the LG Watch Sport and Samsung Gear 3: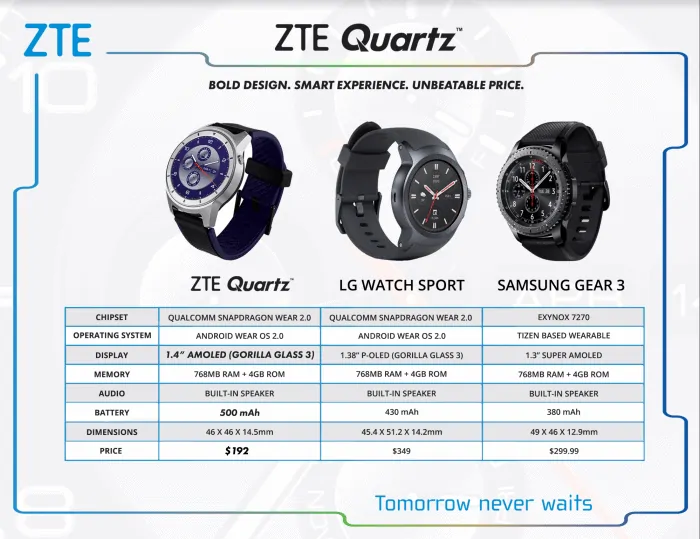 "The launch of the ZTE Quartz smartwatch officially marks ZTE USA's entry into the exciting wearable space," said Lixin Cheng, chairman and CEO of ZTE USA. "We are known to push the boundaries of affordable premium smartphones. With this smartwatch, we are expanding our reach into the wearables segment and offering our consumers a rich, connected smartwatch experience while maintaining our affordability value proposition."
ZTE Quartz: First impressions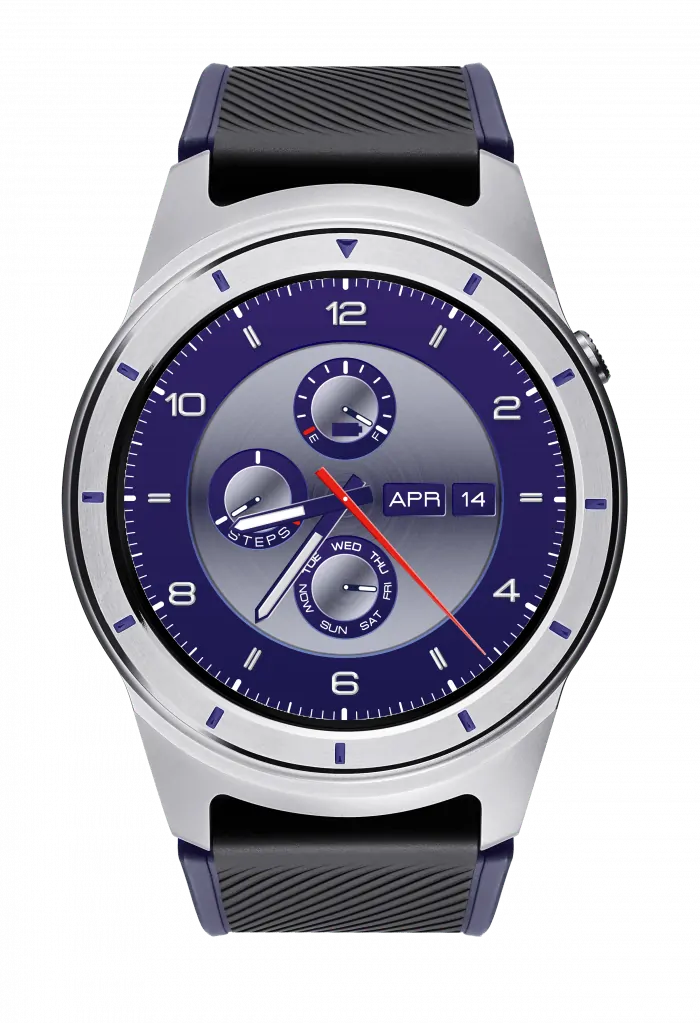 Based on the specs and photos the ZTE Quartz looks solid. I like the styling. ZTE opted for a traditional style for their first watch. That's a nice break from the more sports-oriented smartwatches we've seen recently, particularly from the likes of LG and Huawei.
At $192 this looks like a screaming bargain.
First off, you get Android Wear 2.0. Insult to injury: us Huawei Watch gen 1 owners don't even yet have Wear 2.0! So you get the latest version of Wear, one that is nicely refined and far improved from Google's initial effort (but still falls short of Apple Watch in my estimation).
Then there's the nice looking 1.4-inch AMOLED display. There's no flat tire. And the overall design reminds me of the 2nd generation Moto 360 — to say, a very good thing.
If the ZTE Quartz performs as well as it looks on paper, it may well become the best Wear 2.0 smartwatch of 2017. Too early to say, of course. But it does look promising. Besides, Google can use all the help these days when it comes to its struggling Wear platform.
IN PHOTOS: ZTE Quartz Android Wear 2.0 Smartwatch