Here's a simple solution to getting around the MacBook Pro's USB-C port limitation.
I'm like you — or maybe at least a handful of you risk-taking, crazy, early adopters.
I took the plunge late last year and finally replaced my aging MacBook Air (2012) with a (controversial) 15″ MacBook Pro (2016).
Yes, it's true. Dongle hell isn't much fun…
I'd have preferred if Apple had sacrificed those two extra USB-C ports on the right side for "legacy" ports that we all know and love including my favorite: an SD card slot. That's because I work a lot with photo and especially video files. And most of today's cameras still use SD cards. Canon DSLRs such as the 80D. Olympus and Panasonic mirrorless cameras such as the new (and terrific) OM-D E-M1 Mark II and Lumix GH5. And even some "cinema" cameras such as the Blackmagic Micro Cinema Camera. All of them use SD cards to store footage.
Earlier this year I brought my MacBook Pro on a trip to shoot Stark Insider videos in Paris and Iceland. I had to bring a bunch of cables and adapters. Connecting everything after a day of shooting to download my files wasn't much fun. A spaghetti monster — cables everywhere. It did work though. But I wanted a better solution to address the lack of ports on my beastly new MBP.
That's when I spotted Sanho's HyperDrive Thunderbolt 3 USB-C Hub on Kickstarter. It looked like this and seemed to be a dream come true: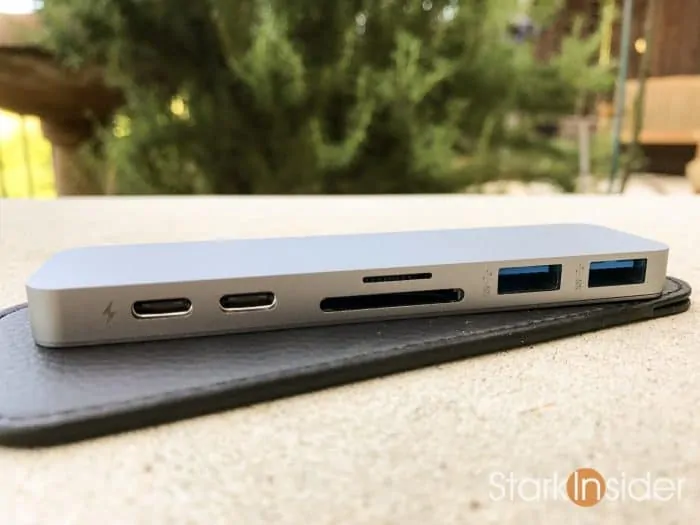 I backed it immediately. Small price to pay to get a reasonable, non-hellish solution for my otherwise solid 2016 MacBook Pro.
The HyperDrive finally shipped a month or so ago, and I've been able to put it to the test. All told, the hub has 7 ports:
HDMI
Thunderbolt 3
USB-C
SD
MicroSD
2x USB 3.1 (gen 1)
It can connect to either side of the laptop. And it connects to both USB-C ports.
Note: for those that don't need HDMI, Sanho also makes a 5-in-1 version that is pretty much the same as this one, but has no HDMI out and only 1 USB 3.1 port.
Fortunately you can daisychain power to the USB-C port on the HyperDrive. Using passthrough gives you all the extra ports on the HyperDrive (save for the USB-C of course), while still allowing you to use the two native MBP USB-C ports on the opposite side. It's hard to imagine a scenario where you'd want more. You port fiend!
I'm happy to report that the hub works exactly as expected.
I popped in a SD card from my Panasonic GH5 and it was immediately recognized. Transferring files was far faster than my antiquated kludgy system that relied on crappy dongles.
Oddly, the finish on the HyperDrive doesn't quite match the Mac. I opted for "Space Grey" (love the darker finish on Apple products), yet the finish on the hub is slightly lighter (see photos). Not too big of a deal. However, if you're a stickler for details it can be a minor pet peeve. Aesthetics, they matter no?!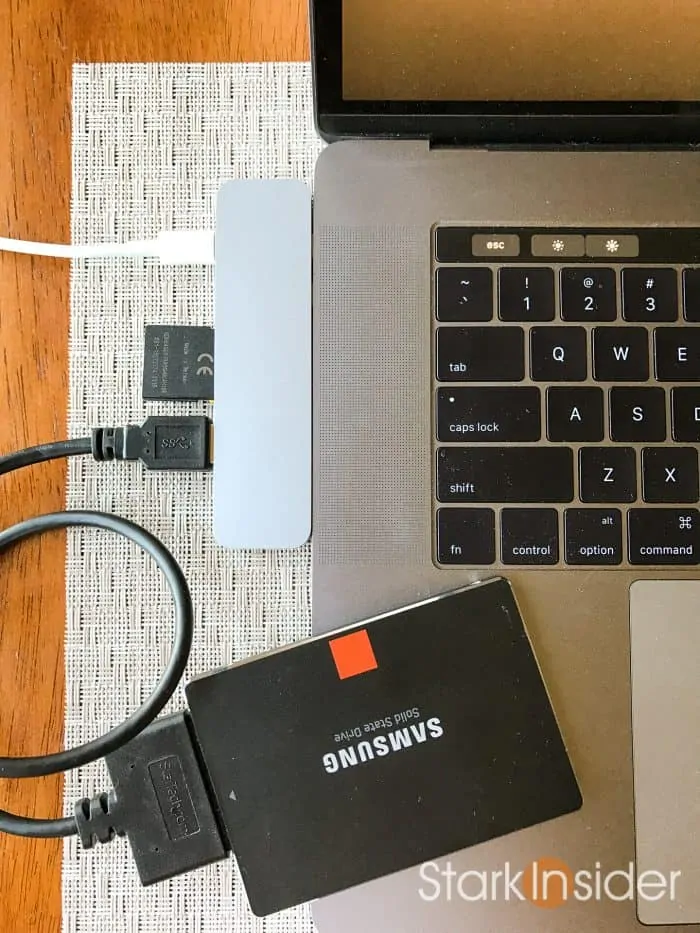 Another thing to watch for: the hub is prone to easily slipping out and coming loose. It secures only via the two USB-C ports. Given it's just over 3-inches long and weighs 0.8 ounces the hub is relatively heavy — as compared to, say, connecting a dongle using a cable. So you do need to be careful, and ensure it doesn't get bumped. Tip: Satechi makes a hub adapter that connects via cable (rather than mounting directly to the MacBook) eliminating this potential problem found on the Sanho. Doesn't meet my needs, unfortunately, as it's missing a SD reader.
The final potential issue is durability.
In reviews across the internet many are complaining about failures; that the HyperDrive worked for a few months, then had issues. So far I haven't experienced that. I will continue to use it, and if I run into any problems I will update this review. Safe to say, if you're planning a major trip you should always consider redundancy. In this case, you should still slip in some old school dongles into your bag, just in case. (the same should be said of other gear including batteries, memory cards, and chargers)
Others have complained about heat. Leaving the HyperDrive connected and charging via USB-C generates more thermal heat than they'd like. For me, this is not an issue. I just attach it when I transfer photos and videos. When done, I disconnect it and store it away. I prefer to have a clean work space when not dumping my SD cards. If, however, you plan to leave it always connected to your MacBook Pro, no doubt it's something to consider.
I missed the Kickstarter early bird and ended up paying $69 for the hub. Amazon currently has the 5-in-1 version (without HDMI).
In the end I'd still recommend you at least give the HyperDrive a test run if you're looking for a way to cleanly expand the ports on your MacBook Pro. Carefully test it, though, during the return window.
Sanho HyperDrive Thunderbolt 3 USB-C Hub for MacBook Pro (late 2016)
3 out of 5 stars
Buy/Research: Amazon
IN PHOTOS: Sanho HyperDrive Thunderbolt 3 USB-C Hub
With 15-inch MacBook Pro, late 2016.