If you asked me to name playwrights whose works were suitable for adaptation into musicals, Eugene O'Neill would be one of the last to come to mind. Length and gloom don't lend themselves well to song and dance routines. But Bob Merrill boldly wrote not one but two musicals based on O'Neill plays: New Girl in Town (1957, after Anna Christie) and Take Me Along (1959, after Ah, Wilderness!).
The first is 42nd Street Moon's most recent foray into obscure classical musical theatre (their commendable raison d'être). It tells the story of Anna, a young woman who has been working in a brothel, and her father Chris, who has not seen her since her early childhood. She reunites with her father in New York City, and there she falls in love with a sailor, Matt. But both her father's disapproval and her secret past threaten her chance for a new, happier life.
Merrill's score is a rediscovered treasure. Anna's bitter solos – the ironically upbeat "On the farm" and touchingly exposed "If that was love" – provide a soaring star vehicle for a singing actress. The ensemble isn't neglected either, with barbershop-style quartets and silly dance numbers. "Flings" and "Sunshine girl" are a toe-tapping good time.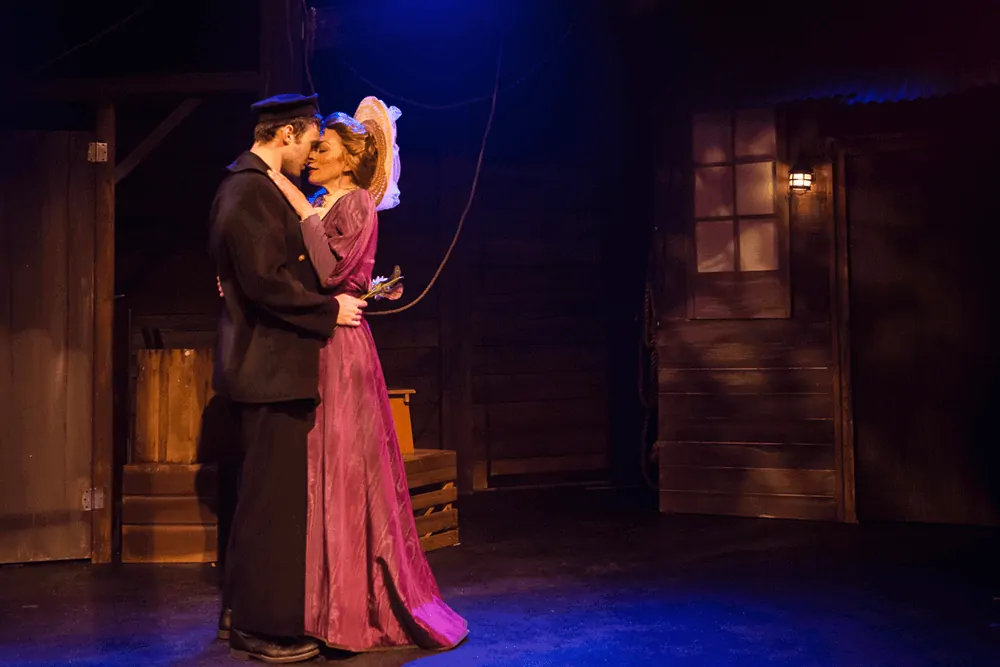 Dramatically, New Girl in Town struggles. The pacing seems more suited to a film than a stage production, with short scenes that don't flow into each other. The main conflict (Matt's discovery of Anna's past) does not arise until the final scenes, and its resolution feels insufficient. The situation offers material for psychological depth, but the ninety-minute musical stays shallow.
Merrill's score is a rediscovered treasure.
None of this is comment on 42nd Street Moon's production. Mark Mendelson's detailed saloon set and Bethany Deal's stunning turn-of-the-century costumes (for all social classes and occasions) provide a vivid sense of time and place. Allison Rich lends Anna a brassy belt and a poignant mix of toughness and vulnerability. As her father Chris, Chris Vettel sings and acts with richness, expression, and a heavy Swedish accent. Joshua Marx lacks the vocal power for Matt's lyrical moments but makes up for it with dramatic force. Judith Miller rounds out the principal cast as Marthy, Chris's common-law wife, whom she plays with charisma and commitment, despite her implausible character arc.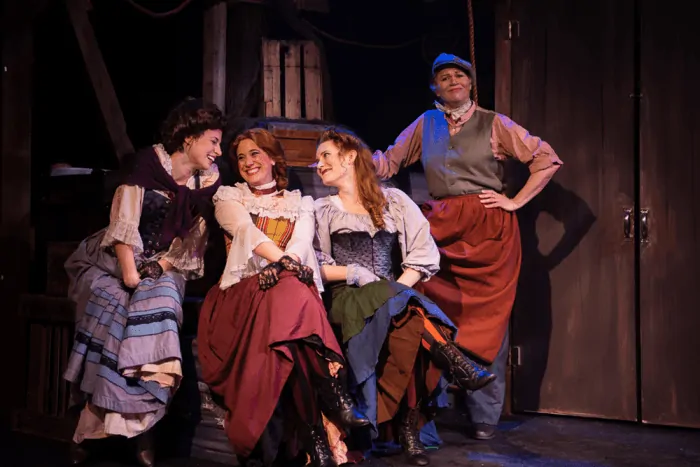 San Francisco Theater Reviews
by Ilana Walder-Biesanz
The versatile six-person ensemble becomes streetwalkers, sailors, society people, and charity collectors. They do so with high energy and perfect harmony. Music director and accompanist Dave Dobrusky holds the show together from the piano, with enthusiastic playing that hints at the textures of a more complete orchestration.
New Girl in Town
42nd Street Moon, San Francisco
3.5/5