If you're in the market for a new smartwatch there are several options out there. But which is best?
Well, it depends.
Android users, for instance, can't use the Apple Watch with their phones. And those who want week-long battery life will find there are far fewer choices than those who don't mind charging overnight.
Though the overall market hasn't quite lived up to expectations — especially to analyst sales forecasts — many of us appreciate the convenience a smartwatch can offer. You can read a text easily from your spouse while working in the yard. Check the weather with a tap. See when your next meeting is without needing to pull out your phone. And, among so many other things, you can track your heartbeat and workouts at the gym.
Me? I'm sold on the idea of the smartwatch.
First, it was Pebble (great battery life, easy to read outdoors, weak app selection). Then, Huawei Watch (premium design, sharp screen, kludgy Android Wear). And, finally, this year I moved to an iPhone 7+/Apple Watch combo. All of them have their strengths.
Here's my picks for the top 5 smartwatches of 2017.
Top 5: Best Smartwatches of 2017
Best Overall Smartwatch:
Apple Watch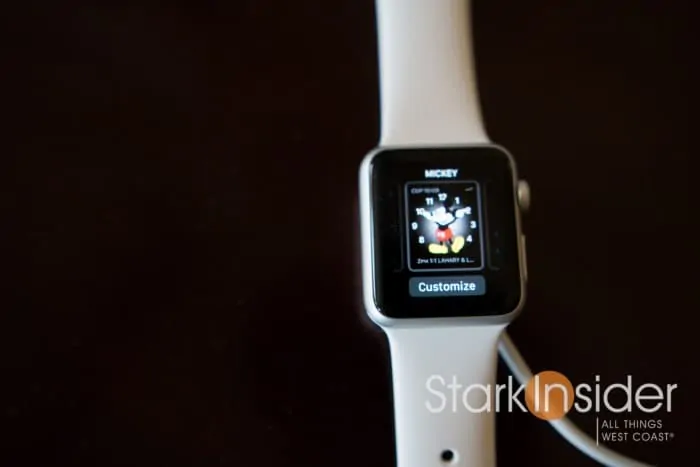 Apple Watch
Price: From $299 (USD) for Series 1, $499 for Series 2 (Amazon)
Good stuff: Just about everything including casual fitness tracking, customizable watch faces (using complications), screen quality, premium build, battery life, and personalization (watch bands, finishes and size). Also note that notifications on the Apple Watch tend to have more information and look better than the competition (e.g. TheScore updates include team logos).
Watch out: Does not work with Android phones. Premium price.
There's a reason why Apple Watch sales blew out the Q4 holiday season last year. It's the best smartwatch on the market. No question. From the build quality to the ease of controlling things like notifications and do-not-disturb mode, and to the gorgeous, information packed display and robust app selection, Apple has clearly delivered a smartwatch that gets just about everything right.
Current models include the Series 1 and step-up Series 2 (GPS, brighter screen, swim proof). All support Apple Pay so you can pay by holding your watch near a terminal. Battery life is significantly improved over the original (Series 0) Apple Watch and you can expect almost up to almost 2 days before needing to top up the battery.
You can buy an Apple Watch in two sizes: 42mm and 46mm. Either fits nicely on the wrist, and doesn't feel overly large. The digital crown is a smart design choice. Spinning it makes scrolling through long lists, emails, text messages and the like smooth and easy, without needing to block part of the screen with a finger.
One caveat, of course, is that the Apple Watch only works with iPhones. So, Android users will need to look elsewhere. Thankfully, there are several strong choices (see below).
Overall, the Apple Watch receives our highest recommendation. For now, at least, it's the best smartwatch on the market.
Best Premium Smartwatch for Android:
Huawei Watch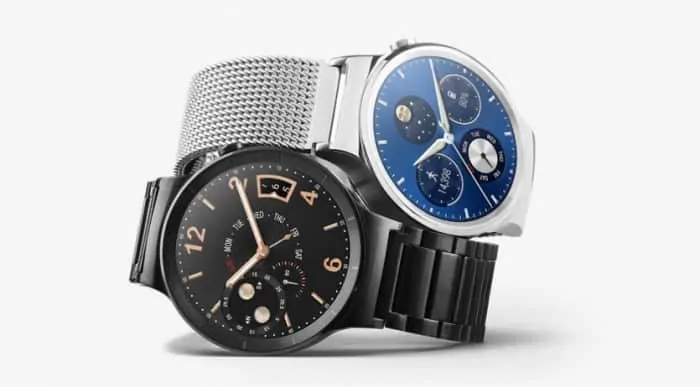 Huawei Watch
Price: $299 (Amazon)
Good stuff: Notifications, messaging (taking calls, replying to messages, etc.). Gorgeous design should satiate those who favor circular watches over rectangular ones (like the Apple Watch).
Watch out: Charging dock is finicky. Battery life is not bad (about 24 hours), but is not as good as the Apple Watch and other Android Wear watches.
If you're looking for a premium experience on Android, I'd recommend avoiding the newer devices released this year (2017). LG brought out the first Wear 2.0 devices (LG Watch Sport, LG Watch Style), but unfortunately neither are very good. Same with the secondgen Huawei Watch. In general, the second wave of Wear watches are poorly designed, have terrible battery life, and don't really offer anything over their older siblings. In fact, I'd even suggest in some ways they are a step backwards (for instance, LTE in the LG Watch Sport kills battery at a rapid, unacceptable pace).
What then to buy if you're running an Android phone?
Simple: Huawei Watch (2015).
Crazy, yes. Perhaps. To recommend a watch that was released almost two years ago. But the Huawei Watch is that good. It looks the part, with its minimalist stainless steel design, and single button (located at two o'clock). You'll find a beautiful 1.4-inch AMOLED display that in my tests is as good as what you'd find on most phones in terms of sharpness and color. Even better, the screen is protected by sapphire crystal glass — it really works wonders in preventing scratches. Because it's running Wear you get the option of an always-on display.
There are a few minor issues to be sure. One, the charging cradle can be fiddly. Knock it slightly and the three-pin connection can come loose without notice, resulting in a dead watch when you wake up. Also, I find the Huawei Watch hard to read in bright, direct sunlight. Just a few things to keep in mind.
One final bit of great news for Huawei Watch owners and buyers: Android Wear 2.0 is coming. We're not sure when. But it will arrive. The next version of Wear is a big step up in terms of performance, usability, and aesthetics. It should breathe new life into the Huawei Watch.
Best Nextgen Smartwatch for Android:
Asus Smartwatch 3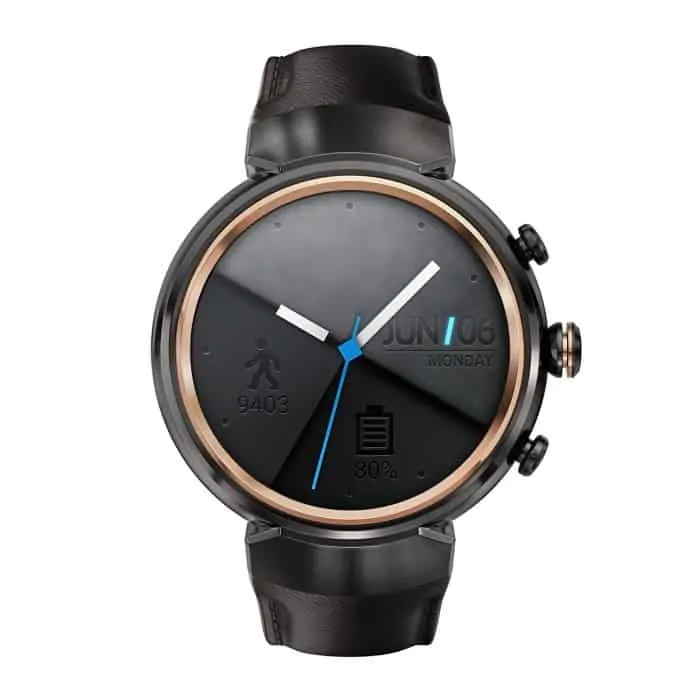 Asus Smartwatch 3
Price: $229 (Amazon)
Good stuff: Customization – 3 buttons on right side are programmable shortcuts. Nice design. Tempting price. Will get Wear 2.0 update. Fast charging.
Watch out: Proprietary straps. Testosterone-fueled design may not appeal to women.
Interested in the smartwatch experience, but not quite sure it's right for you? You might want to search eBay for something used. Or, you could go for this brand new, quite nice looking Asus Smartwatch 3. Reviews have been solid so far. It will receive the Wear 2.0 update. And battery life is very good.
One distinguishing feature on this Asus are the three buttons located on the right side. They can be programmed as short cuts (say, to check weather, or to start a workout) providing added convenience. The middle button does spin, but, alas, it cannot be used to scroll, leading me to believe Asus has an interesting sense of humor, or has perfected the art of the tease. Perhaps both.
All the goodies are here including a gorgeous 1.39-inch AMOLED display (with Gorilla Glass 3), Wi-Fi, IP67 water resistance (but don't swim with it), a speaker (don't ask me why you really need that), Qualcomm's latest Snapdragon processor (Wear 2100) and bullet-proof stainless steel design.
One thing I'm wary about: the proprietary straps. Bugger that. It means you can't easily swap them out with third party variants.
On the upside, the Asus companion app is solid, and offers plenty of customization including lots of watchfaces and complications.
TomTom Spark Cardio + Music
Price: $193 (Amazon)
Good stuff: Rugged design suited for runners, gym rats. On-board storage for music. Excellent companion app provides lots of useful information about runs and workouts.
Watch out: Screen doesn't look cutting edge (then again, that's why it's easy to read outdoors).
If you're a serious athlete, I'd give the other watches on this list a pass. Yes, they're good at a little bit of everything, but hardcore fitness tracking is not one of their strong suits. Instead, I'd recommend something like the TomTom Spark 3 Cardio. It has a built-in heart rate monitor and GPS (as expected), a display that's very easy to read outdoors, a rubberized design that will take your sweat, and plenty of internal storage (3GB) to store your music.
Priced at only $249, there's a lot to like with the TomTom Spark 3 Cardio. The included MySport app is robust, featuring plenty of detail on your runs and workouts. Route exploration and management is also well executed.
While the screen is only black and white, you get what you really need with this watch, and that is a reliable workout partner.
Best Budget Smartwatch About to Die, but Possibly Still Worth It:
Pebble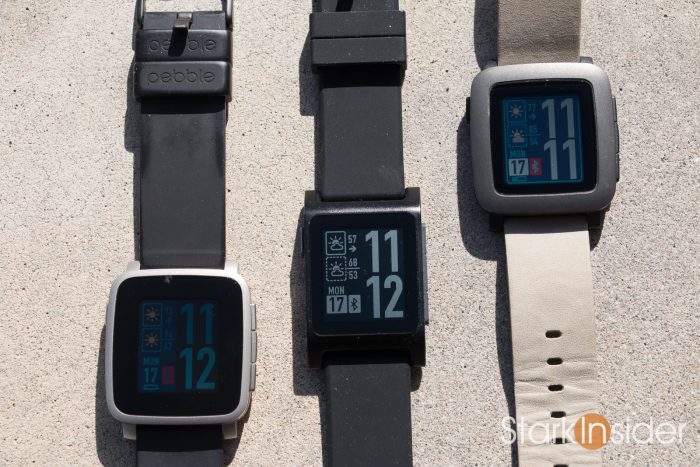 Pebble Time, Pebble Time Steel, Pebble 2, Pebble Round
Price: $Dirt $Cheap (USD)
Good stuff: Loooong battery life. Easy-to-read, always-on screen — but not nearly as sharp indoors as other smartwatches. Built-in sleep tracking and step counting. Lots of watchfaces. Works on Android and iPhone.
Watch out: Oh No Little Pebbl! Fitbit has promised support through the end of 2017. After that … ?
It was the darling of Kickstarter, until we all realized, Hey! This isn't the way to run a long-term, sustainable business!
So Fitbit stepped in and bought up Pebble's assets. Ah, poor Little Pebble.
Fitbit is guaranteeing support of Pebble smartwatches at least through to the end of 2017. After that? We don't know. Perhaps servers will die and some (or all) of the cloud functionality on our Pebble watches will die along with it. Time will tell.
But, that means prices on Pebble smartwatches have plummeted. Check out your local Best Buy or Target bargain bins for deals. They're likely out there. Or try  searching Amazon too where price slashing on these cute, useful devices are taking a pummeling.
Is it worth buying a watch that may be obsolete in less than a year? That's your call. I still have a Pebble Time Steel and a Pebble 2 I funded via Kickstarter. They are really superb smartwatches (though, it's hard to beat the Apple Watch, albeit a much pricier product). Who knows? Maybe Fitbit will keep them alive. Or, possibly a grassroots community-driven effort could likely do some sort of open source magic and keep us Pebblers riding proudly into the sunset.